The cross-point™ Collection
see DESIGN OF THE MONTH - DECEMBER 2020
ANNUAL SALE at 20% Off Retail



For those new to cross-point™…..
What is cross-point™?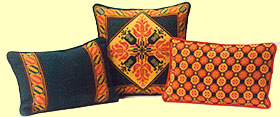 Cross-point™ kits use a unique needlework technique that is neither needlepoint nor old fashioned cross stitch. It looks like needlepoint but without the drawbacks: the material is soft jute, not stiff canvas, and requires neither hoop nor frame, no blocking or stretching back to shape. It is a counted cross stitch small enough for intricate patterns yet large enough to make stitching easy and fast, with 100% background coverage. Stitching in a rhythmic fashion on an unpainted canvas has a meditative quality: counting stitches uses the brain; filling in allows time for thoughts.
cross-point™ is..."fast, fun, and easy"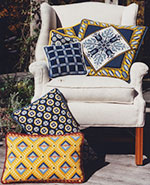 For TWENTY years we have offered kits with stock or custom colors, using high quality French tapestry wool with clear charts in color and coded symbols, and instructions for each pattern. You can make pillows, rugs, and upholstery for chairs and stools; wearable items, such as purses, and shoulder and lap top bags; and small items, such as Christmas stockings and eyeglass cases. Patterns are classified as "E" (easy) or "X" (experienced), with the majority in between for any stitcher with a little practice. For more detailed information and kit contents, please visit the About cross-point™ page.
cross-point™ is..."unique"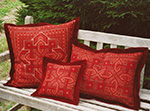 The cross-point™ kit collection offers a wide array of beautiful patterns available in a broad range of stock colors - from rich traditional to contemporary, some vibrant and bold, others muted and soft, as well as our signature color coordinated and design related groups. Because we are a small company we have the unique ability to offer custom colors on any of our kits and also custom upholstery patterns you can create in your own color choice. Explore the categories shown below or go directly to individual pattern pages. Please visit the SPECIAL OFFERS page for an Introductory Offer.
Many confirmed needlepointers, after stitching one of my designs, have heaped on praise. In the words of one: "I will never go back to needlepoint! I just love this - and, don't forget to tell everyone how fast it goes!" For more reviews from stitchers coast to coast, please visit the Customer Comments page. Cross-point™ is a fast, fun and easy way to stitch and, beware!...it's addictive!  

Welcome to cross-point™ and Happy Stitching!

Back to top