The cross-point™ Collection
PATTERN: BERGAMA ("X")
Inspired by the Flowers of Silk and Gold exhibit
Our Bergama pattern is typical of Ottoman Empire designs. They are characterized by precise orientation of motifs - either diagonal or in straight alignment - most often floral, executed in a small number of bold colors. The exhibit was held at the Textile Museum in Washington, DC. in 2000.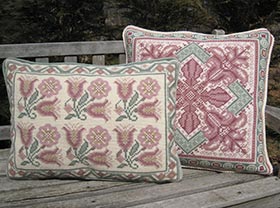 Bergama Pillow 06 colors shown with coordinated Topkapi 02 pillow
Available in two sizes:
Bergama Rectangular Pillow #BERG - 21"wide x 15"high (53x38cm)
Bergama Runner or Long Back Pillow #BERG-R - 16"wide x 44"long (41x113cm)
(The Runner is perfect for table tops or long pillows for large sofas & King size beds)
Custom Colors available - please Contact us

Each kit contains large charts in colors and symbols, fabric, luxurious French tapestry wool, needles, and detailed instructions. Also included are our cross-point™ Technique sheets. Patterns are classified ("X") for experienced stitchers, or ("E") for beginners, unclassified patterns can be stitched by anyone with a little practice. Kits do not include backing or trim.
The SET UP charge for Custom Colors (where available) is $25.00; the SET UP for Custom Upholstery is based on your size requirements. Please allow 2-4 weeks for Custom kits and 2-4 weeks for Rug kit delivery.
| cross-point™ Kit | Name/ Item Number/ size & color | Price |
| --- | --- | --- |
BERGAMA RUNNER




#BERG-R




AVAILABLE IN ALL COLORS SHOWN BELOW





size:16"wide x 44"long (41x113cm)

BERGAMA O1 COLORS:
cranberry, teal, sage, old gold, on pale honey ground



#BERG-01

- 21"w x 15"h (53x38 cm)





#BERG-R-01

- 16"wide x 44" long


(41x113 cm)




Pillow


#BERG-01




Price $109.00




Runner


#BERG-R-01




Price $245.00





BERGAMA O2 COLORS:
pink, old gold, sage, Jacobean green, china blue, cranberry, oatmeal ground



#BERG-02

- 21"w x 15"h (53x38 cm)





#BERG-R-02

- 16"wide x 44" long


(41x113 cm)



Companion Pillows:


Meadow 05



Pillow


#BERG-02




Price $109.00




Runner


#BERG-R-02




Price $245.00





BERGAMA O3 COLORS:
Indigo blues on oatmeal ground



#BERG-03

- 21"w x 15"h (53x38 cm)



#BERG-R-03

- 16"wide x 44" long


(41x113 cm)



Companion Pillows:


Gameboard 02, Greek Border 01,




Basilica 05, Nilos 03, Meadow 03




Tulip Stripe 02,Carnation 02




Honeycomb 04, Tulip 03,Basilica 05



Pillow


#BERG-03




Price $109.00




Runner


#BERG-R-03




Price $245.00





BERGAMA O4 COLORS:
garnet red, old gold, topaz, straw, custard



#BERG-04

- 21"w x 15"h (53x38 cm)



#BERG-R-04

- 16"wide x 44" long


(41x113 cm)



Companion Pillows:


Celtic Knot 02,Morocco 01




Kilim II 01, Topkapi 04



Pillow


#BERG-04




Price $109.00




Runner


#BERG-R-04




Price $245.00





BERGAMA O5 COLORS:
spice colors: cinnamon, ginger, nutmeg, honey on pale honey ground



#BERG-05

- 21"w x 15"h (53x38 cm)



#BERG-R-05

- 16"wide x 44" long


(41x113 cm)



Companion Pillows:


Anatolia 04,Pisac 05, Topkapi 07




Balouch 06, Morocco Stripe 04




All reds: Basilica 03, Pisac 04





Pillow


#BERG-05




Price $109.00




Runner


#BERG-R-05




Price $245.00





BERGAMA O6 COLORS:
pastel dusty pinks, pale sage, dark sand, on ecru ground



#BERG-06

- 21"w x 15"h (53x38 cm)



#BERG-R-06

- 16"wide x 44" long


(41x113 cm)



Companion Pillows:


Topkapi 02,Tulip 07,




Meadow 05, Honeycomb 06



Pillow


#BERG-06




Price $109.00




Runner


#BERG-R-06




Price $245.00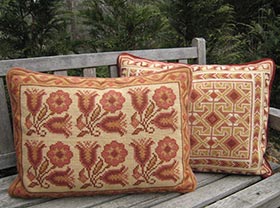 Bergama #BERG-05 with Balouch #BAL-06 companion Pillow
back to top