The cross-point™ Collection
PATTERN: OAHU
When Captain James Cook arrived in the South Sea Islands in 1778 both he and his crew were amazed by the rich culture and creative activity they observed among local people. Evolved over centuries, primitive tribes had been decorating their bodies and applied an endless variety of patterns to their cloths, mats, canoes, paddles, tools and every imaginable surface. Our Oahu stripe is a compilation of some of these ancient design elements in a vertical stripe or long horizontal pillow pattern.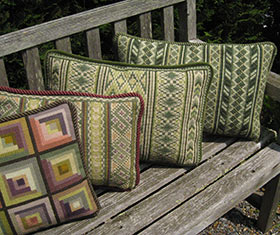 #Oahu-02 shown with (left to right)
Small Log Cabin 01, Celtic Knot 03 and Morocco Stripe 07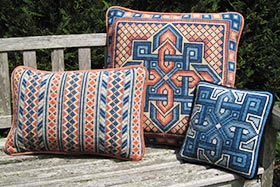 #Oahu-04 shown with companion pillows
Basilica 07 (at rear) and Small Basilica 05 (right foreground)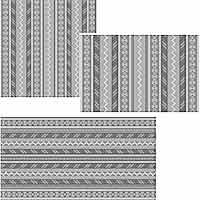 Available in 3 sizes in ALL colors shown:
Square Pillow - OAHU - #OAHU-SQ - 18" x 18" (46 x 46 cm)
Back or Lumbar Pillow - OAHU BACK PILLOW - #OAHU - 18.5" x 12" (47x31cm)
Long Pillow - OAHU LONG - #OAHU-L - 27" x 15" (70 x 38 cm)
Available for custom upholstery

Each kit contains large charts in colors and symbols, fabric, luxurious French tapestry wool, needles, and detailed instructions. Also included are our cross-point™ Technique sheets. Patterns are classified ("X") for experienced stitchers, or ("E") for beginners, unclassified patterns can be stitched by anyone with a little practice. Kits do not include backing or trim.
The SET UP charge for Custom Colors (where available) is $25.00; the SET UP for Custom Upholstery is based on your size requirements. Please allow 2-4 weeks for Custom kits and 2-4 weeks for Rug kit delivery.
| cross-point™ Kit | Name/ Item Number/ size & color | Price |
| --- | --- | --- |
OAHU 01 COLORS:
Light and dark bronze, light and dark teal,
blue spruce, black teal



#OAHU-01

- Rectangular Back Pillow


size: 18.5" long x 12" high (47x31 cm)





#OAHU-SQ-01

- Square Pillow


size: 18" x 18" (46x46 cm)





#OAHU-L-01

- Long Horizontal Stripe Pillow


size: 27" long x 15" high (70 x 38 cm)




FOR EXPERIENCED STITCHERS!





shown with companion pillow




#SHA-01 at bottom of page






#OAHU-01




Price - $79.00





#OAHU-SQ-01




Price - $99.00





#OAHU-L-01




Price - $129.00




OAHU 02 COLORS:
light and medium sage greens, grayed greens,
on pales sage ground



#OAHU-02

- Rectangular Back Pillow


size: 18.5" long x 12" high (47x31 cm)




(photo at left)





#OAHU-SQ-02

- Square Pillow


size: 18" x 18" (46x46 cm)





#OAHU-L-02

- Long Horizontal Stripe Pillow


size: 27" long x 15" high (70 x 38 cm)




FOR EXPERIENCED STITCHERS!





shown with several companions at bottom:




#CARBP-04, MORBP-07






#OAHU-02




Price - $79.00





#OAHU-SQ-02




Price - $99.00





#OAHU-L-02




Price - $129.00



OAHU 03 COLORS:
pale green and blue sage, grayed pale greens,
pale pistachio, on silver ground



#OAHU-03

- Rectangular Back Pillow


size: 18.5" long x 12" high (47x31 cm)




(photo at left)





#OAHU-SQ-03

- Square Pillow


size: 18" x 18" (46x46 cm)





#OAHU-L-03

- Long Horizontal Stripe Pillow


size: 27" long x 15" high (70 x 38 cm)




FOR EXPERIENCED STITCHERS!



Companion pillows: Tabriz 06 colors


shown below with #TASM-06






#OAHU-03




Price - $79.00





#OAHU-SQ-03




Price - $99.00





#OAHU-L-03




Price - $129.00



OAHU 04 COLORS:
sand, pale red, light & dark old blue,Indigo,
dull peach, pale paprika



#OAHU-04

- Rectangular Back Pillow


size: 18.5" long x 12" high (47x31 cm)




(photo at left)





#OAHU-SQ-04

- Square Pillow


size: 18" x 18" (46x46 cm)





#OAHU-L-04

- Long Horizontal Stripe Pillow


size: 27" long x 15" high (70 x 38 cm)




FOR EXPERIENCED STITCHERS!





Companion pillows:




Basilica 07, Basilica 05, Anatolia 08





#OAHU-04




Price - $79.00





#OAHU-SQ-04




Price - $99.00





#OAHU-L-04




Price - $129.00









OAHU 05 COLORS:




old gold, brass, olive, golden olive, brown

gold,bright and dark paprika reds





#OAHU-05

- Rectangular Back Pillow


size: 18.5" long x 12" high (47x31 cm)




(drawing at left right center)





#OAHU-SQ-05

- Square Pillow


size: 18" x 18" (46x46 cm)




(photo at left below drawing)




#OAHU-L-05

- Long Horizontal Stripe


Pillow




size: 27" long x 15" high (70 x 38 cm)




FOR EXPERIENCED STITCHERS!





Companion pillows Morocco Stripe 06




and Honeycomb 01




#OAHU-05




Price - $79.00





#OAHU-SQ-05




Price - $99.00





#OAHU-L-05




Price - $129.00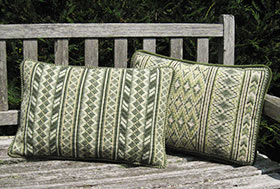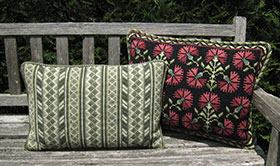 Above left: Oahu 02 with companion Morocco Back Pillow 07
Above right:Oahu 02 Back Pillow with companion Carnation Back Pillow 04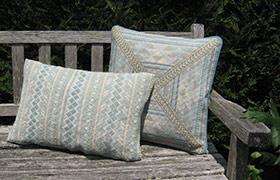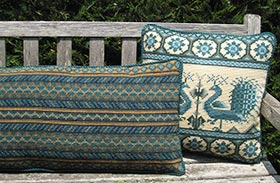 Above left: Oahu 03 with companion Small Tabriz 06
Above right:Oahu Long 01 with companion Shalimar 01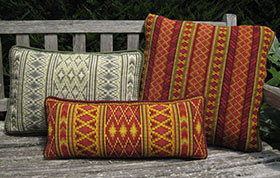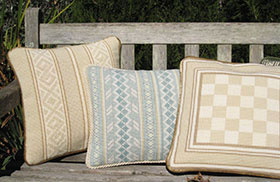 Above leftt:Oahu Square-05 with companion Morocco Stripe-06 in front
and Morocco Back Pillow-07 at back left
Above right:Oahu 03 with companions Greek Border 03 and Game Board 06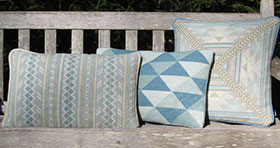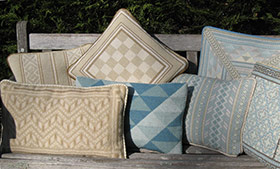 Above left: Oahu-03 with companions Triangles #TRIBP-03 and Small Tabriz #TASM-06
Above right: Oahu-03 and 6 companions:Pisa-07,TRIBP-03,GASM-06,GRE-03,CHSM-01
back to top