The cross-point™ Collection
PATTERN: 13 STAR AMERICAN FLAG ("E")

our interpretation of the first official flag of the United States
The 13-Star Flag became the official United States flag on June 14th, 1777. United one year earlier by the Declaration of Independence in 1776, each star and stripe represented one of the 13 original colonies. Throughout the world the flag has come to represent not only the USA but a set of ideals. While this particular flag only lasted 18 years, our pattern in red, white and blue is a liberal interpretation and reminder of those ideals .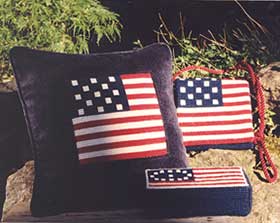 Three interpretations on a theme of Red, White and Blue flag pattern
Available as 13 Star Pillow insert: #FLA - 8"x8" (20 x 20 cm)
13 Star Pocket Book: #FLAP - finished size - 8"x8" (20x20 cm)
stitched size: 23" long x 8" wide (58 x 20 cm) (front & back are solid blue)
13 Star Door Stop: #FLAD - 7 1/2"x3 3/4"x2 1/2" (designed to cover a brick or wood block)


Each kit contains large charts in colors and symbols, fabric, luxurious French tapestry wool, needles, and detailed instructions. Also included are our cross-point™ Technique sheets. Patterns are classified ("X") for experienced stitchers, or ("E") for beginners, unclassified patterns can be stitched by anyone with a little practice. Kits do not include backing or trim.
Custom colors are not available for this pattern.
| cross-point™ Kit | Name/ Item Number/ size & color | Price |
| --- | --- | --- |
#FLA - 13 STAR PILLOW INSERT


size: 8"x8" (20 x 20 cm)

We set our stitched piece into inky blue velvet for a 16" x 16" pillow



#FLA - 13 STAR INSERT




Price $ 12.95




#FLAP - 13 STAR POCKET BOOK



Stitched size: 8" wide x 23" long, folded, front and back are solid blue, flap only has pattern
Finished size as shown: 8" x 8"




Stitched front flap only




FLAG BAG - FRONT ONLY




size: 8" x 8" (20 x 20cm)




#FLAP - 13 STAR POCKET BOOK


Price $ 49.95






FLAG-FRONT ONLY




Price $12.95





13 STAR DOOR STOP
SEE PHOTO ABOVE
#FLAD - 13 STAR DOOR STOP
SIZE: 7 1/2"x 3 3/4"x 2 1/2"
(designed to cover a standard brick or wood block)


#FLAD - 13 STAR DOOR STOP


Price # 19.95




back to top