The cross-point™ Collection
Pattern: KARAKUM
our vibrant interpretation of a North African tribal carpet pattern

The eight sided diamond motif also has a strong affinity to early South West American Indian patterns. The largest square pillow is ideal as a floor pillow and the long back pillow is a perfect size for beds and large sofas.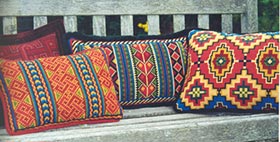 Small Karakum 04 with companion pillows:
Berber Stripe Back Pillow 02, Celtic Knot 04, and Small Basilica 03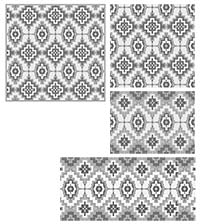 Available in five Pillow sizes and 1 Rug size:
Large Square (upper left in drawing) KARAKUM
#KAR
-23"x23"high (60x60 cm)
Small Square (top right drawing ) SMALL KARAKUM
#KAR-SM
-19"x19"(48x48cm)
KARAKUM BACK PILLOW (center right in drawing )
#KASM
-19"x14"high (48x36cm)
KARAKUM LONG BACK PILLOW (bottom in drawing)
#KAR-L
- 29"x14" (74x36 cm)
Small KARAKUM RUG -
#KARR
- 26"wide x 44" long (66x109 cm)
KARAKUM BED PILLOW-
#KAR-BP
-26" wide by 20" high (66"x52cm)
Each kit contains large charts in colors and symbols, fabric, luxurious French tapestry wool, needles, and detailed instructions. Also included are our cross-point™ Technique sheets. Patterns are classified ("X") for experienced stitchers, or ("E") for beginners, unclassified patterns can be stitched by anyone with a little practice. Kits do not include backing or trim.
CUSTOM UPHOLSTERY and CUSTOM COLORS AVAILABLE.
The SET UP charge for Custom Colors (where available) is $25.00; the SET UP for Custom Upholstery is based on your size requirements. Please allow 2-4 weeks for Custom kits and 2-4 weeks for Rug kit delivery.
| cross-point™ Kit | Name/ Item Number/ size & color | Price |
| --- | --- | --- |
COMPANION PILLOW:
ZAGROS 01 PILLOW & RUG
SOUMAK 04 colors






KARAKUM 01 COLORS:
Paprika, dark hunter green, straw, dark teal

Large Square


#KAR-01

- 23" x 23" (60x60 cm)


(left in photo)



Small Square


#KAR-SM-01

- 19" x 19" (48x48cm)

Back Pillow


#KASM-01

- 19" x 14"high (48x36cm)


(right in photo)



Long Back Pillow


#KAR-L-01

- 29" x 14" (74x36 cm)


(drawing at left)



Small Rug


#KARR-01

- 26"w x 44" long (66x109cm)

#KAR-BP-01 - 26"wx20"h (66x52cm)
Fits Standard US bed pillow
(drawing at left )



Custom Upholstery

available for repeat pattern
as shown in KAR main design at $0.30
per square inch,plus Set Up Charge
vertical repeat: 9", horizontal repeat: 6"



#KAR-01




Price $159.00





#KAR-SM-01




Price $119.00





#KASM-01




Price $ 89.00





#KAR-L-01




Price $129.00





#KARR-01




Price $349.00





#KAR-BP-01




Price $169.00






KARAKUM 02 COLORS:
soft turquoise, bronze, oatmeal on pale stone

Large Square


#KAR-02

- 23" x 23" (60x60 cm)


(see note below)



Small Square


#KAR-SM-02

- 19" x 19" (48x48cm)


(see note below)



Back Pillow


#KASM-02

- 19" x 14"high (48x36cm)


( photo at left)



Long Back Pillow


#KAR-L-02

- 29" x 14" (74x36 cm)


(same as KASM only longer, photo top left)



Small Rug


#KARR-02

- 26"w x 44" long (66x109cm)

#KAR-BP-02 - 26"wx20"h (66x52cm)
Fits Standard US bed pillow
(photo at left bottom)

NOTE:in KAR and KAR-SM turquoise color
occurs only in center crosses


Custom Upholstery

available for repeat pattern
as shown in KAR main design at $0.30
per square inch,plus Set Up Charge



#KAR-02




Price $159.00





#KAR-SM-02




Price $119.00





#KASM-02




Price $ 89.00





#KAR-L-02




Price $129.00





#KARR-02




Price $349.00





#KAR-BP-02




Price $169.00







COMPANION PILLOWS:
BERBER STRIPE 04 colors
BASILICA 03 colors
SMALL KARAKUM 01 (see above)
(see photos below)
KARAKUM 03 COLORS:
Paprika, golden brown, black, teal blue accent

Large Square


#KAR-03

- 23" x 23" (60x60 cm)


( photo)



Small Square


#KAR-SM-03

- 19" x 19" (48x48cm)

Back Pillow


#KASM-03

- 19" x 14"high (48x36cm)


(see note below)



Long Back Pillow


#KAR-L-03

- 29" x 14" (74x36 cm)


(photo at left)



Small Rug


#KARR-03

- 26"w x 44" long (66x109cm)

#KAR-BP-03 - 26"wx20"h (66x52cm)
Fits Standard US bed pillow
(drawing at left )

NOTE:in KASM and KAR-L top and bottom
motif is solid paprika (see below)


Custom Upholstery

available for repeat pattern as shown in KAR main design at $0.30 per square inch,
plus Set Up Charge



#KAR-03




Price $159.00





#KAR-SM-03




Price $119.00





#KASM-03




Price $ 89.00





#KAR-L-03




Price $129.00





#KARR-03




Price $349.00





#KAR-BP-03




Price $169.00




COMPANION PILLOWS:
BERBER STRIPE 02, BASILICA 09,
CELTIC KNOT 04, BALOUCH 07,
BALOUCH STRIPE 03, NILOS 02
MOROCCO STRIPE 02, TABRIZ 01,
LINDISFARNE 01,TRIANGLES 05

KARAKUM 04 COLORS:
tomato red, topaz, grass, yellow, true blue, blue black

Large Square


#KAR-04

- 23" x 23" (60x60 cm)


(see note below)



Small Square


#KAR-SM-04

- 19" x 19" (48x48cm)


(see note below)



Back Pillow


#KASM-04

- 19" x 14"high (48x36cm)


( photo)



Long Back Pillow


#KAR-L-04

- 29" x 14" (74x36 cm)


(same as KASM only longer)



Small Rug


#KARR-04

- 26"w x 44" long (66x109cm)

#KAR-BP-04 - 26"wx20"h (66x52cm)
Fits Standard US bed pillow
(drawing at left )

NOTE:in KAR and KAR-SM true blue color
occurs only in center crosses (see below)


Custom Upholstery

available for repeat pattern
as shown in KAR main design at $0.30
per square inch,plus Set Up Charge



#KAR-04




Price $159.00





#KAR-SM-04




Price $119.00





#KASM-04




Price $ 89.00





#KAR-L-04




Price $129.00





#KARR-04




Price $349.00





#KAR-BP-04




Price $169.00




COMPANION PILLOWS:
ANATOLIA 06 colors
MOGHUL 04 colors

KARAKUM 05 COLORS:
garnet red, light camel, navy, oatmeal, gray blue accent

Large Square


#KAR-05

- 23" x 23" (60x60 cm)


(see note below)



Small Square


#KAR-SM-05

- 19" x 19" (48x48cm)


(see note below)



Back Pillow


#KASM-05

- 19" x 14"high (48x36cm)


( photo)



Long Back Pillow


#KAR-L-05

- 29" x 14" (74x36 cm)


(same as KASM only longer)



Small Rug


#KARR-05

- 26"w x 44" long (66x109cm)

#KAR-BP-05 - 26"wx20"h (66x52cm)
Fits Standard US bed pillow
(drawing at left )

NOTE:in KAR and KAR-SM garnet color is
background (see below)


Custom Upholstery

available for repeat pattern
as shown in KAR main design at $0.30
per square inch,plus Set Up Charge



#KAR-05




Price $159.00





#KAR-SM-05




Price $119.00





#KASM-05




Price $ 89.00





#KAR-L-05




Price $129.00





#KARR-05




Price $349.00





#KAR-BP-05




Price $169.00





Karakum 03 shown with
Small Basilica 03



Karakum 03 shown with
Berber Stripe 04 and Game Board 03

#KARR-01 Rug


#KARR-03 Rug



#KARR-02 Rug


Karakum colors not shown above
back to top