The cross-point™ Collection
Pattern: LOG CABIN ("E")
A traditional quilting design takes on a new life as a stitched pattern
Fast...Fun...and Easy!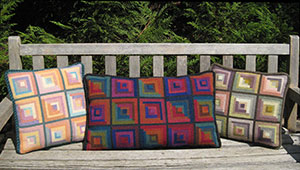 Log Cabin group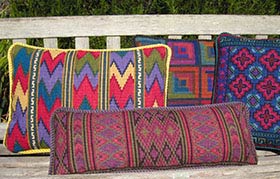 #LOG-03 with companion pillows (see below)
Available in two sizes :
Small Square Pillow SMALL LOG CABIN - #LOGSM - 12"x12" (32x32cm)
Rectangular Back Pillow LOG CABIN - #LOG - 21"long x 12"high (53x32 cm)
Custom Upholstery - Please contact us - repeat 11"x11"
LOG CABIN COASTERS - #CO - 4"x4" (11x11 cm)


Each kit contains large charts in colors and symbols, fabric, luxurious French tapestry wool, needles, and detailed instructions. Also included are our cross-point™ Technique sheets. Patterns are classified ("X") for experienced stitchers, or ("E") for beginners, unclassified patterns can be stitched by anyone with a little practice. Kits do not include backing or trim.CUSTOM COLORS NOT AVAILABLE.
| cross-point™ Kit | Name/ Item Number/ size & color | Price |
| --- | --- | --- |
LOG CABIN 01 COLORS:


lichen, stone, moss, fawn, tan, pale rust,
wood rose, sage, amethyst, copper,
tree bark, olive, khaki, gray mauve, greige,
aubergine, (28 colors)



#LOG - 01




size: 21" long x 13"high (53 x 32 cm)





#LOGSM - 01




size:12" x 12" (32 x 32 cm)




(photo at left)






#LOG-01




Price $129.00





#LOGSM-01




Price $ 89.00







LOG CABIN 02 COLORS:


Key West sunset colors: dusty pink,
pale rust, copper, salmon, ginger,
shell gray, teal, straw, turquoise, antique
mauve, robbin's egg blue, blue spruce,
cream (28 colors)



#LOG - 02




size: 21" long x 13"high (53 x 32 cm)




(photo at left)





#LOGSM - 02




size:12" x 12" (32 x 32 cm)




(photo at bottom left)






#LOG-02




Price $129.00





#LOGSM-02




Price $ 89.00







LOG CABIN 03 COLORS:


navy, mahogany, coffee, paprika, dark gray
blue, red plum, amethyst, garnet, violet,
blue teal, green teal, black teal,
dark marine blue (28 colors)



#LOG - 03




size: 21" long x 13"high (53 x 32 cm)




(photo at left)






#LOGSM - 03




size:12" x 12" (32 x 32 cm)



Companion pillows:


Morocco Stripe 03, Pisac 02,




Topcapi 05, Chevron #CHE-03, Nilos 01




Berber Stripe 03, Balouch Stripe 01





#LOG-03




Price $129.00





#LOGSM-03




Price $ 89.00







LOG CABIN COASTERS


Colors are the same as in Log Cabin Pillows

Size: 4"x4" (11x11 cm)



#CO - 01

SAME COLORS AS LOG 03



#CO - 02

SAME COLORS AS LOG 02



#CO - 03

SAME COLORS AS LOG 01



PLEASE NOTE: there are four (4) coasters of the SAME color in each kit but colors are arranged in different locations in each)

#CO-01
(4 coasters)


Price $ 24.95



#CO-02
(4 coasters)


Price $ 24.95



#CO-03
(4 coasters)


Price $ 24.95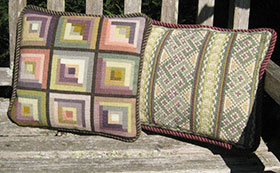 Small Log Cabin 01 with companion Celtic Knot 03
back to top