The cross-point™ Collection
DESIGN OF THE MONTH
SPECIAL OFFER MARCH 2021
Retail less 20%


"When working with one of your kits, several adjectives come to mind: delightful, absorbing, addictive, therapeutic, elegant, relaxing." (from the customers comments page on the cross-point website).

Winter continues to be a hard time as daily updates on the corona virus leave many in despair and fear. Fear can wreak havoc on our immune system. It's a good idea to replace it with something that is "delightful, absorbing and relaxing". After designing my patterns and stitching our samples over the last 24 years, I still find all those adjectives true for me. Stitching keeps me calm and away from fear as much as possible by keeping busy with my hands.
I want to make that possible for all our stitching friends. No other kit can compare to cross-point™. Many confirmed stitchers have told me that I deliver one of best kits on the market! You too will find that stitching on an unpainted canvas in rhythmic fashion has a meditative quality, counting stitches uses the brain and filling in colors allows time for thoughts or talking with friends. We offer hundreds of color and size options on the Pattern Pages.
During March our SPECIAL OFFER OF 20% OFF RETAIL is for ALL 55 Patterns for pillow kits. Two new colors have been added: A revised KILIM II - 01 to be a companion to MEDIASCH 02, and a new MEDIASCH 06 in blues and rust on oatmeal. Several designs are also available as extra wide pillows as well as upholstery. As always, PayPal bills the Retail Price, we issue the discount back via PayPal when we process the order in house. PayPal accepts credit and debit cards, offers "pay later" interest free.
Stay well, remind yourself "this too shall pass", enjoy the stillness of Winter in spite of everything, look to Spring with hope and joy and don't give in to fear. Get your vaccine!

| cross-point™ Kit | Name/ Item Number/ size & color | Price |
| --- | --- | --- |

9 companion kits available



NEW COLORWAY




MEDIASCH #MED-06


old blues, rust, dark sand, on oatmeal ground
Please refer to the Pattern Page at left Sidebar
Retail less 20%
all colors
all companion kits

5 companion kits available


New Color - Revised

Kilim II 01

to coordinated
with

Mediasch 02

colors: red/black/olive/chartreuse/gold on black ground. Please refer to the Pattern Page at left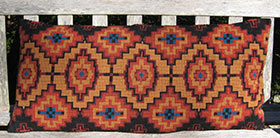 New wide pillows for beds and sofas - Karakum 03 shown
back to top