The cross-point™ Collection
Pattern: LEARNING KIT ("E")
a quick and fun way to learn the basic cross-point™ Technique

With the Learning Kit we demonstrate all the basic cross stitch stitches shown on our "Technique" sheets. Easy to follow drawings show how to stitch horizontally, vertically and diagonally - a great learning tool for beginners. Included are instructions on how to work with our jute fabric, how to work with wool skeins and hanks, and our special finishing technique for all cross-point™ kits. The Learning Kit can be made into a pin cushion, a small handbag, or used as an insert into a larger pillow.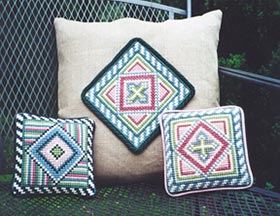 Above: LK-01 at left, LK-03 pillow insert and small pin cushion at right
Available in one size: 6"x6" (16x16 cm)
Each kit contains large charts in colors and symbols, fabric, luxurious French tapestry wool, needles, and detailed instructions. Also included are our cross-point™ Technique sheets. Patterns are classified ("X") for experienced stitchers, or ("E") for beginners, unclassified patterns can be stitched by anyone with a little practice. Kits do not include backing or trim.
Custom colors are not available for this pattern. Discounts during our Special
Offers are not applicable for the Learning Kit.
| cross-point™ Kit | Name/ Item Number/ size & color | Price |
| --- | --- | --- |
LEARNING KIT 01 COLORS:
apple green, sage, antique rose, deep sky blue,teal ink, ecru,



#LK-01

- 6"x6" (16x16 cm)


#LK-01




Price $ 12.95



LEARNING KIT 02 COLORS:
dark brown, gold, copper, gray green, golden brown



#LK-02

- 6"x6" (16x16 cm)
(at left in photo)

Companion Pillows to #LK-02
Anatolia 02, Berber Stripe 01, Kilim 02,
Basilica 01, Tulip 05, Honeycomb 02,
Kilim II 08, Karakum 01

#LK-02




Price $ 12.95



LEARNING KIT 03 COLORS:
apple green, sage, dusty pink, sky blue, teal, ecru,



#LK-03

- 6"x6" (16x16 cm)


(shown as pillow insert at left and as pin cushion above)

#LK-03




Price $ 12.95



LEARNING KIT 04 COLORS:
olive green, straw, paprika, topaz,
hunter green



#LK-04

- 6"x6" (16x16 cm)


(in photo at left-made into a small bag))

#LK-04




Price $ 12.95



LEARNING KIT 05 COLORS:
Marine blue, navy, old gold, rust, pale rust, cream



#LK-05

- 6"x6" (16x16 cm)


#LK-05




Price $ 12.95



back to top