The cross-point™ Collection
Pattern: SOUMAK
SPECIAL OFFER MARCH/APRIL 2018 UPDATES ON THE BLOG
A traditional Kasakh pattern from Central Persia. The bold center motif of the eight-pointed star is a pattern symbol occurring in all cultures, including our American Indian heritage. Kilim patterns are a lot of fun to stitch and addictive!
Small Tabriz 01 (at left) with Soumak Accent 05 and Soumak Back Pillow 05
Available in four pillow sizes:
Large Square SOUMAK - #SOU - 20"x20" (50x50 cm)
Small Square SMALL SOUMAK - #SOSM - 16"x16" (40x40 cm)
Small Square SOUMAK ACCENT PILLOW - #SOAC - 12"x12" (31x31 cm)
Rectangular SOUMAK BACK PILLOW - #SOBP - 20" wide x 13"high (51x34 cm)


Each kit contains large charts in colors and symbols, fabric, luxurious French tapestry wool, needles, and detailed instructions. Also included are our cross-point™ Technique sheets. Patterns are classified ("X") for experienced stitchers, or ("E") for beginners, unclassified patterns can be stitched by anyone with a little practice. Kits do not include backing or trim.
| cross-point™ Kit | Name/ Item Number/ size & color | Price |
| --- | --- | --- |
SOUMAK 01 COLORS:
wine red, heathered browns, taupe, oatmeal



#SOU - 01

(shown below left)


size: 20" x 20" (50x50 cm)





#SOSM - 01

(photo at left)


size 16" x 16" (40x40 cm)





#SOAC - 01

(below bottom right)


size: 12" x 12" (31x31 cm)





#SOBP - 01

(below top left)


size: 20" w x 13"h (51x34 cm)



COMPANION PILLOWS:
Plaid 07,Greek Border 04, Anatolia 01,
Triangles 01, Kilim II 03, Greek Border 05

#SOU - 01




Price $139.00






#SOSM - 01




Price $ 89.00






#SOAC - 01




Price $ 49.00






#SOBP - 01




Price $ 89.00









Drawings:
at left: #SOU-01


at right:
#SOBP-01 top left
#SOAC-01 bottom

SOUMAK 02 COLORS:
Mediterranean blues, true red, honey, navy, oatmeal



#SOU - 02

(photo at left)


size: 20" x 20" (50x50 cm)





#SOSM - 02

(shown below left)


size 16" x 16" (40x40 cm)





#SOAC - 02

(below bottom right)


size: 12" x 12" (31x31 cm)





#SOBP - 02

(below top left)


size: 20" w x 13"h (51x34 cm)



COMPANION PILLOWS:


Anatolia 08, Oahu 04, Basilica 07




12th Century 03,




#SOU - 02




Price $139.00






#SOSM - 02




Price $ 89.00






#SOAC - 02




Price $ 49.00






#SOBP - 02




Price $ 89.00









Drawings:
at left: #SOSM-02


at right:
#SOBP-02 top left
#SOAC-02 bottom

SOUMAK 03 COLORS:
old blues, navy, custard, honey, cream



#SOU - 03

(shown below left)


size: 20" x 20" (50x50 cm)





#SOSM - 03

(below top left)



size 16" x 16" (40x40 cm)





#SOAC - 03

(photo at left)


size: 12" x 12" (31x31 cm)





#SOBP - 03

(below bottom right)


size: 20" w x 13"h (51x34 cm)



COMPANION PILLOWS:


Balouch 01, Celtic Knot 01,Morocco 02




Small Morocco 03, Pisac 06, Plaid 01,




Siena 07, 12th Century 01,Kilim II 09

,


Flamestitch 05, Moghul 06




#SOU - 03




Price $139.00






#SOSM - 03




Price $ 89.00






#SOAC - 03




Price $ 49.00






#SOBP - 03




Price $ 89.00









Drawings:
at left: #SOU-03


at right:
#SOSM-03 top left
#SOBP-03 bottom

SOUMAK 04 COLORS:
Chinese red, teal, old gold, maize, blue ink



#SOU - 04

(shown below left)


size: 20" x 20" (50x50 cm)





#SOSM - 04

(below top left)


size 16" x 16" (40x40 cm)





#SOAC - 04

(below bottom right)


size: 12" x 12" (31x31 cm)





#SOBP - 04

(photo at left)


size: 20" w x 13"h (51x34 cm)



COMPANION PILLOWS:


Tabriz 01, Nilos 02, Tulip Stripe 04,




Zagros 01, Tulip 01, Morocco Stripe 01




#SOU - 04




Price $139.00






#SOSM - 04




Price $ 89.00






#SOAC - 04




Price $ 49.00






#SOBP - 04




Price $ 89.00









Drawings:
at left: #SOU-04


at right:
#SOSM-04 top left
#SOAC-04 bottom

SOUMAK 05 COLORS:
Dark coral red, Sea green, old gold, light gold, dark sage, touch of oatmeal



#SOU - 05

(shown below left)


size: 20" x 20" (50x50 cm)





#SOSM - 05

(below)


size 16" x 16" (40x40 cm)





#SOAC - 05

(photo at left)


size: 12" x 12" (31x31 cm)





#SOBP - 05

(photo at left)


size: 20" w x 13"h (51x34 cm)




COMPANION PILLOWS:


Tabriz 01, Nilos 02, Parma 05, Zagros 01,




Morocco Stripe 06




#SOU - 05




Price $139.00






#SOSM - 05




Price $ 89.00






#SOAC - 05




Price $ 49.00






#SOBP - 05




Price $ 89.00









Drawings:
at left: #SOU-05


at right:
#SOSM-05


COMPANION PILLOWS TO #SOUMAK 01 :

ON CHAIR: GREEK BORDER 04

ON GROUND: ANATOLIA 01

(on stool: 12th Century Custom Upholstery)

MORE COMPANIONS TO SOUMAK O1 :

SHOWN HERE WITH "ZEBRA" from our ANIMAL PATTERN PAGE

Other Animal patterns would also be appropriate such as Leopard, Tiger and Pony in black & white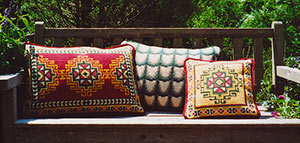 Parma 04 with Soumak Accent 05 and Soumak Back Pillow 05
back to top