The cross-point™ Collection
PATTERN: CARNATION ("X")

Our version of an historic design motif
From highly stylized Persian and Turkish embroideries to medieval and later European needlework pieces, the carnation has been a popular design motif.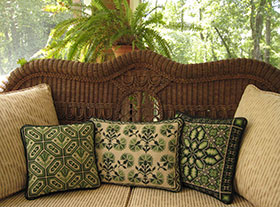 Carnation Back Pillow 05 colors shown with coordinated
Turin 05 and Meadow 01 Pillows

Available in two sizes :
Small Square Pillow CARNATION - #CAR - 17" x 17" (43x43cm)
Rectangular CARNATION BACK PILLOW - #CARBP - 20"wide x14" high(53x37cm)
Custom Upholstery & Custom Colors available - Please contact us


Each kit contains large charts in colors and symbols, fabric, luxurious French tapestry wool, needles, and detailed instructions. Also included are our cross-point™ Technique sheets. Patterns are classified ("X") for experienced stitchers, or ("E") for beginners, unclassified patterns can be stitched by anyone with a little practice. Kits do not include backing or trim.
The SET UP charge for Custom Colors (where available) is $25.00; the SET UP for Custom Upholstery is based on your size requirements. Please allow 2-4 weeks for Custom kits and 2-4 weeks for Rug kit delivery.
| cross-point™ Kit | Name/ Item Number/ size & color | Price |
| --- | --- | --- |
CARNATION 01 COLORS:
Siena reds, Indigo blues on pale honey ground




#CAR-01

- 17" x 17" (43 x 43 cm)


(photo)





#CARBP-01

- 20" x 14" (53 x 37 cm)


(upper left corner)



Companion Pillows:


Small Morocco 01, Basilica 03




#CAR-01




Price $ 99.00







#CARBP-01




Price $ 99.00






CARNATION 02 COLORS:
Light and dark old blue, navy on oatmeal




#CAR-02

- 17" x 17" (43 x 43 cm)


(upper left corner)





#CARBP-02

- 20" x 14" (53 x 37 cm)


(photo)



Companion Pillows:


Morocco 02, Siena 07,




#CAR-02




Price $ 99.00







#CARBP-02




Price $ 99.00






CARNATION 03 COLORS:
Salmon dusty pinks, apple green, bronze, on tea stain ground




#CAR-03

- 17" x 17" (43 x 43 cm)


(upper left corner)





#CARBP-03

- 20" x 14" (53 x 37 cm)


(photo)



Companion Pillows:


Oahu 02, Morocco Stripe 07




#CAR-03




Price $ 99.00







#CARBP-03




Price $ 99.00






CARNATION 04 COLORS:
Garnet red, cerise, soft sage greens on black




#CAR-04

- 17" x 17" (43 x 43 cm)


(upper left corner)





#CARBP-04

- 20" x 14" (53 x 37 cm)


(photo)




#CAR-04




Price $ 99.00







#CARBP-04




Price $ 99.00






CARNATION 05 COLORS:
apple, grass & hunter greens on oatmeal




#CAR-05

- 17" x 17" (43 x 43 cm)


(upper left corner)





#CARBP-05

- 20" x 14" (53 x 37 cm)


(photo)



Companion Pillows:


Turin 05, Oahu 02, Parma 03,




Meadow 01,Morocco Stripe 07





#CAR-05




Price $ 99.00







#CARBP-05




Price $ 99.00






CARNATION REPEAT UPHOLSTERY:
available in custom colors

vertical repeat: 6"
horizontal repeat: 7"
4 or 5 colors
for stools, benches, chair seats and entire chairs - seat & back
CUSTOM
UPHOLSTERY
REPEAT PATTERN


Price $0.30 sq. inch
Plus Set Up Fee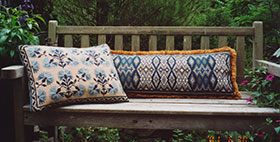 Carnation Back Pillow with Morocco 02
back to top