The cross-point™ Collection
Pattern: MEDIASCH

A series of stripes top and bottom based on tribal North African rug patterns with a center panel from a historic Persian design.
Adapted from a stitched pillow in my family collection of Transylvanian Saxon patterns. (See a photo of that pillow in the blog post on Mediasch). In researching the origins of the pattern details, I found a map showing how patterns travelled and were adopted, added to or slightly changed all around the Mediterranian, from North Africa north to Syria, Turkey and other countries along the way into Rumania. Turkish invasions into Saxon Transylvania lasted for several hundred years. Saxon stitchers adaped rug and other fabric patterns to their own cross stitch technique over those same hundred years.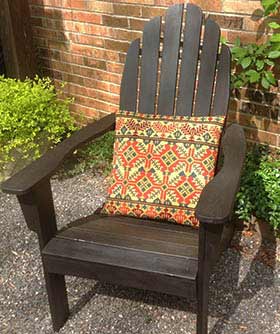 Above: MEDIASCH 01
Available in one size: 18" x 18" (46x46 cm)
Each kit contains large charts in colors and symbols, fabric, luxurious French tapestry wool, needles, and detailed instructions. Also included are our cross-point™ Technique sheets. Patterns are classified ("X") for experienced stitchers, or ("E") for beginners, unclassified patterns can be stitched by anyone with a little practice. Kits do not include backing or trim.
Custom colors are available for this pattern.
| cross-point™ Kit | Name/ Item Number/ size & color | Price |
| --- | --- | --- |






MEDIASCH 01 COLORS:
tomato, straw, gold, teal, drk. red,
black



#MED-01

- 18" x 18" (46x46 cm)

Companion pillows:
Berber Stripe 02, Celtic Knot 04,
Basilica 03, 09, Morocco Stripe 02,
Helios 01,

#MED-01




Price $115.00









MEDIASCH 02 COLORS:
true reds med. & dark, black ground,
olive, teal, touch of gold


#MED-02

- 18"x18" (46x46 cm)

Companion pillows:
Shalimar 03, Topkapi 04, Morocco 01
Kilim II 01, Celtic Knot 02

#MED-02


Price $115.00








MEDIASCH 03 COLORS:
tomato red, olive, gold, straw, teal,
on blue ground



#MED-03

- 18"x18" (46x46 cm)

Companion pillows:
Balouch 05, Pisac 02, Basilica 03,
Kilim 01, Tabriz 05, Small Morocco 01,
Basilica 09, Morocco Stripe 02,

#MED-03


Price $115.00









MEDIASCH 04 COLORS:
aqua blue, teal, chartreuse, olive
on cream ground and steel outline



#MED-04

- 18" x 18" (46x46cm)


Companion pillows:
Shalimar 01, Oahu 03, Oahu 01
Triangles 03



#MED-04




Price $115.00






Mediasch 05 colors:
sand, paprika on pale sand ground



#MED-05

- 18" x 18" (46x46cm)

Companion pillows:
Kilim II -02 and 04, Kilim 05 and 08,
Berber Stripe 01, Basilica 03, 05 and 07

#MED-05


Price $115.00





Mediasch 06 colors: dark blue,med. blue
dark sand,rust on oatmeal ground



#MED-06

- 18" x 18" (46x46cm)

#MED-06
Price $115.00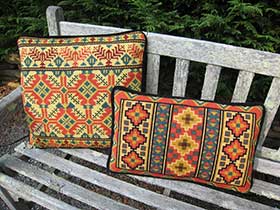 Companion pillows: #MED-01 and #HEL-01
back to top