The cross-point™ Collection
Pattern: PLAID ("E")

our contemporary interpretation of Tartans
not associated with any specific clan
Confusion surrounds the origin and definition of Tartans but it is generally agreed that they are of great antiquity, perhaps as far back as the 1st Century B.C. In more recent times, since the early 1800's, many famous Scotish clans have become identified by specific traditional colors and patterns. Ours is a liberal interpretation of this historic pattern, and, according to our sample stitchers, "a lot of fun to stitch".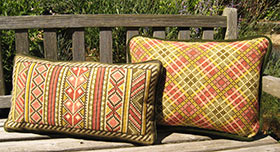 Shown above: Berber Back Pillow 06 with Plaid 04 Back Pillow
Available in one pillow size and upholstery:
Rectangular Pillow: #PLA - 19"wide x 14"high (49 x 35 cm)
CUSTOM COLORS AVAILABLE - please contact us
CUSTOM UPHOLSTERY - any size available - please contact us

Each kit contains large charts in colors and symbols, fabric, luxurious French tapestry wool, needles, and detailed instructions. Also included are our cross-point™ Technique sheets. Patterns are classified ("X") for experienced stitchers, or ("E") for beginners, unclassified patterns can be stitched by anyone with a little practice. Kits do not include backing or trim.Kit includes special chart for diagonal outline for easy counting.
The SET UP charge for Custom Colors (where available) is $25.00; the SET UP for Custom Upholstery is based on your size requirements. Please allow 2-4 weeks for Custom kits and 2-4 weeks for Rug kit delivery.
| cross-point™ Kit | Name/ Item Number/ size & color | Price |
| --- | --- | --- |
PLAID 01 COLORS:
old blues, navy, golden brown, tan



#PLA - 01




size: 19" wide x 14"high (49 x 35 cm)




COLOR COORDINATED WITH:


PISAC 06





CUSTOM UPHOLSTERY AVAILABLE






#PLA-01




Price $ 89.00



PLAID 02 COLORS:
terracotta, paprika, dark red, black, golden
olive



#PLA - 02




size: 19" wide x 14"high (49 x 35 cm)






Companion pillow: Basilica 03





CUSTOM UPHOLSTERY AVAILABLE





#PLA-02




Price $ 89.00



PLAID 03 COLORS:
tomato, paprika, old blue, topaz, black
hunter green


#PLA - 03




size: 19" wide x 14"high (49 x 35 cm)




COLOR COORDINATED WITH:


PISAC 01, BERBER STRIPE 02





CUSTOM UPHOLSTERY AVAILABLE






#PLA-03




Price $ 89.00



PLAID 04 COLORS:
light red, old gold, pale yellow, olive, loden



#PLA - 04




size: 19" wide x 14"high (49 x 35 cm)




COLOR COORDINATED WITH:


BERBER STRIPE 06





CUSTOM UPHOLSTERY AVAILABLE






#PLA-04




Price $ 89.00



PLAID 05 COLORS:
navy, garnet, amethyst, plum, teal



#PLA - 05




size: 19" wide x 14"high (49 x 35 cm)




COLOR COORDINATED WITH:


PISAC 02





CUSTOM UPHOLSTERY AVAILABLE





#PLA-05




Price $ 89.00



PLAID 06 COLORS:
teals: light, medium, dark; straw, topaz, ink



#PLA - 06




size: 19" wide x 14"high (49 x 35 cm)







CUSTOM UPHOLSTERY AVAILABLE







#PLA-06




Price $ 89.00



PLAID 07 COLORS:
Cranberry, taupe, elephant gray, dark brown



#PLA - 07




size: 19" wide x 14"high (49 x 35 cm)




COLOR COORDINATED WITH:
SOUMAK 01



CUSTOM UPHOLSTERY AVAILABLE






#PLA-07




Price $ 89.00



PLAID CUSTOM UPHOLSTERY REPEAT:
available in all stock colors & custom colors


vertical repeat: 7"
horizontal repeat:7"

number of colors: 7
set up fee based on your requirements
CUSTOM
UPHOLSTERY


Price $0.30 sq.inch
PLUS SET UP FEE

back to top