The cross-point™ Collection
PATTERN: BASILICA
Reminiscent of Celtic knot patterns,
this design was inspired by an Etruscan rug fragment
and a mosaic tile floor found in a Venetian Basilica
Basilica chart pages include separate "outline only" charts. Once the easy to count outline is stitched, the remaining colors are quickly and easily filled in.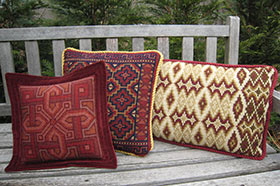 Basilica 03 colors shown with Pisac 05 and Small Morocco 02 companions

Available in three sizes:
Large Square Pillow BASILICA - #BAS - 20"x20" (52x52cm)
Small Square Pillow SMALL BASILICA - #BASM - 11"x11" (27x27cm)
Rectangular BASILICA BACK PILLOW - #BABP - 21" wide x 15" high (53x37cm)
Also available in Custom Colors - Please contact us
CUSTOM UPHOLSTERY (see below)
NEW COLORS 08 AND 09
(added December 2012)
Each kit contains large charts in colors and symbols, fabric, luxurious French tapestry wool, needles, and detailed instructions. Also included are our cross-point™ Technique sheets. Patterns are classified ("X") for experienced stitchers, or ("E") for beginners, unclassified patterns can be stitched by anyone with a little practice. Kits do not include backing or trim.
The SET UP charge for Custom Colors (where available) is $25.00; the SET UP for Custom Upholstery is based on your size requirements. Please allow 2-4 weeks for Custom kits and 2-4 weeks for Rug kit delivery.
| cross-point™ Kit | Name/ Item Number/ size & color | Price |
| --- | --- | --- |
BASILICA 01 COLORS

:
ginger, copper, bronze, grayed olive greens, tea leaf outline



#BAS-01

- 20"x20" (52x52 cm)


(at left)




#BASM-01

- 11"x11" (27x27 cm)


(at right)




#BABP-01

- 21"w x 15"h (53x37 cm)


(see drawings below for pattern)



COMPANION PILLOWS:


Anatolia 02, Berber Stripe 01, Kilim II 08




Kilim 02, Tulip and Tulip Border 05




Honeycomb 02




#BAS-01




Price $139.00





#BASM-01




Price $ 54.00





#BABP-01




Price $ 109.00






BASILICA 02 COLORS

:
muted blues, dusty pinks, pale moss, wood rose, lavender accent, ink outline



#BAS-02

- 20"x20" (52x52 cm)


(at left)




#BASM-02

- 11"x11" (27x27 cm)


(at right)




#BABP-02

- 21"w x 15"h (53x37 cm)


(see drawings below for pattern)




#BAS-02




Price $139.00





#BASM-02




Price $ 54.00





#BABP-02




Price $109.00






BASILICA 03 COLORS:


all paprika reds from light, medium to dark



#BAS-03

- 20"x20" (52x52 cm)


(at left)




#BASM-03

- 11"x11" (27x27 cm)


(center front)




#BABP-03

- 21"w x 15"h (53x37 cm)


(at right)



COMPANION PILLOWS:
Basilica 03 colors are correlated with many
other patterns in our collection: (see below)


other all reds: Turin 02, Pisac04;




with all "spice" pillows: Anatolia 04,




Morocco Stripe 04, Bergama 05,Balouch 06






#BAS-03




Price $139.00





#BASM-03




Price $ 54.00





#BABP-03




Price $109.00






SMALL BASILICA 04 COLORS

:


navy outline with vibrant fuchsia, orange, yellow, blue, grass green, tomato, lime




#BASM-04 - 11"x11" (27x27 cm)



The same colors are available for Basilica and Basilica Back Pillow as Custom Orders only




#BASM-04




Price $ 54.00




BASILICA 05 COLORS

:
old blues,navy outline on ecru ground



#BAS-05

- 20"x20" (52x52 cm)


(upper right)




#BASM-05

- 11"x11" (27x27 cm)


(photo)




#BABP-05

- 21"w x 15"h (53x37 cm)


(at bottom)






(blues in 05 colors are the same as blues in

07 below)

COMPANION PILLOWS::


Game Board 02, Greek Border 01, Nilos 03




Fleur-de-Lis 03, Bergama 03, Tulip Stripe 02




Tulip and Tulip Border 03, Honeycomb 04




Meadow 03, Tabriz 02, 12th Century 01




Carnation 02





#BAS-05




Price $139.00





#BASM-05




Price $ 54.00





#BABP-05




Price $109.00





BASILICA 06 COLORS

:
gray greens, sage, khaki, aubergine, tree bark outline, palest silvery gray ground



#BAS-06

- 20"x20" (52x52 cm)


(at right)




#BASM-06

- 11"x11" (27x27 cm)


(photo)




#BABP-06

- 21"w x 15"h (53x37 cm)


(middle left)



COMPANION PILLOWS:


Celtic Knot 03, Morocco 03,




Small Morocco 04, Log Cabin 01




greyed greens Oahu 02, Balouch 02,




Anatolia 05, Game Board 01, Lidisfarne 03




Balouch Stripe 05, Kilim II 07




#BAS-06




Price $139.00





#BASM-06




Price $ 54.00





#BABP-06




Price $ 109.00






BASILICA 07 COLORS

:
old blues, pale red, sand, navy,navy outline



#BAS-07

- 20"x20" (52x52 cm)


(at left)




#BASM-07

- 11"x11" (27x27 cm)


(below upper right)




#BABP-07

- 21"w x 15"h (53x37 cm)


(below at left)



COMPANION PILLOWS:


Anatolia 08, Honeycomb 05, Oahu 04,




Tulip and Tulip Border 04,12th Century 03





#BAS-07




Price $139.00




#BASM-07




Price $ 54.00





#BABP-07




Price $109.00









#BASM-07 - 11"x11" (27x27 cm)


( upper right)



#BABP-07 - 21"w x 15"h (53x37 cm)


( at left)









BASILICA 08 COLORS

:
Historic tapestry colors, greyed greens, brownish greens, dark sand,



#BAS-08

- 20"x20" (52x52 cm)


(at left)




#BASM-08

- 11"x11" (27x27 cm)


( photo upper left)




#BABP-08

- 21"w x 15"h (53x37 cm)


(below at left)



COMPANION PILLOWS:
Grape & Grape Runner 07,


12th Century 05, Morocco Stripe 08,






#BAS-08




Price $139.00





#BASM-08




Price $54.00





#BABP-08




Price $109.00




BASILICA 09 COLORS

:
Primary colors: tomato and dark red, gold,
yellow, teal, grass green, true blue



#BAS-09

- 20"x20" (52x52 cm)


(at left)




#BASM-09

- 11"x11" (27x27 cm)


( upper left)




#BABP-09

- 21"w x 15"h (53x37 cm)


(below at left)



COMPANION PILLOWS:
Berber Stripe 02, Balouch 07,Celtic Knot 04,


Karakum 04, Pisac 01, Plaid 03,




Lindisfarne 01, Morocco Stripe 02,




Balouch Stripe 03, Triangles 05






#BAS-09




Price $139.00





#BASM-09




Price $54.00





#BABP-09




Price $109.00





BASILICA CUSTOM UPHOLSTERY


available in stock colors and custom colors



available in two sizes:
15" square and 16" square
additional background wool at outer edges as needed @ $0.30 per square inch

Suitable for square stools and chair seats
as well as small throws or inserts into larger
throws.


BASILICA CUSTOM
UPHOLSTERY

15" sq. - $68.00
Plus $25.00 Set Up

16" sq. - $77.00
Plus $25.00 Set Up
Plus $0.30 sq.inch
for extra wool







shown at left BASILICA 05 colors with Tabriz 02 colors

:


#BASM-05 and #TASM-02 (photo)





Same colors available in other sizes

:


Basilica #BAS-05 and #BABP-05




Tabriz #TAB-02, #TABP-02


Basilica 03 with Game Board 03

Small Basilica 03 with Morocco Stripe 04

photo at far left:
#BABP-03,
#BASM-03, AND
#GAM-03


photo at right:
#BASM-03 and
#MORBP-04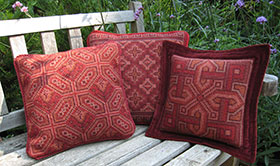 Basilica 03 colors with correlated patterns:
Turin 02 at left, Pisac 04 at center, Small Basilica 03 at right
back to top