The cross-point™ Collection
PATTERN: BALOUCH

Our contemporary interpretation of traditional
Kilim carpet motifs from central Persia
Nomadic Balouch are known for somber, tightly woven saddle bags, wool kilims and other useful objects. Balouch women weave their objects on ground looms - like cross-point™ kits - they are easily transported from camp to camp.Kilim type patterns are a lot of fun to stitch and can be addictive!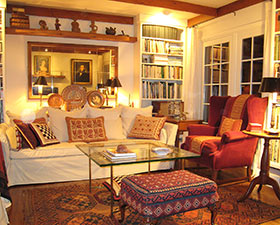 Balouch 06 colors: Pillow, Pillow Insert and Long Border on wing chair,
shown with color coordinated companions: Bergama 05, Game Board 03,
Pisac 05, and custom upholstery Balouch 04 on stool
Available in five sizes :
Rectangular Pillow BALOUCH - #BAL- 21"x17" (55x43cm)

NEW!

Small Rectangular Pillow SMALL BALOUCH - #BAL-SM - 18" x 13" (46x33cm)
Small Rug BALOUCH RUG - #BALR - 28" wide x 48" long (72x122cm)
Pillow Insert BALOUCH INSERT - #BAL-I - 7 1/4" wide x 11"high (18x30cm
Long BALOUCH BORDER - #BAL-LB - 7 1/4" wide x 80" long (18x203cm)
Custom Upholstery & Custom Colors available - Please contact us

Each kit contains large charts in colors and symbols, fabric, luxurious French tapestry wool, needles, and detailed instructions. Also included are our cross-point™ Technique sheets. Patterns are classified ("X") for experienced stitchers, or ("E") for beginners, unclassified patterns can be stitched by anyone with a little practice. Kits do not include backing or trim.Balouch kits have an additional "outlines" chart for easy counting.This pattern is fun and fast stitching and with the outline chart, is easy for beginners.
The SET UP FEE for Custom Colors is $25.00; SET UP FEE for Custom Upholstery is based on your size requirement. Please allow 2-4 weeks for Rug Kit delivery.
| cross-point™ Kit | Name/ Item Number/ size & color | Price |
| --- | --- | --- |


BALOUCH 01 COLORS:
old blues, navy, tan, fawn, oatmeal, pale terracotta


#BAL-01

- 21"x17" (55x43cm)


(photo top left)





#BAL-SM-01

- 18"x13"high (46x33cm)


(drawing bottom left)




#BALR-01

- 28"w x 48"l (72x122cm)
(see rugs at bottom of page)



#BAL-I-01

- 7 1/4"w x 11"h (18x30cm)


Pillow Insert





#BAL-LB-01

- 7 1/4"w x 80"l (18x203cm)


(Long border)



COMPANION PILLOWS:


Celtic Knot 01, Pisac 06, Meadow 03




Kilim II 09




#BAL-01




Price- $125.00





#BAL-SM-01




Price - $89.00





#BALR-01




Price - $415.00





#BAL-I-01




Price - $27.95





#BAL-LB-01




Price - $199.00






BALOUCH 02 COLORS:
green and gray sage greens, oatmeal, cranberry accents



#BAL-02

-21"x17" (55x43cm)


(photo)




#BAL-SM-02

- 18"x13"high (46x33cm)


(drawing bottom left)





#BALR-02

- 28"w x 48"l (72x122cm)
(see bottom of page)



#BAL-I-02

- 7 1/4"w x 11"h (18x30cm)
Pillow Insert



#BAL-LB-02

- 7 1/4"w x 80"l (18x203cm)
(Long border)

COMPANION PILLOWS:


Anatolia 05, Balouch Stripe 05




Kilim II 07,Morocco Stripe 07




Oahu 02,12th Century 02




#BAL-02




Price- $125.00





#BAL-SM-02




Price - $89.00





#BALR-02




Price - $415.00





#BAL-I-02




Price - $27.95





#BAL-LB-02




Price - $199.00







BALOUCH 03 COLORS:
paprika reds, navy, copper, mahogany,pale red



#BAL-03

- 21"x17" (55x43cm)


(photo)




#BAL-SM-03

- 18"x13"high (46x33cm)


(drawing bottom left)





#BALR-03

- 28"w x 48"l (72x122cm)


(see bottom of page)





#BAL-I-03

- 7 1/4"w x 11"h (18x30cm)
Pillow Insert



#BAL-LB-03

- 7 1/4"w x 80"l (18x203cm)
(Long border)

COMPANION PILLOWS:


Basilica 03, Turin 02, Pisac o4,




Pisac 05




#BAL-03




Price- $125.00





#BAL-SM-03




Price - $89.00





#BALR-03




Price - $415.00





#BAL-I-03




Price - $27.95





#BAL-LB-03




Price - $199.00






BALOUCH 04 COLORS:
paprika reds, navy, copper, mahogany,pale red, straw accent



#BAL-04

-21"x17" (55x43cm)


(colors shown on stool photo)




#BAL-SM-04

- 18"x13"high (46x33cm)


(drawing bottom left)





#BALR-04

- 28"w x 48"l (72x122cm)


(see bottom of page)





#BAL-I-04

-7 1/4"w x 11"h (18x30cm)


Pillow Insert





#BAL-LB-04

-7 1/4"w x 80"l (18x203cm)


Long border



COMPANION PILLOWS: same as above


#BAL-04




Price- $125.00





#BAL-SM-04




Price - $89.00




#BALR-04




Price - $415.00





#BAL-I-04




Price - $27.95





#BAL-LB-04




Price - $199.00







BALOUCH 05 COLORS:
old blues, navy,camel, cranberry, dark tan, grayed blue accent



#BAL-05

- 21"x17" (55x43cm)


(photo)




#BAL-SM-05

- 18"x13"high (46x33cm)


(drawing bottom left)





#BALR-05

- 28"w x 48"l (72x122cm)


(see bottom of page)





#BAL-I-05

-7 1/4"w x 11"h (18x30cm)


Pillow insert




#BAL-LB-05

-7 1/4"w x 80"l (18x203cm)


Long Border



COMPANION PILLOWS:


Karakum 05, Anatolia 06,Moghul 04




#BAL-05




Price- $125.00





#BAL-SM-05




Price - $89.00





#BALR-05




Price - $415.00





#BAL-I-05




Price - $27.95





#BAL-LB-05




Price - $199.00







BALOUCH 06 COLORS:
spice colors: cinnamon, ginger, honey, cream, allspice



#BAL-06

- 21"x17" (55x43cm)


(photo)




#BAL-SM-06

- 18"x13"high (46x33cm)


(drawing bottom left)





#BALR-06

- 28"w x 48"l (72x122cm)


(see bottom of page)





#BAL-I-06

-7 1/4"w x 11"h (18x30cm)


Pillow Insert




#BAL-LB-06

-7 1/4"w x 80"l (18x203cm)


Long Border


COMPANION PILLOWS:


Anatolia 04, Bergama 05, Pisac 05




Morocco Stripe 04,Topkapi 07,




Tabriz 04,Basilica 03,Turin 02




Balouch 03 and 04




#BAL-06




Price- $125.00





#BAL-SM-06




Price - $89.00





#BALR-06




Price - $415.00





#BAL-I-06




Price - $27.95





#BAL-LB-06




Price - $199.00









BALOUCH 07 COLORS:
tomato,teal,blue, yellow, grass green, ink



#BAL-07

- 21"x17" (55x43cm)


(drawing at left)




#BAL-SM-07

- 18"x13"high (46x33cm)


(photo bottom left)





#BALR-07

- 28"w x 48"l (72x122cm)


(see bottom of page)





#BAL-I-07

-7 1/4"w x 11"h (18x30cm)


Pillow Insert




#BAL-LB-07

-7 1/4"w x 80"l (18x203cm)


Long Border



COMPANION PILLOWS:
Berber Stripe 02,
Zagros 02, Small Karakum 04,
Celtic Knot 04, Basilica 09, Pisac 01, Plaid 03, Lindisfarne 01,
Balouch Stripe 03, Triangles 05,



#BAL-07




Price- $125.00




#BAL-SM-07




Price - $89.00




#BALR-07




Price - $415.00




#BAL-I-07




Price - $27.95




#BAL-LB-07




Price - $199.00




BALOUCH REPEAT UPHOLSTERY:
available in all stock and custom colors


vertical repeat: 5.5"
horizontal repeat: 4.75"

for stools, benches, chair seats

CUSTOM UPHOLSTERY
Price $0.30 per square inch
PLUS SET UP FEE based on size needed


BALOUCH PILLOW INSERT


#BAL-I

size: 7 1/4"w x 11"h (18x30cm)
available in all pillow colors & custom colors


BALOUCH LONG BORDER


#BAL-LB


size: 7 1/4"w x 80"l (18x203cm)
available in all pillow colors
& custom colors

For Custom colors, please contact us


photo far left:
PILLOW INSERT
on chair cushion
(all pillow colors)

LONG BORDER
chair seat & back
(all pillow colors)




photo far left:
Celtic Knot
#CEL-05 and
Balouch #BAL-01


photo right:
Balouch #BAL-03
Balouch #BAL-06





#BALR-01 (refer to pillow colors for other rug colors)

#BALR-02 (refer to pillow colors for other rug colors)
#BALR-04

BALOUCH BAG


please go to SMALL ITEMS - PAGE 3
FOR DETAILS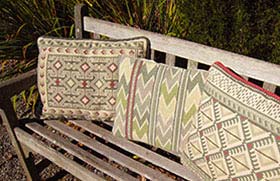 Balouch 02 with companion Balouch Stripe 05 and Anatolia 05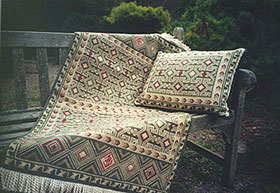 Balouch #BAL-02 Pillow and Balouch Rug #BALR-02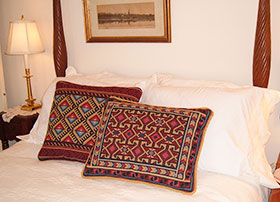 Balouch 05 and Anatolia 06 Pillows
back to top