The cross-point™ Collection
We have redesigned our method of providing contact information. Rather than adding complicated captcha characters, which no one likes, please visit the links page (see bottom of left sidebar) to find our electronic mail address or copy: cross-point@cross-point.com into your mail server. Additional pages for information are listed below. Please use the E-mail address for inquiries on existing patterns, color questions, custom upholstery questions, follow-up inquiries and anything else you want to communicate to Sieglinde.
We stopped sending out an e-newsletter since so many of you could not open them due to your own computer settings or your company's settings. To let you know of upcoming Special Offers and new designs or colors added to the Collection please visit the cross-point blog. You can sign up and receive the monthly blog via email or RSS feed. Your email address is required to sign up for the blog but you can unsubscribe at any time.
For additional information and inquiries please visit these other pages on this website: Customer Comments, Custom Services, cross-point News, and our Policies.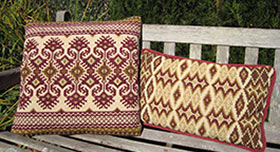 back to top