The cross-point™ Collection
Pattern: GREEK BORDER ("E")

A classic Greek fret adapted to a stripe pattern
While our simple yet elegant pattern is adapted from a Greek urn, the fret is a motif that occurs in all cultures - from primitive societies to the Celts, the Moors, the Chinese, ancient Mexicans and Arabs.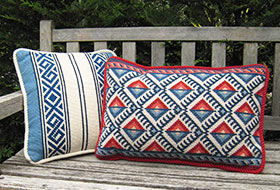 Greek Border 01 with Anatolia Back Pillow 08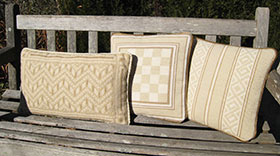 Greek Border 03 with Small Game Board 06 and Small Chevron 01
Available in one size :
Square Pillow #GRE - 14"x14" (36x36cm)
Pattern can be used horizontally or vertically
Also available: Custom Upholstery & Custom Colors - Please contact us
Also available: Greek Pocket Book
Each kit contains large charts in colors and symbols, fabric, luxurious French tapestry wool, needles, and detailed instructions. Also included are our cross-point™ Technique sheets. Patterns are classified ("X") for experienced stitchers, or ("E") for beginners, unclassified patterns can be stitched by anyone with a little practice. Kits do not include backing or trim.
The SET UP charge for Custom Colors (where available) is $25.00; the SET UP for Custom Upholstery is based on your size requirements. Please allow 2-4 weeks for Custom kits and 2-4 weeks for Rug kit delivery.
| cross-point™ Kit | Name/ Item Number/ size & color | Price |
| --- | --- | --- |
GREEK BORDER 01 COLORS:
Mediterranean blues, navy, off white




#GRE- 01

- 14"x14" (36x36 cm)
(photo)

COLOR COORDINATED WITH


Game Board 02, Nilos 03,Anatolia 08




Balouch Stripe 04, Triangles 04




Tulip Stripe 02, 12th Century 01




STRIPE CAN BE USED VERTICALLY OR
HORIZONTALLY



#GRE- 01




Price $ 59.00



GREEK BORDER 02 COLORS:
Maize yellow, light red, dark red, straw




#GRE- 02

- 14"x14" (36x36 cm)
(drawing)


COLOR COORDINATED WITH:
MOGHUL 03, CHEVRON 05

STRIPE CAN BE USED VERTICALLY OR
HORIZONTALLY



#GRE- 02




Price $ 59.00



GREEK BORDER 03 COLORS:


ecru, pale sand, oatmeal






#GRE- 03

- 14"x14" (36x36 cm)
(photo at left - shown with #GASM-06)

COLOR COORDINATED WITH #CHSM-01,
(Small Chevron) & Game Board 06
COMPANION PILLOW TO BALOUCH 01,
PISAC 04, TURIN 04, 05, 06 and other patterns
with oatmeal background

STRIPE CAN BE USED VERTICALLY OR
HORIZONTALLY



#GRE- 03




Price $ 59.00



GREEK BORDER 04 COLORS:
cranberry, oatmeal


(kit includes sufficient wool to add center stripe if desired)






#GRE- 04

- 14"x14" (36x36 cm)
(photo)

COMPANION PILLOWS:


Anatolia 01



STRIPE CAN BE USED VERTICALLY OR HORIZONTALLY

#GRE- 04




Price $ 59.00



GREEK BORDER 05 COLORS:
black, tan, oatmeal




#GRE- 05

- 14"x14" (36x36 cm)
(photo at left)


COLOR COORDINATED WITH:
MOROCCO STRIPE 08,
12th CENTURY GEOMETRIC 05



#GRE- 05




Price $ 59.00



#GRE-06 NEW COLOR ADDED
moss greens with eggshell off white


COMPANION PILLOW KITS:
Carnation 05, Turin 05, Meadow 01,
Chevron 02, Pisac 01, Tabriz 01

#GRE-06


Price $59.00

GREEK BORDER CUSTOM UPHOLSTERY:
available in all stock colors and custom
colors

horizontal repeat: 6.75"
Stripe can be used vertically or horizontally
Sized to your specific application:
For stools, ottomans, benches, chair seats

NEUTRAL COMPANION TO SEVERAL PILLOWS:


Balouch 01, Chevron 01, Game Board 06




Celtic Knot 05, Kilim 06 and 05




CUSTOM
UPHOLSTERY
Price $0.30 sq.inch
Plus SET UP FEE


please contact us

GREEK SHOULDER BAG
colors: black, oatmeal

stitched size 8"x21" (20 x 53 cm)
(back, front and under flap have pattern)

Finished size: 8" x 8" (20 x 20 cm)

Kit does not include lining or cording
GREEK SHOULDER
BAG:


Price $49.95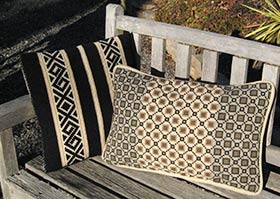 Greek Border 05 with 12th Century Geometric 05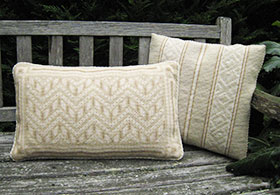 Greek Border 03 Pillow with companion Small Chevron 01
back to top