The cross-point™ Collection
Pattern: TULIP & TULIP BORDER ("X")
The romantic "tulip" motif is a symbol for "chalice" or "woman". It occurs throughout the Mediterranian countries and Central Europe in embroideries, laces, carpets and wall decoration. Our TULIP is coordinated with TULIP BORDER and HONEYCOMB patterns as well as other color coordinated pillows in the cross-point™ Collection..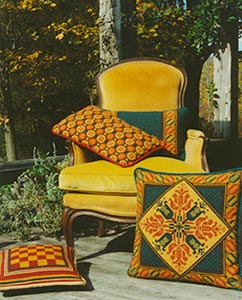 Above left: #TUL-01, #HON-01, #TULB-01, SMALL GAME BOARD #GASM-04
Above right: #TUL-02, #TULB-02 and #TULB-04 (at back),
HONEYCOMB #HON-03 & ANATOLIA BACK PILLOW #ANBP-03 (on ground)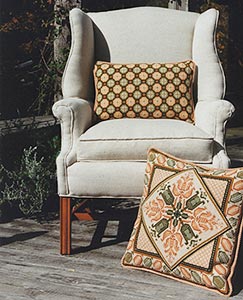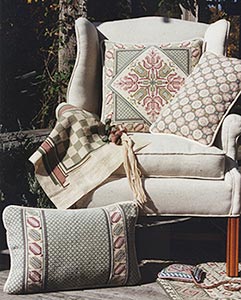 Above left: #TUL-05 with #HON-02 on chair
Above right: #TUL-07 & HONEYCOMB #HON-06 on chair,
#TULB-07 on ground (SMALL GAME BOARD #GASM 01 under construction)

Available in one size Square pillow & coordinated Back Pillow:
Large Square Pillow TULIP - #TUL - 20" x 20" (52 x 52 cm)
Rectangular Back Pillow TULIP BORDER - #TULB - 19"wide x 13.5"high (50x35 cm)
CUSTOM UPHOLSTERY - #TULB - borders can be moved to suit application for chairs, stools, ottomans, benches and bed hangings.

Each kit contains large charts in colors and symbols, fabric, luxurious French tapestry wool, needles, and detailed instructions. Also included are our cross-point™ Technique sheets. Patterns are classified ("X") for experienced stitchers, or ("E") for beginners, unclassified patterns can be stitched by anyone with a little practice. Kits do not include backing or trim.Set Up Fee for custom colors = $25.00; Set Up Fee for Custom Upholstery varies by size requirement. Delivery on rug patterns is 2-3 weeks.
| cross-point™ Kit | Name/ Item Number/ size & color | Price |
| --- | --- | --- |
TULIP & TULIP BORDER 01 COLORS:
tomato red, dark red, green teal, blue teal, teal ink, topaz, old gold



#TUL - 01




size: 19" x 19" (49 x 49 cm)





#TULB - 01




size: 20" wide x 13" high (51 x 33 cm)



#TULB CUSTOM UPHOLSTERY


available in stock & custom colors



COMPANION PILLOWS: HONEYCOMB 01

#TUL-01




Price $119.00





#TULB-01




Price $89.00








TULIP BORDER 01



colors, size and kit information above



FOR CUSTOM UPHOLSTERY:
Leaf Borders can be moved closer together for chairs or stools and total width adjusted as needed.
CUSTOM UPHOLSTERY
Price $0.30 sq.inch
Plus SET UP FEE
TULIP & TULIP BORDER 02 COLORS:
old blues, navy, daffodil, off white


#TUL - 02




size: 19" x 19" (49 x 49 cm)





#TULB - 02




size: 20" wide x 13" high (51 x 33 cm)



#TULB CUSTOM UPHOLSTERY


available in stock & custom colors



COMPANION PILLOWS: HONEYCOMB 03


#TUL-02




Price $119.00





#TULB-02




Price $89.00








TULIP BORDER 02
(drawing at left)

colors, size and kit information above

FOR CUSTOM UPHOLSTERY:
Leaf Borders can be moved closer together for chairs or stools and total width adjusted as needed.
CUSTOM UPHOLSTERY
Price $0.30 sq.inch
Plus SET UP FEE


TULIP & TULIP BORDER 03 COLORS:
old blues, navy, off white



#TUL - 03




size: 19" x 19" (49 x 49 cm)





#TULB - 03




size: 20" wide x 13" high (51 x 33 cm)



#TULB CUSTOM UPHOLSTERY


available in stock & custom colors



CUSTOM UPHOLSTERY
Price $0.30 sq.inch
Plus SET UP FEE

COMPANION PILLOWS: HONEYCOMB 04




#TUL-03




Price $119.00





#TULB-03




Price $89.00








TULIP & TULIP BORDER 04 COLORS:
old blues, navy, medium cranberry border


#TUL - 04




size: 19" x 19" (49 x 49 cm)





#TULB - 04




size: 20" wide x 13" high (51 x 33 cm)



#TULB CUSTOM UPHOLSTERY


available in stock & custom colors



CUSTOM UPHOLSTERY
Price $0.30 sq.inch
Plus SET UP FEE

COMPANION PILLOWS: HONEYCOMB 05



#TUL-04




Price $119.00





#TULB-04




Price $89.00








TULIP & TULIP BORDER 05 COLORS:
red copper, peach, grayed greens, sage, golden olive, oatmeal



#TUL - 05




size: 19" x 19" (49 x 49 cm)





#TULB - 05




size: 20" wide x 13" high (51 x 33 cm)



#TULB CUSTOM UPHOLSTERY


available in stock & custom colors



CUSTOM UPHOLSTERY
Price $0.30 sq.inch
Plus SET UP FEE

COMPANION PILLOWS: HONEYCOMB 02



#TUL-05




Price $119.00





#TULB-05




Price $89.00








TULIP & TULIP BORDER 06 COLORS:
plum, cerise, loden green, blue green, dark sage, oatmeal



#TUL - 06




size: 19" x 19" (49 x 49 cm)





#TULB - 06




size: 20" wide x 13" high (51 x 33 cm)



#TULB CUSTOM UPHOLSTERY


available in stock & custom colors



CUSTOM UPHOLSTERY
Price $0.30 sq.inch
Plus SET UP FEE

COMPANION PILLOWS: HONEYCOMB 07



#TUL-06




Price $119.00





#TULB-06




Price $89.00








TULIP & TULIP BORDER 07 COLORS:
antique rose, sage greens, sand, off white


#TUL - 07




size: 19" x 19" (49 x 49 cm)





#TULB - 07




size: 20" wide x 13" high (51 x 33 cm)



#TULB CUSTOM UPHOLSTERY


available in stock & custom colors



CUSTOM UPHOLSTERY
Price $0.30 sq.inch
Plus SET UP FEE

COMPANION PILLOWS: HONEYCOMB 06



#TUL-07




Price $119.00





#TULB-07




Price $89.00








TULIP BORDER 07
(photo at left)

colors, size and kit information above


FOR CUSTOM UPHOLSTERY:
Leaf Borders can be moved closer together for chairs or stools and total width adjusted as needed.
CUSTOM UPHOLSTERY
Price $0.30 sq.inch
Plus SET UP FEE


TULIP & TULIP BORDER 08 COLORS:
golden olive, rusty pink, light cranberry
wood rose, elephant gray, oatmeal



#TUL - 08




size: 19" x 19" (49 x 49 cm)





#TULB - 08




size: 20" wide x 13" high (51 x 33 cm)



#TULB CUSTOM UPHOLSTERY


available in stock & custom colors



CUSTOM UPHOLSTERY
Price $0.30 sq.inch
Plus SET UP FEE

COMPANION PILLOWS: HONEYCOMB 08



#TUL-08




Price $119.00





#TULB-08




Price $89.00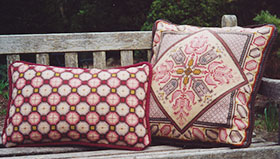 Tulip 08 with Honeycomb 08
back to top