The cross-point™ Collection
What our Customers say about cross-point™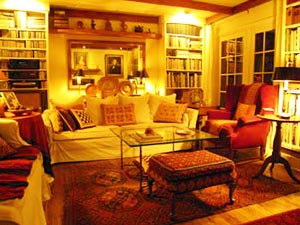 We sent out a questionnaire to stitchers who had purchased one or more kits. We appreciate your comments and thank you for your time. Here are just a few of the replies we received:

Recently we received this from M.E., Far Hills, NJ
(copied verbatim):
"I have been doing some form of needlework since I was very young. Mostly, however, I did needlepoint on canvas. I never thought I would ever stop. But when I discovered cross-point I never looked back. The patterns and colors are dynamic, and the stitches are large enough for aging eyes to see. (I can no longer do petit-point). The jute is much easier to handle: soft and not irritating to the hands, and, best of all, it does not need to be blocked. I try to always have a piece available to work on. It keeps me happy when the dentist is late or the plane delayed. I'm never bored. I take full advantage of the availability to change colors and sizes and have stitched many chair cushions, benches and even large rugs. Try it – you will love it!"

From K.E., Columbus, OH:
I had never done needlework of any kind before, so to be able to create something so gorgeous right off the bat, with a modest learning curve — I felt really proud of myself. Even now, after finishing several pillows, the result feels like much more than I'm putting in to it. I do them to relax in the evenings and love to watch the pattern emerge under my fingers. I look at the pillows in my home and I feel accomplished! I've given kits to friends as gifts — and to a couple of very special people, I've given completed pillows (was a great way to win over my mother-in-law!).
From L.B., Harrisonburg, VA:
"While growing up, my mother taught me to embroider. However, as an adult, it didn't interest me anymore. When I saw the beautiful cross-point pillows of Sieglinde Anderson, I decided to give them a try! What fun! It is a delight to see the lovely patterns unfold as you do the simple counted cross stitch. The patterns with large charts are easy to follow and you only have to start with a simple design to get used to the process. I've done dozens now, including one for each of my children, and really enjoy making them. Everyone who sees the finished pillows loves them!"

From P.C., Henderson, NV:
"This is my first project with cross-stitch . I am a needlepointer. This is a fun project for me as it goes much faster even for a first project. I love being able to just pick it up and start stitching away. Thank you."

From G. H., San Francisco, CA
:
"When working with one of your kits, several adjectives come to mind: delightful, absorbing, addictive, therapeutic, elegant, relaxing.."

From R. C., Logansport, LA:
"I am a long time cross-stitch person and I must say this is the most enjoyable experience that I have had in a very long time with a stitching project. It was so easy and so fast to complete."

From J. D., Seattle, WA:
"I have done needlepoint and cross-stitch and have some background.Your designs are beautiful. It was difficult to pick out one. Hard to put down project. Very addictive! "

From C. L., Columbus, MS:
"I think you have excellent kits! I am a "needle pointer" and I have found my new love with your cross-point. I plan to order another when I decide which one! I read your catalog and dream.Thanks."

From G. P., West Chester, PA:
"Great designs. Beautiful when executed."

From D. F., Juneau, AK:
"I've really enjoyed my pillow kits, I like figuring the technique as I go."

From M.E., Mendham, NJ:
"I have been a needlepointer for over 40 years. Cross-point is so much fun and so fast, I will never go back. I just cleaned out all my old frames, canvas and needlepoint books as I will never use them again."

From B.U., Mendham, NJ:
"You must tell everyone how fast it goes! I just completed the seat and back for an armchair. I would not have attempted this project in anything other than cross-point. I'm ready to do a second chair. This is so much fun!"

From P.E., Columbus, OH:
"I just love the fabric. I roll up the kit I am working on and take it with me so I can stitch while I am waiting at the doctor's office or for my kids. Having been a needlepointer for so long, I particularly enjoy not having to stretch the piece back to shape. I thought at first counting would be hard but to my amazement I discovered it isn't hard at all. I just love your colors and patterns."

From S.H., Huntsville, AL:
"I love cross-point! I have done a number of types of needlework over the years and cross-point is my favorite. My projects look great, and they don't take so long that I am tired of them before I finish. I recently used the custom colors option to do a pillow for my daughter's classroom and I was very happy with it. I am definitely a cross-point convert!"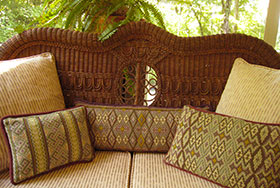 If you would like to add your comment to this page, please send an email to cross-point at cross-point.com.
Back to Top