The cross-point™ Collection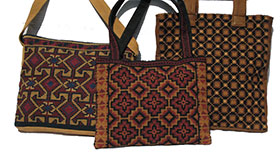 cross-point™ offers a variety of small items for those who have never stitched before. They are an easy way to learn the cross-point™ Technique®. For those familiar with our stitching and finishing process, some are superfast projects that can be easily finished over a weekend. Large bags, shown on this page, are stitched with two panels (front and back). Several of our Back Pillow and Stool Top designs can be adapted to your lap top size. Since lap tops are not all the same, we offer this as a CUSTOM ORDER if you want it sized to your specifications. Please refer to the CUSTOM SERVICES page for more details.
Kit contents are the same as for our large kits. Included are all necessary charts and instruction sheets for stitching and finishing. For more details visit KIT CONTENTS on the About cross-point™ page. Kits do not include fabric backing, zippers, cording or trim.


| cross-point™ Kit | Name/ Item Number/ size & color | Price |
| --- | --- | --- |
12th CENTURY BAG





SIZE: 13"w x 14"h (33 x 37 cm)




Two panels: front and back






KIT DOES NOT INCLUDE FINISHING MATERIALS





(We finished our sample with wide gusset and matching handles in suede), lined, with

zipper pockets and zipper top closing)

colors: black, chocolate, light brown, honey




CUSTOM SIZE FOR LAP TOPS AVAILABLE

-
please contact us


Kit Price $119.00

(for 2 panels)

12th CENTURY SHOULDER BAG





SIZE: 9"w x 16"h (23 x 41 cm)




Two panels: front and back





KIT DOES NOT INCLUDE FINISHING MATERIALS





(We finished ours with light brown leather strap

and gusset, lined, with zippered pockets and closing.)

colors: black, chocolate, light brown, honey



Kit Price $109.00

(for 2 panels)
BALOUCH BAG



SIZE: 14"w x 11"h (37 x 28 cm)




Two panels: front and back





KIT DOES NOT INCLUDE FINISHING MATERIALS



(We finished ours with a suede bottom gusset and carrying strap, inside zippered pockets and zipper closing at the top edge.)


colors: navy, camel, cranberry, dark red



CUSTOM SIZE FOR LAP TOPS AVAILABLE

-
please contact us



Kit Price $109.00

(for 2 panels)
PISAC BAG



SIZE: 13"w x 10"h (33 x 25 cm)




Two panels: front and back, plus straps





KIT DOES NOT INCLUDE FINISHING MATERIALS



(We finished ours without a gusset, stitched carrying strap, inside zippered pockets and velcro closing at the top edge.)


colors: black, camel, cinnamon, rust red



CUSTOM SIZE FOR LAP TOPS AVAILABLE

-
please contact us



Kit Price $109.00

(for 2 panels)

ZEBRA SHOULDER BAG





SIZE: 9"w x 16"h (23 x 41 cm)




Two panels: front and back





KIT DOES NOT INCLUDE FINISHING MATERIALS





(We finished ours with black leather strap

and gusset, lined, with zippered pockets and closing.)

colors: black, sand, oatmeal


Kit Price $109.00

(for 2 panels)
back to top