The cross-point™ Collection
Pattern: SIENA ("X")
Siena, inspired by Venetian cut velvets and Jacobean bed hangings, showcases peonies, tulips, pomegranates, birds and leaves in a scrolled fantasy. The size is perfect for large beds, sofas and large upholstered chairs. We offer two companions of the same historic period, Parma (pillow or upholstery) and Newport upholstery. Also consider Animal patterns, especially Leopard or Tiger, as well as our 12th Century pattern.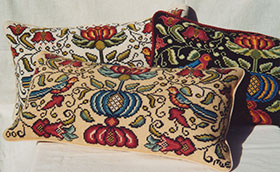 SIENA PILLOWS - 01 (center front), 02 (left rear), 03 (right rear)
Available in one pillow size:
Large Rectangual Pillow: SIENA - #SIE - 28" wide x 15"high (71 x 39 cm)

Each kit contains large charts in colors and symbols, fabric, luxurious French tapestry wool, needles, and detailed instructions. Also included are our cross-point™ Technique sheets. Patterns are classified ("X") for experienced stitchers, or ("E") for beginners, unclassified patterns can be stitched by anyone with a little practice. Kits do not include backing or trim.
| cross-point™ Kit | Name/ Item Number/ size & color | Price |
| --- | --- | --- |



SIENA O1 COLORS:
Cranberry reds, olive, grayed Jacobean green, blue spruce, light paprika, grey blue, honey, tan, golden olive, teal ink outlines on tea stain



#SIE - 01




size: 28" wide x 15" high (71 x 39 cm)



COMPANION PATTERNS INCLUDE:
PARMA 01, PARMA 03, PARMA 04, PARMA 05; NEWPORT UPHOLSTERY, FLAME STITCH 02






#SIE - 01




Price $145.00




SIENA 02 COLORS:
paprika reds, olive, grayed Jacobean green, dark sage, blue spruce, grey blue, gold, leaf, golden olive, teal ink outlines on oatmeal



#SIE - 02




size: 28" wide x 15" high (71 x 39 cm)



COMPANION PATTERNS INCLUDE:
PARMA 02, PARMA 03, PARMA 04, PARMA 05; NEWPORT UPHOLSTERY, FLAME STITCH 01
BASILICA 03






#SIE - 02




Price $145.00




SIENA 03 COLORS:
Cranberry reds, olive, grayed Jacobean green, blue spruce, sage, blue, old gold, topaz, olive, gray green outlines on black



#SIE - 03




size: 28" wide x 15" high (71 x 39 cm)



COMPANION PATTERNS INCLUDE:
PARMA 01, PARMA 03, PARMA 04, PARMA 05; NEWPORT UPHOLSTERY, FLAME STITCH 03, SHALIMAR 03, TOPKAPI 04, KILIM II 01






#SIE - 03




Price $145.00




SIENA 04 COLORS:
Cranberry reds, olive, grayed Jacobean green, blue spruce, sage, blue, old gold, topaz, olive, leaf green,gray green outlines on hunter green



#SIE - 04




size: 28" wide x 15" high (71 x 39 cm)



COMPANION PATTERNS INCLUDE:
PARMA 01, PARMA 03, PARMA 04, PARMA 05; NEWPORT UPHOLSTERY, FLAME STITCH 03






#SIE - 04




Price $145.00




SIENA 05 COLORS:
Cranberry reds, olive, grayed Jacobean green, blue spruce, sage, blue, old gold, topaz, olive, leaf, gray green outlines on navy




#SIE - 05




size: 28" wide x 15" high (71 x 39 cm)



COMPANION PATTERNS INCLUDE:
PARMA 01, PARMA 03, PARMA 04, PARMA 05; NEWPORT UPHOLSTERY, FLAME STITCH 03






#SIE - 05




Price $145.00




SIENA 06 COLORS:
Pastels: rusty pinks, cornflower blues -light to medium & dark, sage greens, old gold, on oatmeal ground




#SIE - 06




size: 28" wide x 15" high (71 x 39 cm)





Companion pattern: Morville 04





#SIE - 06




Price $145.00




SIENA 07 COLORS:
old grey blues, gray blue spruce, golden fawn, greige, golden brown, beige, silvery blue sage, oatmeal, on navy old blue ground



#SIE - 07




size: 28" wide x 15" high (71 x 39 cm)



COMPANION PATTERNS INCLUDE:
PARMA 03, PARMA 04, TOPKAPI 08,
Kilim II 06




#SIE - 07




Price $145.00




SIENA 01
shown with PARMA 02
SIENA 03
shown with SMALL CHEVRON 03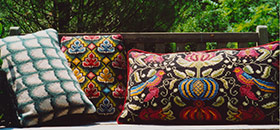 Parma 04 (at left), Newport (at back), Siena 03 (right)
back to top