The cross-point™ Collection
Pattern: 12th CENTURY GEOMETRIC ("E")
Our 12th Century Geometric pattern is an adaptation of mosaic tiles from one of the intricately patterned floors of the Basilica di San Marco in Venice. The Basilica contains a wealth of Byzantine mosaics created over many centuries by craftsmen of great skill. Our pattern can be used as a pillow and is an ideal small scale pattern for upholstery of stools, benches and chair seats. We also offer a small rug to bring the "mosaic" to the floor.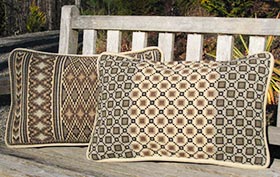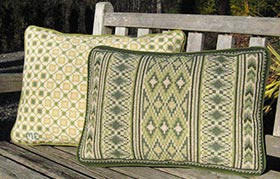 Above left: 12th Century Geometric 05 and Morocco Stripe 08
Above right: 12th Century Geometric 02 and Morocco Stripe 07


Available in one pillow size and Custom Upholstery:
RectangularPillow-12th CENTURY GEOMETRIC - #12thC - 19"wide x 12"high (48x30cm)
Also available: Large Shoulder Bag and Large Bag (see Small Items)
12th CENTURY GEOMETRIC RUG - #12thCR - 28"wide x 44"long (71x112 cm)
CUSTOM UPHOLSTERY & CUSTOM COLORS AVAILABLE

Each kit contains large charts in colors and symbols, fabric, luxurious French tapestry wool, needles, and detailed instructions. Also included are our cross-point™ Technique sheets. Patterns are classified ("X") for experienced stitchers, or ("E") for beginners, unclassified patterns can be stitched by anyone with a little practice. Kits do not include backing or trim.
The SET UP charge for Custom Colors (where available) is $25.00; the SET UP for Custom Upholstery is based on your size requirements. Please allow 2-4 weeks for Custom kits and 2-4 weeks for Rug kit delivery.
| cross-point™ Kit | Name/ Item Number/ size & color | Price |
| --- | --- | --- |



12th CENTURY GEOMETRIC 01 COLORS:
old blues, navy, off white



12thC - 01Pillow




Pillow size: 19" x 12" (48 x 30 cm)





12thCR - 01 Rug

(see drawing below)


size: 28" x 44" (71 x 112 cm)






COMPANION PILLOWS: SEE BELOW



12th CENTURY GEOMETRIC 01-2
(at left)



same size and colors plus light blue at left and right

#12thC - 01




Price $89.00






#12thCR - 01




Price $369.00




#12thC-01-2
Price $89.00


12th CENTURY GEOMETRIC 01 COLORS:
old blues, navy, off white



12thC - 01Pillow

(shown as upholstery at left)


Pillow size: 19" x 12" (48 x 30 cm)





12thCR - 01 Rug

(see drawing below)


size: 28" x 44" (71 x 112 cm)






COMPANION PILLOWS: SEE BELOW



CUSTOM UPHOLSTERY AVAILABLE IN ALL STOCK COLORS AND CUSTOM COLORS



#12thC - 01




Price $ 89.00






#12thCR - 01




Price $369.00





UPHOLSTERY
Price $0.30 sq. inch
plus SET UP FEE


12th CENTURY GEOMETRIC 02 COLORS:
green sage, straw, yellow eggshell, off white



12thC - 02 Pillow

(shown at left)


Pillow size: 19" x 12" (48 x 30 cm)





12thCR - 02 Rug

(see drawing below)


size: 28" x 44" (71 x 112 cm)



CUSTOM UPHOLSTERY AVAILABLE IN ALL STOCK COLORS AND CUSTOM COLORS



#12thC - 02




Price $ 89.00






#12thCR - 02




Price $369.00





UPHOLSTERY
Price $0.30 sq. inch
plus SET UP FEE


12th CENTURY GEOMETRIC 03
COLORS:
old blues, navy, pale red, sand
(COLORS AS BASILICA 07)



12thC- 03 Pillow

(drawing at left)


Pillow size: 19" x 12" (48 x 30 cm)




12thCR - 03 Rug

(see drawing below)


size: 28" x 44" (71 x 112 cm)





COMPANION PILLOWS: ALL BASILICA 07




#BAS-07, #BASM-07, #BABP-07



CUSTOM UPHOLSTERY AVAILABLE IN ALL STOCK COLORS AND CUSTOM COLORS



#12thC - 03




Price $ 89.00






#12thCR - 03




Price $369.00




UPHOLSTERY
Price $0.30 sq. inch
plus SET UP FEE


12th CENTURY GEOMETRIC 04 COLORS:
grayed greens, sage
(COLORS AS PISA-07, MORST-07 photo above))



12thC- 04 Pillow

(drawing at left)


Pillow size: 19" x 12" (48 x 30 cm)





12thCR - 04 Rug

(see drawing below)


size: 28" x 44" (71 x 112 cm)





COMPANION PILLOWS: #PISA-07,




#MORST-07



CUSTOM UPHOLSTERY AVAILABLE IN ALL STOCK COLORS AND CUSTOM COLORS



#12thC - 04




Price $ 89.00






#12thCR - 04




Price $369.00





UPHOLSTERY
Price $0.30 sq. inch
plus SET UP FEE


12th CENTURY GEOMETRIC 05 COLORS:
brown greens, greige, sand, tree bark
(COLORS AS MORST-08 shown in photo above)


12thC- 05 Pillow

(photo at left)


Pillow size: 19" x 12" (48 x 30 cm)





12thCR - 05 Rug

(see drawing below)


size: 28" x 44" (71 x 112 cm)



COMPANION PILLOWS:
Grape w/ Leaf Border 07,
Anatolia-10, Basilica-08,
Small Morocco-03, Topkapi-09,
Morocco Stripe-08, Greek Border-05

CUSTOM UPHOLSTERY AVAILABLE IN ALL STOCK COLORS AND CUSTOM COLORS



#12thC - 05




Price $89.00






#12thCR - 05




Price $369.00




UPHOLSTERY
Price $0.30 sq. inch
plus SET UP FEE


12th CENTURY GEOMETRIC 06 COLORS:
tomato red, olive, blue ink



12thC- 06 Pillow

(shown as upholstery at left)


Pillow size: 19" x 12" (48 x 30 cm)





12thCR - 06 Rug

(see drawing below)


size: 28" x 44" (71 x 112 cm)



CUSTOM UPHOLSTERY AVAILABLE IN ALL STOCK COLORS AND CUSTOM COLORS



#12thC - 06




Price $ 89.00






#12thCR - 06




Price $369.00




UPHOLSTERY
Price $0.30 sq. inch
plus SET UP FEE


12th CENTURY GEOMETRIC 07 COLORS:
taupe, greige, cranberry, black


(COLORS AS PLAID 07)




12thC- 07 Pillow

(drawing at left)


Pillow size: 19" x 12" (48 x 30 cm)





12thCR - 07 Rug

(see drawing below)


size: 28" x 44" (71 x 112 cm)





COMPANION PILLOWS: Plaid-07

,

CUSTOM UPHOLSTERY AVAILABLE IN ALL STOCK COLORS AND CUSTOM COLORS



#12thC - 07




Price $89.00






#12thCR - 07




Price $369.00




UPHOLSTERY
Price $0.30 sq. inch
plus SET UP FEE



12th CENTURY




BAG KITS:


(2 panels each - front and back)



12thCENTURY


LARGE BAG:
size: 13"x14" (left)


Price $127.00






12thCENTURY


SHOULDER BAG
size: 9"x14" (right)


Price $ 89.00







COMPANION PILLOWS FOR
12TH CENTURY GEOMETRIC #12thC-01:
(front to back)


GREEK BORDER #GRE - 01




SMALL GAME BOARD #GASM - 02




NILOS OCTAGON #NISM - 03




TULIP STRIPE #TUST - 02




CUSTOM UPHOLSTERY AVAILABLE IN ALL STOCK COLORS AND CUSTOM COLORS


12th CENTURY
RUGS
available in all stock
colors and
CUSTOM COLORS

#12thCR-01 (left)
#12thCR-03 (right)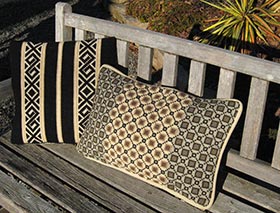 12th Century Geometric Pillow 05 with Greek Border 05
back to top