The cross-point™ Collection
Pattern: ZAGROS
Zagros is our adaptation of a rug pattern from the nomadic Quashquai of south-west Persia. The "chequer" pattern with intricate lacy border motifs are typical as are the great number of colors used in their work. We offer both a small rug as well as a pillow.
above: Zagros #ZAG-01 with Kilim 01 companion pillows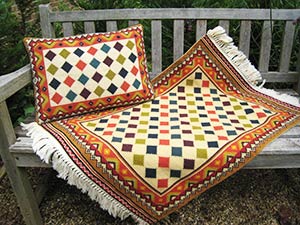 ZAGROS 01 colors - Pillow #ZAG-01 and Rug #ZAGR-01

Available in one pillow size and one rug size:
Rectangular Pillow - ZAGROS - #ZAG - 19" wide x 14" high (48 x 35 cm)
ZAGROS RUG - #ZAGR - 24" wide x 35" long (60 x 90 cm)


Each kit contains large charts in colors and symbols, fabric, luxurious French tapestry wool, needles, and detailed instructions. Also included are our cross-point™ Technique sheets. Patterns are classified ("X") for experienced stitchers, or ("E") for beginners, unclassified patterns can be stitched by anyone with a little practice. Kits do not include backing or trim.
Custom colors are not available for this pattern. Please allow 2-3 weeks for rug delivery.
| cross-point™ Kit | Name/ Item Number/ size & color | Price |
| --- | --- | --- |
ZAGROS 01 COLORS:
paprika, tomato, honey, olive, dark teal, rust, ink, eggplant, black, chartreuse, golden brown, topaz on eggshell

#ZAG-01 PILLOW - 19" wide x 14"high
(48 x 35 cm)

#ZAGR-01 RUG - 24" wide x 35" long
(60 x 90 cm)

CUSTOM COLORS NOT AVAILABLE

COMPANION PILLOWS:Anatolia 09,
Basilica 09, Pisac 01,Tabriz 01,
Triangles 05,Soumak 04, Nilos 02,
Balouch 07,Balouch Stripe 03, Karakum 04,
Morroco Stripe 02,Berber Stripe 02,
Celtic Knot 04




#ZAG-01




Price $ 99.00








#ZAGR-01




Price $229.00







ZAGROS 02 COLORS:
mustard, tomato, paprika, ginger, grass green, dark sky blue, marigold, aquamarine, maize, mahogany, dark sage, on dark green ink



#ZAG-02

PILLOW - 19" wide x 14"high


(48 x 35 cm)





#ZAGR-02

RUG - 24" wide x 35" long


(60 x 90 cm)



CUSTOM COLORS NOT AVAILABLE

COMPANION PILLOW: Berber Stripe 02
and several of those shown above


#ZAG-02




Price $ 99.00








#ZAGR-02





Price $229.00







Zagros #ZAG-02, Berber Stripe #BEBP-02 at right, Morocco #MOR-01 at center
back to top