The cross-point™ Collection
Pattern: GRAPE with LEAF BORDER

From Australia to Europe and across the sea to the Americas, grapes are grown for table and wine on sundrenched hillsides, rich in history. Appearing on historic textiles and engravings, heraldic shields, national symbols, as well as in song, this pattern is our interpretation of plump, luscious grapes in a variety of color choices. In our cross-point™ geometric tradition, grapes are arranged across the center panel bordered top and bottom with an undulating ribbon of vine leaves.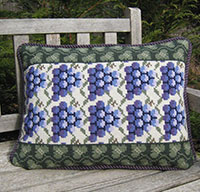 Grape with Leaf Border 02 Pillow


Available in two sizes:
Rectangular Pillow #GRA - 19"x15" (50x40cm)
Table Top Runner #GRAR - 15" wide x 41" long (40x104cm)


Each kit contains large charts in colors and symbols, fabric, luxurious French tapestry wool, needles, and detailed instructions. Also included are our cross-point™ Technique sheets. Patterns are classified ("X") for experienced stitchers, or ("E") for beginners, unclassified patterns can be stitched by anyone with a little practice. Custom colors available.
| cross-point™ Kit | Name/ Item Number/ size & color | Price |
| --- | --- | --- |
GRAPE WITH LEAF BORDER RUNNER





available in all colors shown below




size: 41" long by 15" wide (104 x 40 cm)





(grapes are reversed in two parallel rows)

GRAPE with LEAF BORDER 01 COLORS:
Cranberry, Jacobean grayed green,oatmeal



#GRA - 01 PILLOW

- 19" x 15"


(50x40 cm)




(photo)






#GRAR - 01 RUNNER

- 41" x 15"


(104 x 40 cm

)see photo at bottom

Pillow


#GRA - 01




Price $109.00



Runner


#GRAR - 01




Price $189.00




GRAPE with LEAF BORDER 02 COLORS:
purples, grayed greens, pale silvery ground



#GRA - 02 PILLOW

- 19" x 15"


(50x40 cm)




(photo)






#GRAR - 02 RUNNER

- 41" x 15"


(104 x 40 cm

)

Pillow


#GRA - 02




Price $109.00



Runner


#GRAR - 02




Price $189.00




GRAPE with LEAF BORDER 03 COLORS:
Garnet red, olive, khaki, gray green, tree bark



#GRA - 03 PILLOW

- 19" x 15"


(50x40 cm)




(photo)






#GRAR - 03 RUNNER

- 41" x 15"


(104 x 40 cm

)

Companion Pillows:


Anatolia 07, Morocco Stripe 07, Oahu 02




12th Century Geometric 04




Pillow


#GRA - 03




Price $109.00



Runner


#GRAR - 03




Price $189.00




GRAPE with LEAF BORDER 04 COLORS:
citron, lime, light red, olive, dark khaki, apple



#GRA - 04 PILLOW

- 19" x 15"


(50x40 cm)




(photo)






#GRAR - 04 RUNNER

- 41" x 15"


(104 x 40 cm

)

Companion Pillows:


Plaid 04, Morocco Stripe 05, Soumak 05




Berber Stripe 06, Oahu 05, Karakum 01




Kilim II 04, Triangles 02




Pillow


#GRA - 04




Price $109.00



Runner


#GRAR - 04




Price $189.00




GRAPE with LEAF BORDER 05 COLORS:
Siena red, Jacobean grayed green,brass, olive, dark honey



#GRA - 05 PILLOW

- 19" x 15"


(50x40 cm)







#GRAR - 05 RUNNER

- 41" x 15"


(104 x 40 cm

)

Companion Pillows:


Kilim II 07, Balouch Stripe 05,




Oahu 02, Morocco Stripe 07




12th Century Geometric 04




Pillow


#GRA - 05




Price $109.00



Runner


#GRAR - 05




Price $189.00




GRAPE with LEAF BORDER 06 COLORS:
old gold, marigold, light pumpkin, brass, olive, eggshelll



#GRA - 06 PILLOW

- 19" x 15"


(50x40 cm)




(photo)






#GRAR - 06 RUNNER

- 41" x 15"


(104 x 40 cm

)

Companion Pillows:


Greek Stripe 01, Moghul 03, Soumak 05,




12th Century Geometric 02




Pillow


#GRA - 06




Price $109.00



Runner


#GRAR - 06




Price $189.00




GRAPE with LEAF BORDER 07 COLORS:
grayed greens, brownish greens, dark sand (historic tapestry colors)



#GRA - 07 PILLOW

- 19" x 15"


(50x40 cm)







#GRAR - 07 RUNNER

- 41" x 15"


(104 x 40 cm

)

Companion Pillows:


12th Century Geometric 05




Morocco Stripe 08, Basilica 08, Topkapi 09




Pillow


#GRA - 07




Price $109.00



Runner


#GRAR - 07




Price $189.00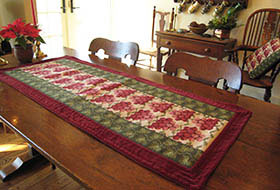 Grapes with Leaf Table Top Runner #GRAR-01 with Pillow #GRA-01 on chair
back to top