The cross-point™ Collection
Pattern: TRIANGLES with/without ACORNS
While the idea for this pattern originated from the traditional "Christmas tree" design common to various cultures and tribal areas of mountainous crossroads between Asia and Europe, by adding acorns in the large size, the pattern looses the ancient motif and relates closer to our natural environment that nearly everywhere includes oak trees with acorns. The large pattern can be ordered with or without acorns in several colors, and the smaller rectangle, a "good for your back" size is a great companion piece. This is a super fast, super easy kit to stitch in either size.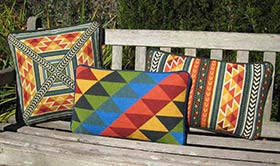 Triangles #TRIBP-05 with Tabriz #TASM and #TABP 01 companion pillows


Available in two pillow sizes: Square with or without Acorns
#TRI - (without Acorns)19 x 19 inches (48 x 48cm) or
#TRI-A (with Acorns) 19x19", see colors available below
Rectangular Lumbar Back Pillow #TRIBP - 18"wide x 11"high (46 x 28cm)
Each kit contains large charts in colors and symbols, fabric, luxurious French tapestry wool, needles, and detailed instructions. Also included are our cross-point™ Technique sheets. Patterns are classified ("X") for experienced stitchers, or ("E") for beginners, unclassified patterns can be stitched by anyone with a little practice. Kits do not include backing or trim.
CUSTOM UPHOLSTERY
and
CUSTOM COLORS
available. The square sizes are suitable for chair seats, ottomans and throws and sides can be filled in with additional pattern as required by your size. The SET UP charge for Custom Colors (where available) is $25.00; the SET UP for Custom Upholstery is based on your size requirements. Please allow 2-4 weeks for Custom kits and 2-4 weeks for Rug kit delivery.
| cross-point™ Kit | Name/ Item Number/ size & color | Price |
| --- | --- | --- |
TRIANGLES 01 COLORS:
black, off white



#TRI-01

Large Square without Acorns
size: 19 x 19 inches (48x48cm)



#TRI-01A

Large Square with Acorns


size: 19 x 19 inches (48x48cm)





#TRIBP-01

Small Rectangle


one size: 18"w x 11"h (46 x 28cm)



Companion Pillows:


Zebra Animal Pattern, Greek Border 05

,


neutrals Game Board 06, Greek Border

03


Chevron 01




#TRI-01




Price $125.00





#TRI-01A




Price $125.00





#TRIBP-01




Price $69.00




copyright Sieglinde Anderson 2012

TRIANGLES 01 COLORS:
black, off white



#TRI-01A

Large Square with Acorns


(drawing at upper left)





#TRIBP-01

Small Rectangle


(drawing at lower right)



Price - see above
TRIANGLES 02 COLORS:
Jacobean greyed greens, avocado, khaki,
palest green



#TRI-02

Large Square without Acorns
size: 19 x 19 inches (48x48cm)



#TRI-02A

Large Square with Acorns


size: 19 x 19 inches (48x48cm)





#TRIBP-02

Small Rectangle


one size: 18"w x 11"h (46 x 28cm)



Companion Pillows:


Carnation 05, Turin 05, Meadow 01,




Oahu 02, Morocco Stripe 07




Anatolia 07, Kilim II 07, Parma 05

,



#TRI-02




Price $125.00





#TRI-02A




Price $125.00





#TRIBP-02




Price $69.00





copyright Sieglinde Anderson 2012


TRIANGLES 03 COLORS:
light & medium sea spray, blue spruce



#TRI-03

Large Square without Acorns
size: 19 x 19 inches (48x48cm)



#TRI-03A

Large Square with Acorns


size: 19 x 19 inches (48x48cm)





#TRIBP-03

Small Rectangle


one size: 18"w x 11"h (46 x 28cm)




(photo at left top)



Companion Pillows:


Oahu-03,

Kilim II 03, Lindisfarne 02,


Tabriz 06, Parma 03, Pisac 03




(see photo at bottom including off whites)




#TRI-03




Price $125.00





#TRI-03A




Price $125.00





#TRIBP-03




Price $69.00





copyright Sieglinde Anderson 2012
TRIANGLES 04 COLORS:
light, medium & dark Mediterranian blues, ecru



#TRI-04

Large Square without Acorns
size: 19 x 19 inches (48x48cm)



#TRIBP-04

Small Rectangle


size: 18"w x 11"h (46 x 28cm) photo at left



Companion Pillows:


Gameboard 02, Greek Border 01,




Nilos 03, Meadow 03, Balouch Stripe 04




Anatolia 03, Turin 01, Tabriz 02,




Bergama 03




(see photo of companion pillows below)





#TRI-04




Price $125.00





#TRIBP-04




Price $69.00







TRIANGLES 05 COLORS:
primary colors: reds, gold, grass, saphire
blue black, green teal



#TRI-05

Large Square without Acorns
size: 19 x 19 inches (48x48cm)



#TRIBP-05

Small Rectangle


size: 18"w x 11"h (46 x 28cm)



Companion Pillows:


Berber Stripe 02, Morocco Stripe 02,




Tabriz 01, Karakum 04, Pisac 01,




Lindisfarne 01, Basilica 09





#TRI-05




Price $125.00





#TRIBP-05




Price $69.00







TRIANGLES 06 COLORS:
true red, black brown, honey, sepia, cream



#TRI-06

Large Square without Acorns
size: 19 x 19 inches (48x48cm)



#TRI-06A

Large Square with Acorns


size: 19 x 19 inches (48x48cm)




(shown at left)





#TRIBP-06

Small Rectangle


size: 18"w x 11"h (46 x 28cm)



Companion Pillows:


Game Board 03, Tiger, Berber Stripe 04,




Pisac 05, Karakum 03, Morocco 01





#TRI-06




Price $125.00





#TRI-06A




Price $125.00





#TRIBP-06




Price $69.00








TRIANGLES 07 COLORS:
drab green, tomato, old blues, straw, green teal,
dark tree bark, rust red



#TRI-07

Large Square without Acorns
size: 19 x 19 inches (48x48cm)



#TRIBP-07

Small Rectangle


size: 18"w x 11"h (46 x 28cm)



Companion Pillows:


Kilim 01, Kilim II 02, Morocco Stripe 01




Berber Stripe 01, Flamestitch 02, Tabriz 07





#TRI-07




Price $125.00





#TRIBP-07




Price $69.00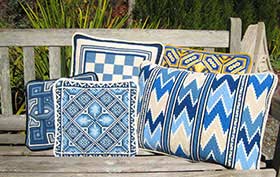 #TRI-07 with #KISM-01, #MMORST-01
Mediterranian blue companions to #TRI-04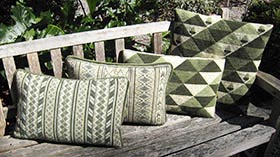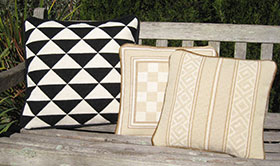 Triangles 02 with Oahu 02, Morocco Stripe 07
#TRI-01,Gameboard 06,Greek Border 03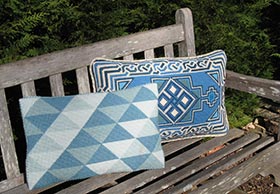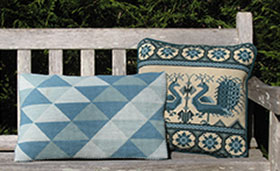 #TRIBP-03 with Lindisfarne #LIN-BP-02 #TRIBP-03 with Shalimar #SHA-01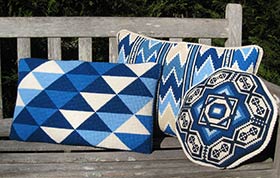 Triangles Back Pillow 04 with companions Balouch Stripe 04 and Nilos Octagon 03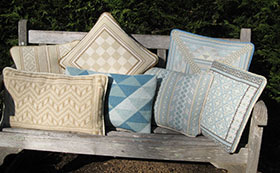 Triangle Back Pillow 03 shown with 6 companion pillows left to right:
Small Chevron 01, Greek Border 03, Gameboard 06, Oahu 03, Pisac 07, Small Tabriz 06
back to top