The cross-point™ Collection
cross-point™ News & Updates
VISIT "DESIGN OF THE MONTH" FOR OUR CURRENT SPECIAL OFFER


Dear Stitching Friends:
Cross-point™kits are available in 55 patterns in over 300 color choices and in sizes ranging from small pillows to large rugs and upholstery. All, plus color schemes and regular updates can be accessed not only from the website, but the blog and facebook pages. Three more videos have been added on youtube. The first video was Kristina stitching cross-point's PISAC pattern. The new videos are Reviewing the contents of your cross-point™ kit, Before you start stitching with cross-point™, and cross-point™ stitching Technique.
Recently we posted on our blog a better solution to working on jute without having to deal with loose jute fibers. Please visit the blog post for the information on preparing the jute before stitching.
A new page has been added to the website: DESIGN OF THE MONTH. Each month we will present one of our patterns available at a 20% discount during that month. The website pages are being updated currently to include companion pillows with each item number. If you bookmarked the website, be sure to refresh the pages. We recently added our brand new blog to give us room for more detailed articles. Please visit the Color Schemes! To previously uploaded Summer color schemes, we added Autumn and Early Winter schemes for stitching; the latest article is on Neutrals. I would love to have some feedback and look forward to your comments. Many of you requested that we show all of our patterns on the website and our new online catalog now includes every design in our collection. However, the blog article shows color related patterns on the same page which I hope you will find helpful when putting together a scheme. You may be surprised by the amount of information you will find on the blog!
For the first time we include examples of our Upholstery & Stool Tops patterns, Rugs, Runners & Throws, as well as a myriad of small items and bags….something for everyone – from beginner to experienced stitcher. Since interior lighting is so variable we photograph our stitched samples in natural daylight to give the truest possible color rendition.

With the introduction of our SPECIAL OFFERS page you now have the opportunity to take advantage of our Introductory Offer (excludes only the Learning Kit) and periodic specials at a reduced price. We plan to rotate color coordinated pillow groups and occasionally introduce new designs as well as new colors as they are added. Nearly all of our kit prices have changed as well. Most small kits are now less than they were even originally and many new items have been added for the online store. To request our revised price list, please email us at cross-point at cross-point.com. Please visit the SPECIAL OFFERS pages for more details on our current sale. Find details on the blog - click on "W" symbol in the side bar and then "Blog" in the top bar for current information.
The best news! We are back to supplying a superior quality of jute - the fabric is available in a wider width which will allow us to create new rug sizes. This has also made it possible to add a large number of wider pillows to several of our patterns. You will find them on individual pattern pages as "long" items. Some can be easily converted to runners.
We are discontinuing e-newsletter sign up for internet security reasons. Each month we write about the DESIGN OF THE MONTH on our blog post. This includes Mid-Year and Annual Special Offers, generally at 20% Off Retail. Please visit the blog by clicking on the "W" from the bottom of the left side bar. We also added an updated "Links" page where in addition to our own links to facebook and our wordpress blog, mailing address and phone number, we are listing websites we have found of interest to us and we want to share those with you. More links will be added as we discover them.
Happy Stitching!

News Details
NEW JUTE FABRIC and AFFECTED SIZE CHANGES

The jute fabric we used in the past has changed from 32" wide to 48", and the thread count is now closer to 12 per inch. Jute, being a natural fiber, is not always exactly the same as a man-made material. Since our stitch is 2 over 2 threads, all new orders will be shipped reflecting 6 stitches per inch which makes pillow sizes more accurate. While we try to be as accurate as possible, sizes shown on the pattern pages in the online store, in both inches and centimeters, are based on the new fabric count size and are approximate +/- one half inch.

Recently we posted on our blog a better solution to working on jute without having to deal with loose jute fibers. Please visit the blog post for the information on preparing the jute before stitching.
SPECIAL OFFERS
To thank you for your past loyalty and adventurous spirit, we created a new page in the Online Store featuring a series of color & pattern coordinated kits. They are available as a group at a substantial discount. New designs will also be offered occasionally for a limited 30-day introductory period with a discount. To see our current offers please go to the SPECIAL OFFERS pages. Special offer groups are considered 1 kit even if there are 3 in a group and count as 1 kit to calculate shipping charges. SPECIAL OFFERS pages are NOT included with additional discounts during our Mid-Year or Annual Specials.

TOPICS FOR FUTURE BLOG POSTINGS AND ARTICLES
Upcoming blog postings and articles are on pertinent topics related to stitching. I invite you to join me by posting your comments and questions and to submit topics of interest to you in the "reply" space on the blog. I plan to chat about colors and color combinations, scale, pattern origins, history of stitching, etc.  Please sign up to read my ramblings and your comments and thoughts, only your name and email is required for you to have access and you can unsubscribe any time.

CROSS-POINT™ IN THE NEWS

CROSS-POINT FEATURED IN STITCHER'S WORLD, SEPTEMBER 2000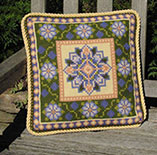 Cross-point and Sieglinde Anderson are featured in a five page article describing how cross-point came about, how designs are developed and how our technique differs from other cross-stitch. This issue included charts for our Small Moghul pattern in two different colorations.
CROSS-POINT FEATURED IN CLASSIC STITCHES MAGAZINE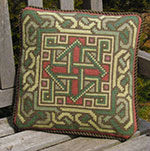 We're featured in the Classic Stitches #51 issue, where you'll find a very nice two page story about our designs, plus stitching charts for our Lindisfarne Accent Pillow.
Back to Top