The cross-point™ Collection
Pattern: HELIOS
The quatrefoil pattern is an ancient and universal design that has taken on various meanings across eons of time.

Known to be an important motif since before 2000 BC, the basic cross of a vertical and horizontal line represented the four directions of North, South, East, West, or, Earth, Fire, Water, Air. Depending on when or where, the spot in the center represented life or spirit or the center of the universe. In ancient Babylon and the much later Incan and Mesoamerican cultures, it was the symbol of the sun-god, the giver of all life and center to the existence of humans on Earth.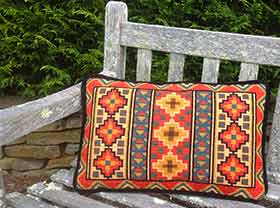 Above: HELIOS 01
Available in one size: 19 1/2" x 12 1/2" (50x32 cm)
Each kit contains large charts in colors and symbols, fabric, luxurious French tapestry wool, needles, and detailed instructions. Also included are our cross-point™ Technique sheets. Patterns are classified ("X") for experienced stitchers, or ("E") for beginners, unclassified patterns can be stitched by anyone with a little practice. Kits do not include backing or trim.
Custom colors are available for this pattern.
| cross-point™ Kit | Name/ Item Number/ size & color | Price |
| --- | --- | --- |



HELIOS 01 COLORS:

tomato, yellow, gold, teal, blue, lt.brown
black



#HEL-01

- 19 1/2 x 12 1/2" (50x32 cm)

Companion pillows: Berber Stripe 02,
Zagros 02, Small Karakum 04,
Celtic Knot 04, Basilica 09, Pisac 01, Balouch Stripe 03, Triangles 05

#HEL-01




Price $ 89.00






HELIOS 02 COLORS:

spice colors: cinnamon, allspice, nutmeg, ginger,



#HEL-02

- 19 1/2 x 12 1/2" (50x32 cm)

Companion pillows:
Anatolia 04, Pisac 05,
Morocco Stripe 04,Tabriz 04,
Basilica 03,Turin 02, Balouch 06

#HEL-02




Price $ 89.00






HELIOS 03G COLORS:

garnet, raspberry, blood red, black



#HEL-03G

- 19 1/2 x 12 1/2" (50x32 cm)


(drawing at left)



Companion pillows:
Balouch 05, Pisac 02

#HEL-03G




Price $ 89.00





HELIOS 03P COLORS:

paprika, dark rust, black, oatmeal



#HEL-03P

- 19 1/2 x 12 1/2" (50x32 cm)

Companion pillows:
Balouch 03, Basilica 03, Turin 02,
Pisac 04, Pisac 05

#HEL-03P




Price $ 89.00






HELIOS 04 COLORS:

Marine blues, navy, off white



#HEL-04

- 19 1/2 x 12 1/2" (50x32 cm)

Companion pillows:
Balouch Stripe 04,Basilica 05, Greek Border 01,Tabriz 02, Triangles 04,
12th Century 01,Nilos 03

#HEL-04




Price $ 89.00






HELIOS 05 COLORS:

grass green, dark green, off white



#HEL-05

- 19 1/2 x 12 1/2" (50x32 cm)


#HEL-05




Price $ 89.00






HELIOS 06 COLORS:

sunny yellows, off white



#HEL-06

- 19 1/2 x 12 1/2" (50x32 cm)


#HEL-06




Price $ 89.00






HELIOS 07 COLORS:

coffee, chocolate, caramel, oatmeal



#HEL-07

- 19 1/2 x 12 1/2" (50x32 cm)


#HEL-07




Price $ 89.00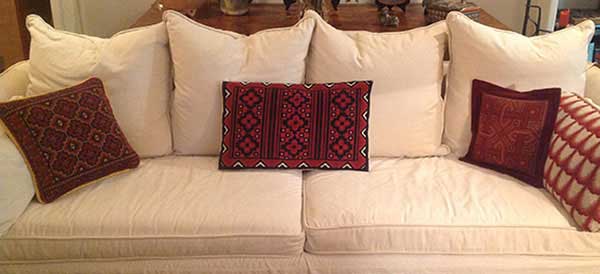 Helios 03P with Pisac 05 and Small Basilica 03
back to top