The cross-point™ Collection
ANIMAL SKIN PATTERNS
our interpretation of a variety of animal skin patterns
Exotic animal skins have been used by humans throughout history. They occur in coats of arms, zodiac signs, as national animals and throughout literature and feature prominently in mythology and folk lore around the world. From maharajas to princes, from tribal chiefs to movie stars, animal skins have decorated bodies and interiors to show wealth and status. Hunted to near extinction, our patterns showcase these fabulous natural designs in stitched pillows, rugs and upholstery. Animal skins are considered "neutral" and can be associated with many other patterns and colors in our collection.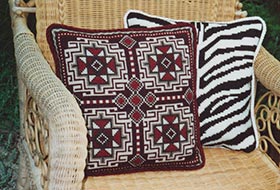 Zebra pillow shown with Small Soumak 01 pillow
Available as pillows, upholstery and rugs
Please see itemized patterns below for options available.
Eyeglass cases and Pocket Books are shown on the Small Items pages

CUSTOM SIZES AVAILABLE ON ZEBRA UPHOLSTERY ONLY
Each kit contains large charts in colors and symbols, fabric, luxurious French tapestry wool, needles, and detailed instructions. Also included are our cross-point™ Technique sheets. Patterns are classified ("X") for experienced stitchers, or ("E") for beginners, unclassified patterns can be stitched by anyone with a little practice. Kits do not include backing or trim.
The SET UP charge for Custom Colors (where available) is $25.00; the SET UP for Custom Upholstery is based on your size requirements. Please allow 2-4 weeks for Custom kits and 2-4 weeks for Rug kit delivery.
| cross-point™ Kit | Name/ Item Number/ size & color | Price |
| --- | --- | --- |
LEOPARD

("X") - FOR EXPERIENCED STITCHERS (heavy on counting stitches)

colors: topaz, dark brown, gold, off white



#LEO - PILLOW OR UPHOLSTERY




size: 16"x16" (40x40 cm)



For Eyeglass case: see SMALL ITEMS pages




#LEO

- 16"x16"


Price: $79.00




Pattern: PONY

("E") -


colors: golden browns, tan, cream





Pillow size: 20"x20" (53x53 cm)





#PON-02





#PON-02PD

(predrawn outline & charts)
#PON-02
Price: $119.00


#PON-02PD
(predrawn outline)


Price: $139.00






Pattern: PONY RUG

("E")



colors: see photo above

(colors are emphasized in drawing for distinction)



Rug size: 23"wide x 35" long (58x88cm)





#PONR-02





#PONR-02PD

(predrawn outline & charts)



#PONR-02 RUG


Price: $239.00




#PONR-02PD
RUG
(predrawn outline & charts)


Price $269.00






Pattern: PONY

("E") - available for pillows and rugs


colors: dark brown, black, ecru, oatmeal




(see Zebra photo below)





Pillow size: 20"x20" (53x53 cm)





#PON-01





#PON-01PD

(predrawn outline & charts)



#PON-01


Price: $119.00




#PON-01PD


(predrawn outline)


Price: $139.00






Pattern: PONY RUG

("E")



colors: see Zebra photo below

(colors are emphasized in drawing for distinction)



Rug size: 23"wide x 35" long (58x88 cm)





#PONR-01





#PONR-01PD

(predrawn outline & charts)


#PONR-01 RUG




Price: $239.00




#PONR-01PD
RUG
(predrawn outline & charts)


Price $269.00






Pattern: TIGER

("X") (shown on stool)
colors: red copper, honey, straw, dark brown



#TIGP

- pillow


Pillow size: 20"x20" (52 x 52 cm)





#TIGUP

- Upholstery


size: 16"x16" (41x41 cm)



(also see photo at bottom of page)



#TIGP- Pillow




Price $129.00






#TIGUP

Upholstery




Price $89.00






Pattern: ZEBRA

("E")
colors: dark black brown, tan, ecru white

Pillow size: 16" x 16" (40 x 40 cm)



#ZEB-01





#ZEB - 01PD

- (predrawn outline & charts)





#ZEB-01




Price $89.00






#ZEB - 01PD


(

predrawn

outline & charts)


Price $109.00






ZEBRA UPHOLSTERY



AVAILABLE PREDRAWN ONLY
sized for specific application in dimensions supplied to us by you




CUSTOM ORDER ONLY



Set Up Fee based on size requirements

ZEBRA

UPHOLSTERY




Price $0.40 sq. inch
Plus Set-Up Charge
Please go to
SMALL ITEMS PAGE
for bags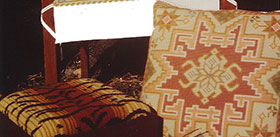 Small Kilim Pillow #KISM-05 with Tiger Stool
back to top