The cross-point™ Collection
Pattern: MOGHUL (X)
Our Moghul suzani pattern is reminiscent of the princely embroideries of Moghul courts but suzani type patterns occur throughout Central Asia. Suzani embroideries with motifs of sun, moon, pomegranate, flowers, leaves & vines, were made as part of a bride's dowry to be given to the groom on the wedding day. Our pattern centers around the pomegranate, a fruit that occurs in all religious texts and all cultures around the globe. Embroidered suzani, usually made of silk and cotton, were extremely labor intensive. Ours is in wool, and in our cross-point™ tradition, made for fast, fun, and easy stitching. Originally published in the small size in Stitcher's World September 2000.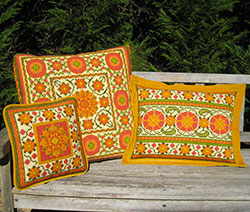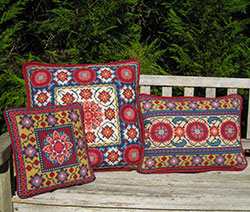 Top photo: Moghul 03 color group
Bottom photo: Moghul 04 color group
Available in five pillow sizes and a throw size:
Small Square Pillow:SMALL MOGHUL - #MOGSM - 13"x13" (33 x 33 cm)
Large Square Pillow: MOGHUL - #MOG - 20" x 20" (51 x 51 cm)
Large Square Pillow or Throw MOGHUL with BORDER: #MOG-B - 23"x23" (58x58cm)
Rectangular Back Pillow:MOGHUL STRIPE #MOGST - 19"wide x 14" high(48 x 36 cm)
LONG MOGHUL STRIPE - #MOGST-L - 26" wide x 14" high (66x36 cm)

Each kit contains large charts in colors and symbols, fabric, luxurious French tapestry wool, needles, and detailed instructions. Also included are our cross-point™ Technique sheets. Patterns are classified ("X") for experienced stitchers, or ("E") for beginners, unclassified patterns can be stitched by anyone with a little practice. Kits do not include backing or trim.CUSTOM COLORS AVAILABLE.
The SET UP charge for Custom Colors (where available) is $25.00; the SET UP for Custom Upholstery is based on your size requirements. Please allow 2-4 weeks for Custom kits and 2-4 weeks for Rug kit delivery.
| cross-point™ Kit | Name/ Item Number/ size & color | Price |
| --- | --- | --- |
MOGHUL 01 COLORS:


cornflower lavender blue, leaf, lime, olive, pale copper, pale ginger, pale buttery yellow

SMALL MOGHUL #MOGSM - 01


(photo at left)




size: 13" x 13" (33x33 cm)





MOGHUL #MOG - 01




(drawing below left)




size: 20" x 20" (51x51 cm)





MOGHUL WITH BORDER#MOG-B-01




(drawing below right)




size: 23x23" (58x58 cm)





MOGHUL STRIPE #MOGST - 01




(below left)




size: 19" wide x 14" high (48 x 36 cm)



LONG MOGHUL STR. #MOGST-L-01


(drawing below at right)




size: 26"wide x 14"high (66 x 36 cm)





#MOGSM-01




Price $ 59.00





#MOG-01




Price $129.00





#MOG-B-01




Price $159.00





#MOGST-01




Price $ 99.00





#MOGST-L-01




Price $129.00






MOG - available in all colors shown


MOG-B - available in all colors shown



DRAWINGS:
#MOG-01
AT LEFT


#MOG-B-01
AT RIGHT

(all sizes available
in all colors shown
below)



MOGST-available in all colors shown


MOGST-L-available in all colors shown



DRAWINGS:
#MOGST-01
AT LEFT


#MOGST-L-01
AT RIGHT

MOGHUL 02 COLORS:


dusty pinks, antique pale mauve, salmon,
red plum, leaf, lime, olive,
pale buttery yellow

SMALL MOGHUL #MOGSM - 02


(photo at left)




size: 13" x 13" (33x33 cm)





MOGHUL #MOG - 02




(see MOG drawing above)




size: 20" x 20" (51x51 cm)





MOGHUL WITH BORDER#MOG-B-02




(see MOG-B drawing above)




size: 23x23" (58x58 cm)





MOGHUL STRIPE #MOGST - 02




(see MOGST drawing above))




size: 19" wide x 14" high (48 x 36 cm)



LONG MOGHUL STR. #MOGST-L-02


(see #MOGST-L drawing above))




size: 26"wide x 14"high (66 x 36 cm)





#MOGSM-02




Price $ 59.00





#MOG-02




Price $129.00





#MOG-B-02




Price $159.00





#MOGST-02




Price $ 99.00





#MOGST-L-02




Price $129.00






Companion Pillows:
Greek Border 01, Celtic Knot 06
Plaid 04, Tabriz 01, Soumak 05


MOGHUL 03 COLORS:


tomato, maize, chartreuse, grass, brick, pale buttery yellow

SMALL MOGHUL #MOGSM - 03


(photo at left)




size: 13" x 13" (33x33 cm)





MOGHUL #MOG - 03


size: 20" x 20" (51x51 cm)
(see MOG drawing above)



MOGHUL WITH BORDER#MOG-B-03




(photo below left)




size: 23x23" (58x58 cm)





MOGHUL STRIPE #MOGST - 03




(below right)




size: 19" wide x 14" high (48 x 36 cm)



LONG MOGHUL STR. #MOGST-L-03


size: 26"wide x 14"high (66 x 36 cm)



(see drawing above for #MOGST-L )



#MOGSM-03




Price $ 59.00





#MOG-03




Price $129.00





#MOG-B-03




Price $159.00





#MOGST-03




Price $ 99.00





#MOGST-L-03




Price $129.00







PHOTOS:
#MOG-B-03
AT LEFT


#MOGST-03
AT RIGHT

Companion Pillows:
Balouch 05, Anatolia 06


MOGHUL 04 COLORS:


cranberry, Indigo, grayed blue, sand, camel, oatmeal

SMALL MOGHUL #MOGSM - 04


(photo at left)




size: 13" x 13" (33x33 cm)





MOGHUL #MOG - 04




(photo below left)




size: 20" x 20" (51x51 cm)





MOGHUL WITH BORDER#MOG-B-04


(see drawing for MOG-B above)


size: 23x23" (58x58 cm)





MOGHUL STRIPE #MOGST - 04




(photo below right)




size: 19" wide x 14" high (48 x 36 cm)



LONG MOGHUL STR. #MOGST-L-04


(see drawing for #MOGST-L above)




size: 26"wide x 14"high (66 x 36 cm)





#MOGSM-04




Price $ 59.00





#MOG-04




Price $129.00





#MOG-B-04




Price $159.00





#MOGST-04




Price $ 99.00





#MOGST-L-04




Price $129.00










PHOTOS:
#MOG-04
AT LEFT


#MOGST-04
AT RIGHT






Companion pillows:
Topkapi 08, Flame Stitch 05,
Pisac 06, Kilim II 06
NEW

MOGHUL 06 COLORS:


Indigo blues, grayed blues, sand,oatmeal

SMALL MOGHUL #MOGSM - 06


( at lower left)




size: 13" x 13" (33x33 cm)





MOGHUL #MOG - 06




(top left)




size: 20" x 20" (51x51 cm)





MOGHUL WITH BORDER#MOG-B-06


(see drawing for MOG-B above)


size: 23x23" (58x58 cm)





MOGHUL STRIPE #MOGST - 06




(at center left)




size: 19" wide x 14" high (48 x 36 cm)



LONG MOGHUL STR. #MOGST-L-06


(see drawing for #MOGST-L above)




size: 26"wide x 14"high (66 x 36 cm)





#MOGSM-06




Price $ 59.00





#MOG-06




Price $129.00





#MOG-B-06




Price $159.00





#MOGST-06




Price $ 99.00





#MOGST-L-06




Price $129.00




Moghul #MOG-B-03 table throw, Small Moghul 03 and Moghul Stripe 03 on chairs
back to top