The cross-point™ Collection
Pattern: TULIP STRIPE ("X")
The tulip, a symbol of fertility, travelled from Persia to countries surrounding the Black Sea via old trading routes. Its many manifestations can be seen in Persian rugs, Venetian velvets, French laces, embroideries and tapestries from Holland to Transylvania. Our Tulip Stripe repeat pattern lends itself not only to pillows but also upholstery for stools, chairs, and ottomans.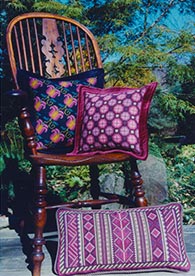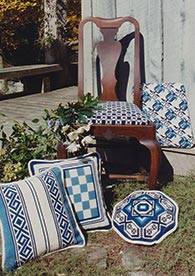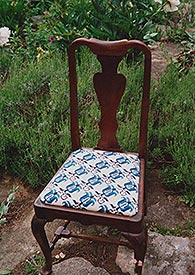 Photo left: Tulip Stripe 03 (on chair at back), Small Honeycomb 07,
with Berber Stripe Back Pillow 03 on ground
Photo center: Tulip Stripe 02 (at wall), companions from front to back: Greek Border 01, Small Game Board 02, 12th Century Geometric 01 on chair, Small Nilos Octagon at right

Photo right: Tulip Stripe 02 Upholstery

Available in one pillow size and custom upholstery:
TULIP STRIPE - #TUST - 15" x 15" (39 x 39 cm)
CUSTOM COLORS and CUSTOM UPHOLSTERY (rpt 6"horiz.x4"vert.) Available

Each kit contains large charts in colors and symbols, fabric, luxurious French tapestry wool, needles, and detailed instructions. Also included are our cross-point™ Technique sheets. Patterns are classified ("X") for experienced stitchers, or ("E") for beginners, unclassified patterns can be stitched by anyone with a little practice. Kits do not include backing or trim.
The SET UP charge for Custom Colors (where available) is $25.00; the SET UP for Custom Upholstery is based on your size requirements. Please allow 2-4 weeks for Custom kits and 2-4 weeks for Rug kit delivery.
| cross-point™ Kit | Name/ Item Number/ size & color | Price |
| --- | --- | --- |
TULIP STRIPE 01 COLORS:
antique mauve, red plum, sage, grayed green, sand on oatmeal




#TUST - 01

(photo at left)


size: 15" x 15" (39 x 39 cm)





CUSTOM UPHOLSTERY AVAILABLE



COMPANION PILLOWS: BERBER STRIPE O3, HONEYCOMB 07



#TUST - 01




Price $ 69.00





CUSTOM
UPHOLSTERY:
Price $.30 sq. inch
Plus SET UP FEE

TULIP STRIPE 02 COLORS:
Marine blues, navy on off-white



#TUST - 02

(photo at left)


(shown here as upholstery)




size: 15" x 15" (39 x 39 cm)



CUSTOM UPHOLSTERY AVAILABLE
horizontal repeat: 6"
vertical repeat:4"

COMPANION PILLOWS: 12th CENTURY 01, GREEK BORDER 01, NILOS 03, GAME BOARD 02



#TUST - 02




Price $ 69.00






CUSTOM
UPHOLSTERY:
Price $.30 sq. inch
Plus SET UP FEE

TULIP STRIPE 03 COLORS:
antique mauve, red plum, sage, grayed green, sand on oatmeal




#TUST - 03

(photo at left)


size: 15" x 15" (39 x 39 cm)





CUSTOM UPHOLSTERY AVAILABLE



COMPANION PILLOWS: BERBER STRIPE O3, HONEYCOMB 07



#TUST - 03




Price $ 69.00





CUSTOM
UPHOLSTERY:
Price $.30 sq. inch
Plus SET UP FEE

TULIP STRIPE 04 COLORS:
Tomato red, pale red, bronze, blue green, espresso on oatmeal



#TUST - 04

(photo at left)


size: 15" x 15" (39 x 39 cm)





CUSTOM UPHOLSTERY AVAILABLE





COMPANION PILLOWS:TABRIZ 01





#TUST - 04




Price $ 69.00





CUSTOM
UPHOLSTERY:
Price $.30 sq. inch
Plus SET UP FEE

TULIP STRIPE 05 COLORS:
Black on cranberry



#TUST - 05

(photo at left)


size: 15" x 15" (39 x 39 cm)





TWO COLORS AS SHOWN ARE AVAILABLE AS CUSTOM ORDERS in ANY 2 COLOR COMBINATION WITHOUT A SET-UP FEE for PILLOWS - PLEASE CONTACT US





CUSTOM UPHOLSTERY AVAILABLE





#TUST - 05




Price $ 69.00





CUSTOM
UPHOLSTERY:
Price $.30 sq. inch
Plus SET UP FEE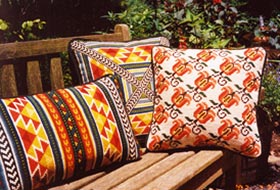 Above: Tulip Stripe 04 with Small Tabriz and Tabriz Back Pillow 01
back to top