The cross-point™ Collection
Pattern: LINDISFARNE ("X")
A Celtic cross surrounded by interlacing squares, braids & scrolls

Our Lindisfarne pattern takes elements that are typical of geometric design elements found in the pages of the Celtic Gospel books dating from the 4th to the 8th Centuries.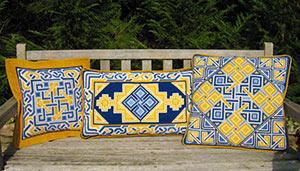 above: Lindisfarne Accent Pillow #LINAC-04 (at left)
Back Pillow #LINBP-04 (center) and Small Lindisfarne #LINSM -04 (at right)
Available in four sizes:
Large Square & Floor Pillow LINDISFARNE #LIN - 23"x23" (58x58cm)
Small Square Pillow SMALL LINDISFARNE #LINSM - 18"x18" (45x45cm)
Small Square Accent Pillow LINDISFARNE ACCENT - #LINAC - 12"x12" (31x31 cm)
Rectangular LINDISFARNE BACK PILLOW #LINBP - 22"longx13"high (56x33cm)
Custom Colors available - Please contact us


Each kit contains large charts in colors and symbols, fabric, luxurious French tapestry wool, needles, and detailed instructions. Also included are our cross-point™ Technique sheets. Patterns are classified ("X") for experienced stitchers, or ("E") for beginners, unclassified patterns can be stitched by anyone with a little practice. Kits do not include backing or trim.
The SET UP charge for Custom Colors (where available) is $25.00; the SET UP for Custom Upholstery is based on your size requirements. Please allow 2-4 weeks for Custom kits and 2-4 weeks for Rug kit delivery.
| cross-point™ Kit | Name/ Item Number/ size & color | Price |
| --- | --- | --- |
LINDISFARNE 01 COLORS:
tomato and dark red, lime green, teal, topaz, blue ink, marine blue, light aqua



#LIN- 01

- Large Square


23"x23" (58x58 cm)




(photo at left)





#LINSM

- 01

- Small Square


18"x18" (45x45 cm)




(photo below)





#LINAC - 01

- Small Accent Pillow


12"x12" (31x31 cm)





#LINBP - 01

- Back Pillow


22"x13"high (56x33 cm)



COLOR COORDINATED PATTERNS:
ANATOLIA 09, PISAC 01, ZAGROS 01
BALOUCH STRIPE 03, BALOUCH 07,
BASILICA 09, CELTIC KNOT O4, TABRIZ 01
TRIANGLES 05,BERBER STRIPE 02
MOROCCO STRIPE 02,KARAKUM 04



#LIN-01




Price $159.00





#LINSM-01




Price $ 99.00





#LINAC-01




Price $ 49.00





#LINBP-01




Price $ 89.00







LINDISFARNE 01 COLORS:
tomato and dark red, lime green, teal, topaz, blue ink, marine blue, light aqua



#LINSM

- 01

- Small Square


18"x18" (45x45 cm)




(photo at left)


COLOR COORDINATED PATTERNS:
SEE LIST ABOVE



LINDISFARNE 01 COLORS:
tomato and dark red, lime green, teal, topaz, blue ink, marine blue, light aqua



#LINAC - 01

- Small Accent Pillow


12"x12" (31x31 cm)




(photo at left)






LINDISFARNE 01 COLORS:
tomato and dark red, lime green, teal, topaz, blue ink, marine blue, light aqua



#LINBP - 01

- Back Pillow (Lumbar)


22"x13"high (56x33 cm)




(photo at left)





LINDISFARNE 02 COLORS:
ocean colors: sage, turquoise, Indigo blue,
spruce blue, blue teal, oatmeal ground



#LIN- 02

- 23"x23" (58x58 cm)


(see drawing below)





#LINSM

- 02

- 18"x18" (45x45 cm)


(see drawing below)





#LINAC - 02

- 12"x12" (31x31 cm)


(right in photo))





#LINBP - 02

- 22"x13"high (56x33 cm)


(left in photo)



COLOR COORDINATED PATTERNS:
BALOUCH STRIPE 06, PISAC 03,
KILIM II 05, OAHU 01,02,03, TABRIZ 06
TRIANGLES 03, SHALIMAR 01


#LIN-02




Price $159.00





#LINSM-02




Price $ 99.00





#LINAC-02




Price $ 49.00





#LINBP-02




Price $ 89.00




LINDISFARNE 02 COLORS:
ocean colors: sage, turquoise, Indigo blue,
spruce blue, blue teal, oatmeal ground



#LIN- 02

- 23"x23" (58x58 cm)


(upper left in drawing)





#LINSM

- 02

- 18"x18" (45x45 cm)


(lower right in drawing)





LINDISFARNE 03 COLORS:
grayed greens, sage, terracotta, blush sage



#LIN- 03

- 23"x23" (58x58 cm)


(see drawing below)





#LINSM

- 03

- 18"x18" (45x45 cm)


(see drawing below)





#LINAC - 03

- 12"x12" (31x31 cm)


(photo at left)





#LINBP - 03

- 22"x13"high (56x33 cm)


(see drawing below)



COLOR COORDINATED PATTERNS:
ANATOLIA 05 AND 10, BALOUCH 02,
BALOUCH STRIPE 05, TURIN 06,
12TH CENTURY 02 AND 04, OAHU 02,
KILIM II 07, MOROCCO STRIPE 07,



#LIN-03




Price $159.00





#LINSM-03




Price $ 99.00





#LINAC-03




Price $ 49.00





#LINBP-03




Price $ 89.00




LINDISFARNE 03 COLORS:




#LIN-03

size:23"x23" (58x58 cm)


(drawing upper left)





#LINSM-03

size:18"x18" (45x45 cm)


(drawing center)





#LINBP-03

- size:22"x13"high (56x33 cm)


(drawing bottom right

)



LINDISFARNE 04 COLORS:
maize, daffodil, cornflower blues, ecru



#LIN- 04

- Large Square


23"x23" (58x58 cm)





#LINSM

- 04

- Small Square


18"x18" (45x45 cm)




(photo below)





#LINAC - 04

- Small Accent Pillow


12"x12" (31x31 cm)




(photo at left)




#LINBP - 04

- Back Pillow


22"x13"high (56x33 cm)


(photo below)

COLOR COORDINATED PATTERNS:
ANATOLIA 03, BALOUCH STRIPE 04,
TRIANGLES 04, TURIN 01, NILOS 03


#LIN-04




Price $159.00





#LINSM-04




Price $ 99.00





#LINAC-04




Price $ 49.00





#LINBP-04




Price $ 89.00




LINDISFARNE 04 COLORS:
maize, daffodil, cornflower blues, ecru



#LINSM

- 04

- Small Square


18"x18" (45x45 cm)




(photo at left)




LINDISFARNE 04 COLORS:
maize, daffodil, cornflower blues, ecru



#LINBP - 04

- Back Pillow (Lumbar)


22"x13"high (56x33 cm)




(photo at left)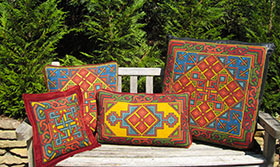 Lindisfarne 01 group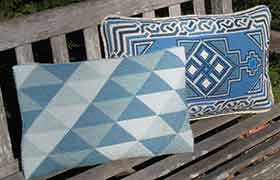 Lindisfarne 02 with companion Triangles 03
back to top