The cross-point™ Collection
Pattern: BALOUCH STRIPE
Our Balouch Stripe is loosely based on an original rug design from the 11th or 12th Century. Being a nomadic culture, Balouch weavers were limited to narrow looms, simple and small enough to be easily transported. Though their rugs and bags were usually dark in color, small white bands of interlocking motifs are integral to Balouch designs. We offer several color choices that blend with a number of our other Kilim type patterns, among them our original KILIM, our New KILIM II, BALOUCH, SOUMAK, & ZAGROS, as well as contemporary colors. Visit the blog at www.cross-pointblog.com for suggested color schemes.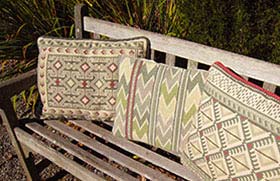 #BAL-ST-05 with companion pillow Anatolia #ANA-05 at right and
Balouch #BAL-02 at left
Available in one pillow size: #BAL-ST - 20 inches wide x 14 inches high (50 x 35 cm)
Each kit contains large charts in colors and symbols, fabric, luxurious French tapestry wool, needles, and detailed instructions. Also included are our cross-point™ Technique sheets. Patterns are classified ("X") for experienced stitchers, or ("E") for beginners, unclassified patterns can be stitched by anyone with a little practice. Kits do not include backing or trim.
CUSTOM UPHOLSTERY
and
CUSTOM COLORS
available. This pattern is suitable for chair seats, ottomans and throws and sides can be filled in with additional pattern to suit your requirements. The SET UP charge for Custom Colors (where available) is $25.00; the SET UP for Custom Upholstery is based on your size requirements. Please allow 2-4 weeks for Custom kits and 2-4 weeks for Rug kit delivery.
| cross-point™ Kit | Name/ Item Number/ size & color | Price |
| --- | --- | --- |
BALOUCH STRIPE 01 COLORS:
jewel colors: amethyst, garnet, citrine;
navy, olive, teal



#BAL-ST-01

Large Rectangle


one size:20" wide x 14" high (50 x 35cm)




Companion pillows:


Log Cabin 03, Morocco Stripe 03, Pisac 02,




Topcapi 05, Chevron #CHE-03, Nilos 01




Berber Stripe 03

#BAL-ST-01




Price $115.00



BALOUCH STRIPE 02 COLORS:
raspberry, aqua, purple, citrine, ecru, navy



#BAL-ST-02

Large Rectangle


one size:20" wide x 14" high (50 x 35cm)






#BAL-ST-02




Price $115.00



BALOUCH STRIPE 03 COLORS:
tomato, dark red, teal,topaz, ink, straw,blue,
grass green



#BAL-ST-03

Large Rectangle


one size:20" wide x 14" high (50 x 35cm)



Companion pillows:


Berber Stripe 02, Nilos 02, Karakum 04,




Pisac 01, Tabriz 01, Parma 04




Morocco Stripe 02, Triangles 05,




Lindisfarne 01, Celtic Knot 04,Basilica 09





#BAL-ST-03




Price $115.00



BALOUCH STRIPE 04 COLORS:
light, medium and dark blues, sand, white



#BAL-ST-04

Large Rectangle


one size:20" wide x 14" high (50 x 35cm)




Companion pillows:


Gameboard 02, Greek Border 01, Nilos 03




Meadow 03, Basilica 05 and 07,




Bergama 03, Lindisfarne 04, Soumak 02




Anatolia 03, Turin 01, Tabriz 02




Triangles 04





#BAL-ST-04




Price $115.00



BALOUCH STRIPE 05 COLORS:
grayed light greens, pale cranberry, oatmeal



#BAL-ST-05

Large Rectangle


one size:20" wide x 14" high (50 x 35cm)




Companion pillows:


Balouch 02, Anatolia 05, Anatolia 07,


Morocco Stripe 07, Pisac 07, Oahu 02


Morocco 03, Small Morocco 04, Turin 06




12th Century 04, Lindisfarne 03





#BAL-ST-05




Price $115.00



BALOUCH STRIPE 06 COLORS:
seaspray colors, blue spruce, palest khaki,
sand, off white



#BAL-ST-06

Large Rectangle


one size:20" wide x 14" high (50 x 35cm)




Companion pillows:


Kilim II 05, Triangles 03, Morocco Stripe 05,




Lindisfarne 02, Oahu 03, Pisac 03,




Berber Stripe 05




#BAL-ST-06




Price $115.00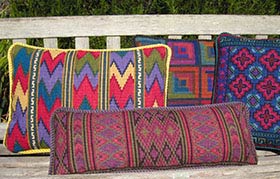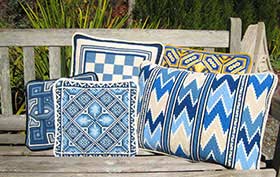 Balouch Stripe 01 & jewel color companions
Balouch Stripe 04 and blue companions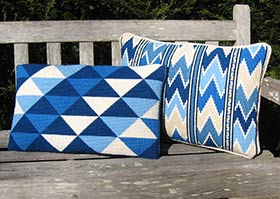 Two great companions: Triangles Back Pillow #TRI-BP-04 & Balouch Stripe #BAL-ST-04
back to top