The cross-point™ Collection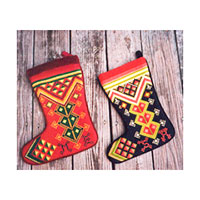 cross-point™ offers a variety of small items for those who have never stitched before. They are an easy way to learn the cross-point™ Technique®. For those familiar with our stitching and finishing process, these are superfast projects that can be easily finished over a weekend.
Kit contents are the same as for our large kits. Included are all necessary charts and instruction sheets for stitching and finishing. CHRISTMAS STOCKING charts include alphabet charts for customizing. For more details visit KIT CONTENTS on the About cross-point™ page. Kits do not include fabric backing, lining, zippers, cording or trim.


| cross-point™ Kit | Name/ Item Number/ size & color | Price |
| --- | --- | --- |
CHRISTMAS STOCKING




#XMAS-01

(at left)


colors: true green, gold, dark red






CHRISTMAS STOCKING




#XMAS-02

(at right)


colors: light red, true red, grass and apple green, black, light gold, cream





Stocking Height: 14" (36cm)




INCLUDES ALPHABET CHARTS




#XMAS-01




Price $49.95






#XMAS-02




Price $49.95






CHRISTMAS STOCKING




#XMAS-03

(at left)


colors: true green, gold, dark red, cream






CHRISTMAS STOCKING




#XMAS-04

(at right)


colors: navy, trueblue, grass and dark


green, gold, light gold,cream



Stocking Height: 14" (36cm)




INCLUDES ALPHABET CHARTS




#XMAS-03




Price $49.95






#XMAS-04




Price $49.95





CHRISTMAS STOCKING




#XMAS-01

(at left, also shown above)


colors: true green, gold, dark red







CHRISTMAS STOCKING




#XMAS-05

(at right)
colors: true red, true green, topaz,
honey,garnet, cream



Stocking Height: 14" (36cm)




INCLUDES ALPHABET CHARTS




#XMAS-05




Price $49.95






CHRISTMAS STARS (E)

- 3.5sq" (9 cm)

PLEASE NOTE:There are 4 stars of
the same colors in each kit



#XMAS STAR-01

- true red,green,gold



#XMAS STAR-02

- lemon, gold,
ecru



#XMAS STAR-03

- amethyst,plum, gold, violet



#XMAS STAR-04

- cobalt, true green, gold


#XMAS
STAR-01


Price $12.95




#XMAS
STAR-02


Price $12.95




#XMAS
STAR-03


Price $12.95




#XMAS
STAR-04


Price $12.95





LOG CABIN COASTERS (E)




PLEASE NOTE:

There are 4 coasters
of the SAME colors in each kit



Each is 4"x4" (11x11 cm)

(please refer to the colors on the LOG CABIN page)

#CO-01 (upper left on photo)


colors: plum, drk. red, green, teal,rust,drk. gray



#CO-02 (upper right on photo)


colors: plum, violet,apricot,peach,teal,cream



#CO-03 (bottom in photo)


colors:rust,olive,gray green, gray amethyst





#CO-01




Price $24.95






#CO-02




Price $24.95




#CO-03


Price $24.95






EYEGLASS CASES




Stitched size: 6x6" (16 sq. cm)




Finished size (folded) 3x5" (7x14cm)





MAY FIT CERTAIN MOBILE DEVICES





ZEBRA EYEGLASS CASE




#ZEGC







LEOPARD EYEGLASS CASE




#LEGC

#ZEGC




Price $12.95






#LEGC




Price $12.95






back to top