The cross-point™ Collection
Pattern: PARMA ("E")
a bold heraldic shield design for upholstery & pillows
Our interpretation of a painted wall fresco from Medieval times. The shield represents a heraldic escutcheon and reminds of Arthurian legends and Lancelot, the most celebrated of King Arthur's Knights. Our Parma pattern makes a bold statement with other patterns in our collection and is an ideal companion to use with patterned fabrics, as well as our Newport Upholstery and Siena pillows.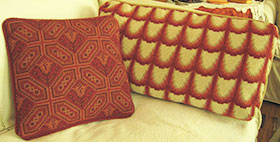 Above: Parma 02 colors with Turin 02
Available in one pillow size and CUSTOM UPHOLSTERY:
Rectangular Back Pillow: #PAR - 19.5"wide x 14"high (50x34 cm)
CUSTOM UPHOLSTERY - PARMA in any size - repeat 2.5"x2.5"

Each kit contains large charts in colors and symbols, fabric, luxurious French tapestry wool, needles, and detailed instructions. Also included are our cross-point™ Technique sheets. Patterns are classified ("X") for experienced stitchers, or ("E") for beginners, unclassified patterns can be stitched by anyone with a little practice. Kits do not include backing or trim.
The SET UP charge for Custom Colors (where available) is $25.00; the SET UP for Custom Upholstery is based on your size requirements. Please allow 2-4 weeks for Custom kits and 2-4 weeks for Rug kit delivery.
| cross-point™ Kit | Name/ Item Number/ size & color | Price |
| --- | --- | --- |
PARMA 01 COLORS:
Cranberry - light, medium and dark, hickory
on honey background



#PAR - 01

(Pillow)


size: 19" wide by 14" high (50 x 34 cm)






CUSTOM UPHOLSTERY AND CUSTOM

COLORS AVAILABLE

#PAR- 01




Price $ 89.00



PARMA 02 COLORS:
Paprika - light, medium and dark, hickory
on oatmeal background



#PAR - 02

(Pillow)


size: 19" wide by 14" high (50 x 34 cm)






CUSTOM UPHOLSTERY AND CUSTOM

COLORS AVAILABLE

#PAR- 02




Price $ 89.00



PARMA 03 COLORS:
greyed blue spruce, blue spruce, hickory on
oatmeal background

(stitched sample in upper left corner in photo

pillow)



#PAR - 03

Pillow


size: 19" wide by 14" high (50 x 34 cm)





CUSTOM UPHOLSTERY AND CUSTOM

COLORS AVAILABLE

#PAR- 03




Price $ 89.00



PARMA 04 COLORS:
grayed sage greens, hickory, oatmeal




#PAR - 04

Pillow


size: 19" wide by 14" high (50 x 34 cm)






CUSTOM UPHOLSTERY AND CUSTOM

COLORS AVAILABLE

#PAR- 04




Price $ 89.00




PARMA 05 COLORS:


Loden, olive, dark leaf greens, dark sand,
oatmeal background (small stitched sample
in pillow at left)



#PAR - 05

(Pillow)
size: 19" wide by 14" high (50 x 34 cm)



CUSTOM UPHOLSTERY AND CUSTOM

COLORS AVAILABLE

#PAR- 05




Price $ 89.00




PARMA 02 COMPANIONS:



SIENA 02 Jacobean Scroll Pillow
(SIENA 01 blends with Parma 01)

Newport Upholstery chair pad

PARMA 02 CUSTOM UPHOLSTERY


(shown on side chair)

Available in all stock and custom colors in any size - Please contact us



vertical repeat & horizontal repeat: 2.5"




(6 1/4 cm)




for custom colors: pattern has 4 colors



Upholstery Price:
$0.30 per sq.inch
Plus SET-UP

(see CUSTOM SERVICES page)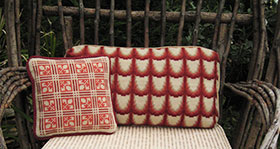 Parma 02 with Fleur de Lis 02
back to top