The cross-point™ Collection
Pattern: TURIN ("X")
Inspired by 16th Century brilliantly colored, hand-painted tiles that have decorated all manner of surfaces from Italy and Spain to Portugal, and from Mexico to Peru and other countries in the New World.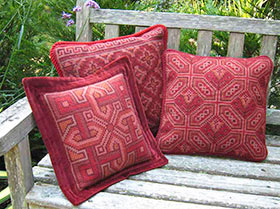 Above: Coordinated all red pillows:
Small Basilica 03 at left, Pisac 04 at back, Turin 02 at right
Available in two pillow sizes, one stool top, and Custom Upholstery
Small Square TURIN - #TUR - 14" x 14" (35 x 35 cm)
Rectangular TURIN BACK PILLOW - #TURB - 20" wide x 14"high (51 x 35 cm)
TURIN STOOL TOP - SAME AS #TURB - 20"long x 14"wide (51 x 35 cm)
CUSTOM COLORS and CUSTOM UPHOLSTERY Available
Each kit contains large charts in colors and symbols, fabric, luxurious French tapestry wool, needles, and detailed instructions. Also included are our cross-point™ Technique sheets. Patterns are classified ("X") for experienced stitchers, or ("E") for beginners, unclassified patterns can be stitched by anyone with a little practice. Kits do not include backing or trim.Includes Special Chart for outline only for easier counting. An example for
Custom Upholstery
, at bottom of page, shows a possible combination of Turin for armchairs and the smaller Meadow Repeat pattern for side chairs. Both are available in all stock colors as well as custom colors.
The SET UP charge for Custom Colors (where available) is $25.00; the SET UP for Custom Upholstery is based on your size requirements. Please allow 2-4 weeks for Custom kits and 2-4 weeks for Rug kit delivery.
| cross-point™ Kit | Name/ Item Number/ size & color | Price |
| --- | --- | --- |
TURIN 01 COLORS:
Cornflower blues, maize, daffodil, off white



#TUR - 01

(photo at left)


size: 14" x 14" (35 x 35 cm)





#TURB - 01


size: 20" wide x 14" high (51 x 35 cm)
Use as stool top size or without border for larger size stool tops

COLOR COORDINATED WITH:
LINDISFARNE 04 PILLOWS

CUSTOM UPHOLSTERY & COLORS AVAILABLE



#TUR - 01




Price $ 59.00







#TURB - 01




Price $ 89.00







TURIN BACK PILLOW & STOOL TOP


AVAILABLE IN ALL TURIN COLORS



size: 20" wide x 14" high (51 x 35 cm)


(01 colors drawing at left)
TURIN 02 COLORS:
all reds: paprika reds, blood red, copper red



#TUR - 02

(photo at left)


size: 14" x 14" (35 x 35 cm)





#TURB - 02


size: 20" wide x 14" high (51 x 35 cm)
Use as stool top size or without border for larger size stool tops

COLOR COORDINATED WITH:
BASILICA 03, PISAC 04, PARMA 02

CUSTOM UPHOLSTERY & COLORS AVAILABLE



#TUR - 02




Price $ 59.00







#TURB - 02




Price $ 89.00





TURIN 03 COLORS:
golden olive, pale rust, dusty pink, cranberry, wood rose, oatmeal (see Tulip 08 stitched)



#TUR - 03

(drawing at left)


size: 14" x 14" (35 x 35 cm)





#TURB - 03


size: 20" wide x 14" high (51 x 35 cm)
Use as stool top size or without border for larger size stool tops

COLOR COORDINATED WITH:
TULIP 08, TULIP BORDER 08,
HONEYCOMB 08

CUSTOM UPHOLSTERY & COLORS
AVAILABLE



#TUR - 03




Price $ 59.00







#TURB - 03




Price $ 89.00







TURIN 04 COLORS:
coral reds, oatmeal



#TUR - 04

(photo at left)


size: 14" x 14" (35 x 35 cm)





#TURB - 04


size: 20" wide x 14" high (51 x 35 cm)
Use as stool top size or without border for larger size stool tops

COLOR COORDINATED WITH:
FLEUR DE LIS 02

CUSTOM UPHOLSTERY & COLORS AVAILABLE



#TUR - 04




Price $ 59.00







#TURB - 04




Price $ 89.00








TURIN 05 COLORS:


all greens: apple, hunter, forest on oatmeal



#TUR - 05

(photo at left)


size: 14" x 14" (35 x 35 cm)





#TURB - 05


size: 20" wide x 14" high (51 x 35 cm)
Use as stool top size or without border for larger size stool tops

COLOR COORDINATED WITH:
MEADOW 01 PILLOWS & UPHOLSTERY

CUSTOM UPHOLSTERY & COLORS AVAILABLE



#TUR - 05




Price $ 59.00







#TURB - 05




Price $ 89.00







TURIN 06 COLORS:
grayed jade greens, sage, oatmeal (same as
Pisac 04 colors)



#TUR - 06




size: 14" x 14" (35 x 35 cm)





#TURB - 06

(upper right drawing)
size: 20" wide x 14" high (51 x 35 cm)

Use as stool top size or without border for larger size stool tops

COLOR COORDINATED WITH:
PISAC 04 PILLOWS (photo lower left)

CUSTOM UPHOLSTERY & COLORS
AVAILABLE



#TUR - 06




Price $ 59.00







#TURB - 06




Price $ 89.00







CUSTOM
UPHOLSTERY:


Price: $0.30 sq.inch
PLUS SET UP FEE
at left:
Turin 05

at right:companion
Meadow 01
(see photo below)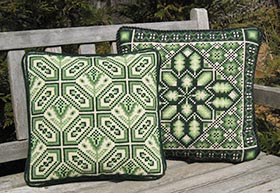 Turin 05 color coordinated with Meadow 01

back to top