The cross-point™ Collection
Pattern: FLEUR-de-LIS
("E")
Our geometric interpretation of a historic heraldic Pattern
Popular in the 16th and 17th Centuries and still popular today for upholstery and pillows, the Fleur-de-Lis is usually associated with the coat of arms of the French royal family and assumed to represent either a lily or an iris.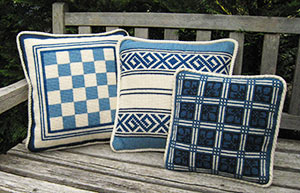 Fleur de Lis Pillow 03 colors shown with color coordinated
Greek Border 01 and Small Game Board 02 Pillows

Available in one size:
Small Square Pillow #FLE - 11" x 11" (29x29cm)
Custom Upholstery & Custom Colors available - Please contact us


Each kit contains large charts in colors and symbols, fabric, luxurious French tapestry wool, needles, and detailed instructions. Also included are our cross-point™ Technique sheets. Patterns are classified ("X") for experienced stitchers, or ("E") for beginners, unclassified patterns can be stitched by anyone with a little practice. Kits do not include backing or trim.
The SET UP charge for Custom Colors (where available) is $25.00; the SET UP for Custom Upholstery is based on your size requirements. Please allow 2-4 weeks for Custom kits and 2-4 weeks for Rug kit delivery.
| cross-point™ Kit | Name/ Item Number/ size & color | Price |
| --- | --- | --- |
FLEUR DE LIS 01 COLORS:
Burgundy red, navy, old gold




#FLE-01

- 11" x11" (29 x 29 cm)





#FLE-01




Price $ 49.00



FLEUR DE LIS 02 COLORS:
Coral toile reds, oatmeal




#FLE-02

- 11" x11" (29 x 29 cm)





#FLE-02




Price $ 49.00



FLEUR DE LIS 03 COLORS:
Old blues, navy, off white




#FLE-03

- 11" x11" (29 x 29 cm)





#FLE-03




Price $ 49.00



FLEUR DE LIS 04 COLORS:
Heraldic gold, dark custard, aqua




#FLE-04

- 11" x11" (29 x 29 cm)





#FLE-04




Price $ 49.00



Fleur de Lis #FLE-03 with Anatolia Back Pillow #ANBP-08
and Small Game Board #GASM-02
back to top