The cross-point™ Collection
Pattern: KILIM II

("X")

Like our other Kilim patterns, Kilim II is a lot of fun to stitch and a bit more challenging, ideal for stitchers who get easily bored with repetitive small geometrics. This pattern is loosely based on a rug found in the Ottoman rug collection in Transylvanian churches that date back to the 17th Century. The center "cloud" design is believed to have originated in the Far East, probably brought from Asia to Hungary by Magyars around the year 960. Outer borders are traditional Kilim motifs.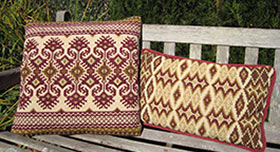 Kilim II 03 with companion pillow Small Morocco 02


Available in two pillow sizes: #KIL2 - 19 inches x 19 inches (48 x 48 cm)
NEW Size: #KIL2-BP - 26" wide x 20" high (66x51cm) fits Standard Bed Pillow
Each kit contains large charts in colors and symbols, fabric, luxurious French tapestry wool, needles, and detailed instructions. Also included are our cross-point™ Technique sheets. Patterns are classified ("X") for experienced stitchers, or ("E") for beginners, unclassified patterns can be stitched by anyone with a little practice. Kits do not include backing or trim.
CUSTOM UPHOLSTERY
and
CUSTOM COLORS
available. The square sizes are suitable for chair seats, ottomans and throws and sides can be filled in with additional background wool. The SET UP charge for Custom Colors (where available) is $25.00; the SET UP for Custom Upholstery is based on your size requirements. Please allow 2-4 weeks for Custom kits and 2-4 weeks for Rug kit delivery.
| cross-point™ Kit | Name/ Item Number/ size & color | Price |
| --- | --- | --- |




KILIM II 01 COLORS:
true reds, topaz light and dark, black



#KIL2-01

Large Square


one size: 19 x 19 inches (48x48cm)





#KIL2-BP-01

Large Rectangle


26" wide x 20" high (66x51cm)




Fits US Standard Bed Pillow



Companion Pillows:


Bergama 04, Shalimar 03, Topkapi 04

,


Celtic Knot 02,Morocco 01

#KIL2-01




Price $125.00






#KIL2-BP-01




Price $179.00








KILIM II 02 COLORS:
paprika, teal, olive, old blue, old gold, tea stain



#KIL2-02

Large Square


one size: 19 x 19 inches (48x48cm)





#KIL2-BP-02

Large Rectangle


26" wide x 20" high (66x51cm)




Fits US Standard Bed Pillow



Companion pillows::


Kilim 01 colors, Morocco Stripe 02 colors,




(see photo below)




Tabriz 01, Tabriz 07, Pisac 01,




Flamestitch 01, Nilos 02, Tabriz 05




#KIL2-02




Price $125.00






#KIL2-BP-02




Price $179.00









KILIM II 03 COLORS:
garnet, blood red, bronze,brass,honey ground



#KIL2-03

Large Square


one size: 19 x 19 inches (48x48cm)





#KIL2-BP-03

Large Rectangle


26" wide x 20" high (66x51cm)




Fits US Standard Bed Pillow



Companion pillow:


Small Morocco #MOSM-02, Soumak 01




#KIL2-03




Price $125.00






#KIL2-BP-03




Price $179.00







KILIM II 04 COLORS:
pale red,grayed olive,old gold,cream ground



#KIL2-04

Large Square


one size: 19 x 19 inches (48x48cm)





#KIL2-BP-04

Large Rectangle


26" wide x 20" high (66x51cm)




Fits US Standard Bed Pillow



Companion pillows:


Morocco Stripe 05, Berber Stripe 06




Honeycomb 02




#KIL2-04




Price $125.00






#KIL2-BP-04




Price $179.00









KILIM II 05 COLORS:
light & dark sea spray, grayed green,
elephant gray brown, palest khaki & silver



#KIL2-05

Large Square


one size: 19 x 19 inches (48x48cm)





#KIL2-BP-05

Large Rectangle


26" wide x 20" high (66x51cm)




Fits US Standard Bed Pillow



Companion pillows:


Oahu 03, Triangles 03,Pisac 03, Tabriz 06





#KIL2-05




Price $125.00






#KIL2-BP-05




Price $179.00









KILIM II 06 COLORS:
spruce blues, golden brown, tan, sand



#KIL2-06

Large Square


one size: 19 x 19 inches (48x48cm)





#KIL2-BP-06

Large Rectangle


26" wide x 20" high (66x51cm)




Fits US Standard Bed Pillow



Companion pillow:


Topkapi #TOP-08,Flamestitch 05, Pisac 06




#KIL2-06




Price $125.00






#KIL2-BP-06




Price $179.00










KILIM II 07 COLORS:
Jacobean grayed greens, pale cranberry,
palest apple green,pale silver gray ground



#KIL2-07

Large Square


one size: 19 x 19 inches (48x48cm)





#KIL2-BP-07

Large Rectangle


26" wide x 20" high (66x51cm)




Fits US Standard Bed Pillow



Companion pillows:


Balouch 02, Balouch Stripe 05, Anatolia 05,




Morocco Stripe 07, Pisac 07, Oahu 02,




Triangles 02, Gameboard 01





#KIL2-07




Price $125.00






#KIL2-BP-07




Price $179.00










KILIM II 08 COLORS:
hunter greens, peach, copper,
golden brown, dark sand ground,
black brown



#KIL2-08

Large Square


one size: 19 x 19 inches (48x48cm)





#KIL2-BP-08

Large Rectangle


26" wide x 20" high (66x51cm)




Fits US Standard Bed Pillow



Companion pillows:


Berber Stripe 01, Kilim 02, Anatolia 02




Basilica 01,Tulip 05,Honeycomb 02





#KIL2-08




Price $125.00






#KIL2-BP-08




Price $179.00










KILIM II 09 COLORS:
old blues, cream, camel, sand,
dull brick accent


#KIL2-09

Large Square


one size: 19 x 19 inches (48x48cm)





#KIL2-BP-09

Large Rectangle


26" wide x 20" high (66x51cm)




Fits US Standard Bed Pillow



Companion pillow:


Balouch

01,Celtic Knot 01,Morocco 02,


Small Morocco 03, Fleur de Lis 03,




Plaid 01, Siena 07,12th Century 01,




Pisac 06,Chevron 01 cream colors






#KIL2-09




Price $125.00






#KIL2-BP-09




Price $179.00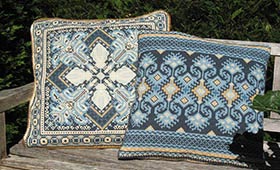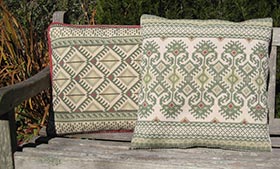 Kilim II #KIL2-06 and Topkapi #TOP-08
Kilim II #KIL2-07 and Anatolia #ANA-02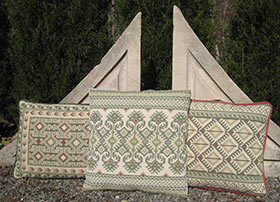 Kilim II #KIL2-07 (center) with Balouch #BAL-02 (left) and Anatolia #ANA-05 (right)
back to top