The cross-point™ Collection
Pattern: PISAC ("E")
Pisac is an old city in the Sacred Valley of Peru. High above the valley floor, terraced small fields rise up the mountain sides. Ancient stone walls and Incan temple ruins appear in a quilt-like fashion against a backdrop of magnificent snowy mountain peaks. This geometric pattern is my interpretation of that unforgettable scenery.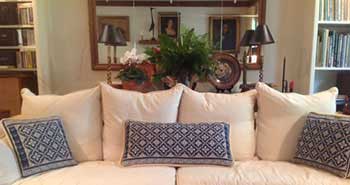 "blue" pillow group: Pisac LG06 long (center), Small square Pisac 06 at left,
Back Pillow BP06 at right
Available in three pillow sizes:
Small Square:PISAC - #PISA - 14" x 14" (35 x 35 cm)
Rectangular PISAC BACK PILLOW - #PISA-BP - 17" x 14" (44 x 35 cm)
LONG PISAC BACK PILLOW - #PISA-LG - 26" wide x 14" high (67 x 35 cm)
( use as long Pillow for beds & large sofas, as Runner or bench upholstery)
CUSTOM UPHOLSTERY REPEAT PATTERN - please contact us
CUSTOM COLORS AVAILABLE - please contact us



Each kit contains large charts in colors and symbols, fabric, luxurious French tapestry wool, needles, and detailed instructions. Also included are our cross-point™ Technique sheets. Patterns are classified ("X") for experienced stitchers, or ("E") for beginners, unclassified patterns can be stitched by anyone with a little practice. Kits do not include backing or trim.This pattern includes additional charts for outlines for easy counting.
The SET UP charge for Custom Colors (where available) is $25.00; the SET UP for Custom Upholstery is based on your size requirements. Please allow 2-4 weeks for Custom kits and 2-4 weeks for Rug kit delivery.
| cross-point™ Kit | Name/ Item Number/ size & color | Price |
| --- | --- | --- |

Companion Pillows:
Berber Stripe 02, Celtic Knot 04
Karakum 04, Basilica 09, Plaid 03
Lindisfarne 01, Morocco Stripe 02
Balouch Stripe 03, Triangles 05


PISAC 01 COLORS:
red, true blue, honey, topaz, green teal, grass, blue ink



#PISA - 01

(small square)


size: 14" x 14" (35 x 35 cm)




(photo at left)




#PISA-BP - 01

Back Pillow


size: 17" wide x 14"high (44x35 cm)



#PISA-LG - 01


(long pillow or runner)




size: 26" wide x 14" high (67 x 35 cm)





#PISA - 01




Price $ 69.00





#PISA-BP - 01




Price $ 79.00





#PISA-LG - 01




Price $119.00





Drawings at left:

bottom: LONG PISAC BACK PILLOW
#PISA-LG-01



top: PISAC BACK PILLOW #PISA-BP-01


Companion Pillows:
Plaid 05, Berber Stripe 03, Nilos 01
Topkapi 05, Morocco Stripe 03,
Log Cabin 03, Honeycomb 07


PISAC 02 COLORS:
amethyst, garnet, plum, navy, teal,
gray green, blue ink



#PISA - 02

(small square)


size: 14" x 14" (35 x 35 cm)




(photo at left)





#PISA-BP - 02

Back Pillow


size: 17" wide x 14"high (44x35 cm)





#PISA-LG - 02

Long Pillow or Runner


size: 26" wide x 14" high (67 x 35 cm)




#PISA - 02




Price $ 69.00





#PISA-BP - 02




Price $ 79.00





#PISA-LG - 02




Price $119.00




Drawings at left:


top: PISAC BACK PILLOW #PISA-BP-02

bottom: LONG PISAC BACK PILLOW
#PISA-LG-02





Companion Pillows:
Oahu 03 and 01, Tabriz 06, Triangles 03
Shalimar 01, Kilim II 05,
Lindisfarne 02


PISAC 03 COLORS:
ice blue, pale sage, elephant gray,
blue lichen, soft gray green,
silver gray ground



#PISA - 03

(small square)


size: 14" x 14" (35 x 35 cm)




(photo at left)





#PISA-BP - 03

Back Pillow


size: 17" wide x 14"high (44x35 cm)





#PISA-LG - 03

Long Pillow or Runner


size: 26" wide x 14" high (67 x 35 cm)







#PISA - 03




Price $ 69.00





#PISA-BP - 03




Price $ 79.00





#PISA-LG - 03




Price $119.00





Drawings at left:


top: PISAC BACK PILLOW #PISA-BP-03

bottom: LONG PISAC BACK PILLOW
#PISA-LG-03





Companion Pillows:
other all reds: Basilica 03, Turin 02
Small Morocco 01, Plaid 02


PISAC 04 COLORS:
all reds: Siena, copper, paprika, dark red



#PISA - 04

(small square)


size: 14" x 14" (35 x 35 cm)




(photo at left)





#PISA-BP - 04

Back Pillow


size: 17" wide x 14"high (44x35 cm)





#PISA-LG - 04

Long Pillow or Runner


size: 26" wide x 14" high (67 x 35 cm)






#PISA - 04




Price $ 69.00





#PISA-BP - 04




Price $ 79.00





#PISA-LG - 04




Price $119.00





Drawings at left:


top: PISAC BACK PILLOW #PISA-BP-04

bottom: LONG PISAC BACK PILLOW
#PISA-LG-04





Companion Pillows:
"all reds": Basilica 03, Turin 02,
Small Morocco 01, Morocco 01
Plaid 02, Tiger (Animal Pattern)
Karakum 03, Small Morocco 02


PISAC 05 COLORS:
red copper, cranberry, camel, golden brown,
black



#PISA - 05

(small square)


size: 14" x 14" (35 x 35 cm)




(photo at left)





#PISA-BP - 05

Back Pillow


size: 17" wide x 14"high (44x35 cm)





#PISA-LG - 05

Long Pillow or Runner


size: 26" wide x 14" high (67 x 35 cm)


(see below)



#PISA - 05




Price $ 69.00





#PISA-BP - 05




Price $ 79.00





#PISA-LG - 05




Price $119.00







Drawings at left:


top: PISAC BACK PILLOW #PISA-BP-05

bottom: LONG PISAC BACK PILLOW
#PISA-LG-05





Companion Pillows:
Celtic Knot 01, Morocco 02,
Small Morocco 03, Plaid 01,
Siena 07,


PISAC 06 COLORS:
Indigo blues, oatmeal, dark sand, navy



#PISA - 06

(small square)


size: 14" x 14" (35 x 35 cm)





#PISA-BP - 06

Back Pillow


size: 17" wide x 14"high (44x35 cm)





#PISA-LG - 06

(long pillow or runner)


size: 26" wide x 14" high (67 x 35 cm)




#PISA - 06




Price $ 69.00





#PISA-BP - 06




Price $ 79.00





#PISA-LG - 06




Price $119.00








Photo at left:


left: PISAC BACK PILLOW #PISA-BP-06

center: LONG PISAC BACK PILLOW
#PISA-LG-06

right: Small Square #PISA-06




Companion Pillows:
Morocco Stripe 07, Oahu 02, Kilim II 07
Balouch Stripe 05, 12th Century 04
St. Moritz 03, Small Morocco 04
Triangles 02


PISAC 07 COLORS:
all greens: sage - light, medium and dark,
pale sand ground



#PISA - 07

(small square)


size: 14" x 14" (35 x 35 cm)





#PISA-BP - 07

Back Pillow


size: 17" wide x 14"high (44x35 cm)




(photo at left)





#PISA-LG - 07

(long pillow or runner)


size: 26" wide x 14" high (67 x 35 cm)






#PISA - 07




Price $ 69.00





#PISA-BP - 07




Price $ 79.00





#PISA-LG - 07




Price $119.00





Drawings at left:


top: PISAC #PISA-07 (small square)

bottom: LONG PISAC BACK PILLOW
#PISA-LG-07




PISAC UPHOLSTERY REPEAT PATTERN:
available in all stock colors and custom colors




vertical repeat:3"




horizontal repeat:3"





number of colors: 7

CUSTOM
UPHOLSTERY:



Price $0.30 sq. inch
PLUS
$25.00 SET UP FEE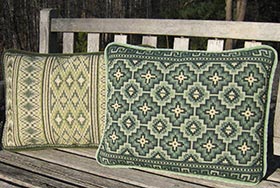 Above: Pisac Back Pillow #PISA-BP-07 with Morocco Stripe Back Pillow
#MORST-07

back to top