The cross-point™ Collection
Pattern: MEADOW
This kaleidoscope pattern was inspired by remembrances of Alpine meadows and mountain peaks reflected in glacial pools. A separate outline chart makes counting easy.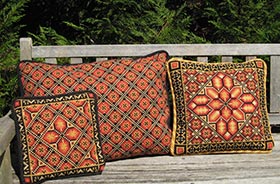 Meadow group in 02


Available in three pillow sizes:
Square Pillow MEADOW - #MEA - 16x16" (40x40cm)
Square Accent Pillow SMALL MEADOW - #MEASM - 11x11" (28x28 cm)
Large Rectangular Pillow MEADOW REPEAT - #MEAR - 22"x16" (56x40 cm)
CUSTOM UPHOLSTERY Repeat Pattern (from #MEAR) available - please contact us


Each kit contains large charts in colors and symbols, fabric, luxurious French tapestry wool, needles, and detailed instructions. Also included are our cross-point™ Technique sheets. Patterns are classified ("X") for experienced stitchers, or ("E") for beginners, unclassified patterns can be stitched by anyone with a little practice. Kits do not include backing or trim.CUSTOM COLORS AVAILABLE.
| cross-point™ Kit | Name/ Item Number/ size & color | Price |
| --- | --- | --- |
MEADOW 01 COLORS:
forest and hunter greens, lime green, apple green, green ink, oatmeal



#MEA - 01




size: 16" x 16" (40x40 cm)




(photo at left)





#MEASM - 01




size: 11"x11" (28x28 cm)





#MEAR - 01


size: 22"x16" (56x40 cm)


(fits US standard bed pillow)





#MEA - 01




Price $ 79.00






#MEASM - 01




Price $ 49.00






#MEAR - 01




Price $109.00




MEADOW 02 COLORS:
paprika red, rust red, black, honey, tan



#MEA - 02




size: 16" x 16" (40x40 cm)




(left in photo)





#MEASM - 02




size: 11"x11" (28x28 cm)




(right in photo)





#MEAR - 02


size: 22"x16" (56x40 cm)


(fits US standard bed pillow-photo below)





#MEA - 02




Price $ 79.00






#MEASM - 02




Price $ 49.00






#MEAR - 02




Price $109.00




/>




MEADOW 03 COLORS:
old blues, navy, ecru



#MEA - 03




size: 16" x 16" (40x40 cm)




(photo at right below)





#MEASM - 03




size: 11"x11" (28x28 cm)




(photo at left)






#MEAR - 03


size: 22"x16" (56x40 cm)


(fits US standard bed pillow)




(top left in drawing at left)





COMPANION PILLOWS:


TULIP & TULIP BORDER 03


(see more companion pillows below)




#MEA - 03




Price $ 79.00






#MEASM - 03




Price $ 49.00






#MEAR - 03




Price $109.00




COMPANION PILLOWS:
MOGHUL 03
MEADOW 04 COLORS:
maize, pale yellow, light paprika, lime, dark green, green gold (see Moghul 03 colors)



#MEA - 04




size: 16" x 16" (40x40 cm)




(center in drawing at left)





#MEASM - 04




size: 11"x11" (28x28 cm)




(bottom right in drawing)






#MEAR - 04


size: 22"x16" (56x40 cm)


(fits US standard bed pillow)




(top left in drawing)





#MEA - 04




Price $ 79.00






#MEASM - 04




Price $ 49.00






#MEAR - 04




Price $109.00




MEADOW 05 COLORS:
pale cornflower blue, rose pink, jade greens
palest yellow, cream, off white



#MEA - 05




size: 16" x 16" (40x40 cm)




(center in drawing at left)





#MEASM - 05




size: 11"x11" (28x28 cm)




(bottom in drawing at left)





#MEAR - 05


size: 22"x16" (56x40 cm)


(fits US standard bed pillow)




(top left in drawing at left)





#MEA - 05




Price $ 79.00






#MEASM - 05




Price $ 49.00






#MEAR - 05




Price $109.00




MEADOW 02 COLORS:
paprika red, rust red, honey, black, tan



#MEAR - 02 Pillow


size: 22"x16" (56x40 cm)


(photo at left - fits US standard bed pillow)



Pattern is available for
CUSTOM UPHOLSTERY in all stock colors
and custom colors
horizontal & vertical repeat: 3"


CUSTOM UPHOLSTERY





VERTICAL REPEAT:

3"



HORIZONTAL REPEAT:

3"

CUSTOM COLORS AVAILABLE
number of colors: 7 or 8

Set up fee is based on size requirements

CUSTOM




UPHOLSTERY:





Price $0.30 per
square inch
PLUS SET UP CHARGE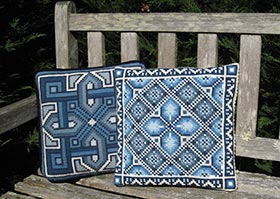 Above:#MEASM-03 with #BASM-05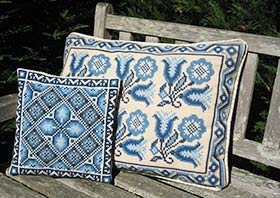 Above:#MEASM-03 with #BERG-03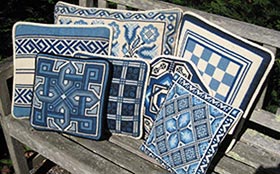 A group of blue & white companion pillows
Bergama, Greek Border, Basilica, Fleur de lis, Nilos Octagon, Game Board, Meadow
back to top