The cross-point™ Collection
Pattern: MOROCCO STRIPE ("E")

a fun...fast...& easy vertical stripe
Our popular Morocco Stripe, assembled from North African kilim rug patterns, is available in four Pillow sizes and one Coverlet
in nine colorways, including four new colors
. The narrow Pillow version, either 22" or 18" wide, fits neatly into the space between seat and back of upholstered chairs, sofas and loveseats. Our standard "good for your back" pillow is a wonderful companion to a number of other pillows in the cross-point™ collection. The
new
Coverlet is perfect for narrow table and chest tops and an ideal size to protect sofa and chair arms. The coverlet size is also a perfect size for a long, narrow sofa or bed pillow. This pattern, like other Kilim patterns, is a joy to stitch and a good beginner's kit.

NEW PATTERN: MOROCCO STRIPE COVERLET
available in all Morocco Stripe colors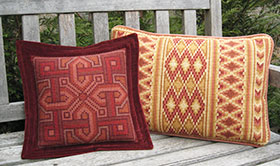 Morocco Stripe Back Pillow 04 colors with Small Basilica 03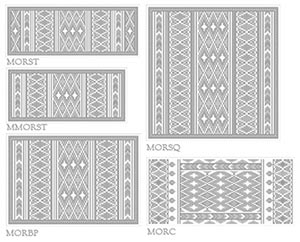 MOROCCO STRIPE - Available in four or five pillow sizes:
Small Rectangular Pillow: #MMORST - 18" wide x 8"high (46x20 cm) (center left)
Long Rectangular Pillow: #MORST - 21.5" wide x 8" high (55x20cm) (top left)
Rectangular Back Pillow: #MORBP - 18" wide x 12" high (46x31 cm) (bottom)
Square Pillow: #MORSQ - 18" x 18" (46x46cm) (top right)
Coverlet or Long Pillow: #MORC - 23.5" wide x 10" high (60 x 25cm)
Also Available: Custom Colors and Custom Upholstery

Each kit contains large charts in colors and symbols, fabric, luxurious French tapestry wool, needles, and detailed instructions. Also included are our cross-point™ Technique sheets. Patterns are classified ("X") for experienced stitchers, or ("E") for beginners, unclassified patterns can be stitched by anyone with a little practice. Kits do not include backing or trim.
The SET UP charge for Custom Colors (where available) is $25.00; the SET UP for Custom Upholstery is based on your size requirements. Please allow 2-4 weeks for Custom kits and 2-4 weeks for Rug kit delivery.
| cross-point™ Kit | Name/ Item Number/ size & color | Price |
| --- | --- | --- |





MOROCCO STRIPE 01 COLORS:
light paprika, honey, rust red, old blue,
green teal, eggshell, tree bark, greyed green



#MORST - 01




size: 21.5"wide x 8"high (55x20 cm

)


(photo at left)





#MMORST - 01




size: 18"wide x 8"high (46x20 cm

)



#MORBP - 01


size: 18" wide x 12"high (46x31 cm)



#MORC - 01




size: 23.5" wide x 10" high(60x25 cm)




(drawing at left)





#MORSQ - 01




size: 18" wide x 18"high (46x46 cm)




(drawing at bottom left)





COLOR COORDINATED with KILIM 01,




TABRIZ 05, KILIM II 02, TRIANGLES 07,





#MORST - 01




Price $ 59.00





#MMORST-01




Price $ 49.00





#MORBP - 01




Price $ 69.00





#MORC - 01




Price $ 79.00





#MORSQ - 01




Price $ 99.00






MOROCCO STRIPE 02 COLORS:
dark red,honey, tomato, old blue, green teal, blue green, topaz, grass, Jacobean green



#MORST - 02




size: 21.5"wide x 8"high (55x20 cm)




(photo at left)





#MMORST - 02




size: 18"wide x 8"high (46x20 cm)





#MORBP - 02


size: 18" wide x 12"high (46x31 cm)



#MORC - 02




size: 23.5" wide x 10" high(60x25 cm)




(drawing at left)





#MORSQ - 02




size: 18" wide x 18"high (46x46 cm)






COLOR COORDINATED WITH




BERBER STRIPE 02,BALOUCH STRIPE 03




TRIANGLES 03, TABRIZ 01, NILOS 02




PISAC 01,BALOUCH 07,BASILICA 09




#MORST - 02




Price $ 59.00





#MMORST-02




Price $ 49.00





#MORBP - 02




Price $ 69.00





#MORC - 02




Price $ 79.00





#MORSQ - 02




Price $ 99.00







MOROCCO STRIPE 03 COLORS:
plum, black cherry, garnet red, khaki, gray green



#MORST - 03


size: 21.5"wide x 8"high (55x20 cm)


(photo at left)





#MMORST - 03




size: 18"wide x 8"high (46x20 cm)





#MORBP - 03




size: 18" wide x 12"high (46x31 cm)





#MORC - 03




size: 23.5" wide x 10" high(60x25 cm)




(drawing at left below)





#MORSQ - 03




size: 18" wide x 18"high (46x46 cm)



COLOR COORDINATED WITH
BERBER STRIPE 03,BALOUCH STRIPE 01,
PISAC 02,TOPKAPI 05, LOG CABIN 03
(see photo at left ), Nilos 01,
Honeycomb 07


#MORST - 03




Price $ 59.00





#MMORST-03

Price $ 49.00





#MORBP - 03




Price $ 69.00





#MORC - 03




Price $ 79.00





#MORSQ - 03




Price $ 99.00






MOROCCO STRIPE 04 COLORS:
light paprika, honey, copper, nutmeg, ginger, dark sepia, cinnamon,cream



#MORST - 04


size: 21.5"wide x 8"high (55x20 cm)



#MMORST - 04




size: 18"wide x 8"high (46x20 cm)




(photo at left)





#MORBP - 04




size: 18" wide x 12"high (46x31 cm

)



#MORC - 04


size: 23.5" wide x 10" high(60x25 cm)


(drawing at left)





#MORSQ - 04




size: 18" wide x 18"high (46x46 cm)



COLOR COORDINATED WITH
ANATOLIA 04,BERGAMA 05, BALOUCH 06
TOPKAPI 07, TABRIZ 04,KILIM 05
(photo below)



#MORST - 04




Price $ 59.00





#MMORST-04




Price $ 49.00





#MORBP - 04




Price $ 69.00





#MORC - 04




Price $ 79.00





#MORSQ - 04




Price $ 99.00






MOROCCO STRIPE 05 COLORS:
pale red, loden green, old gold, pale yellow,
pale paprika, grayed greens, olive green



#MORST - 05


size: 21.5"wide x 8"high (55x20 cm)



#MMORST - 05


size: 18"wide x 8"high (46x20 cm)



#MORBP - 05




size: 18" wide x 12"high (46x31 cm)




(drawing at left)





#MORC - 05




size: 23.5" wide x 10" high(60x25 cm)




(photo at left)





#MORSQ - 05




size: 18" wide x 18"high (46x46 cm)



Companion Pillows: PLAID 04,
BERBER STRIPE 06,KILIM II 04




#MORST - 05




Price $ 59.00





#MMORST-05




Price $ 49.00





#MORBP - 05




Price $ 69.00





#MORC - 05




Price $ 79.00





#MORSQ - 05




Price $ 99.00






MOROCCO STRIPE 06 COLORS:
rust red, dark red, gold, golden olive,
cranberry, dark paprika, dark brass



#MORST - 06




size: 21.5"wide x 8"high (55x20 cm)




(photo at left)





#MMORST - 06




size: 18"wide x 8"high (46x20 cm)





#MORBP - 06




size: 18" wide x 12"high (46x31 cm)





#MORC - 06


size: 23.5" wide x 10" high(60x25 cm)


(drawing at left)





#MORSQ - 06




size: 18" wide x 18"high (46x46 cm)





Companion Pillows: Oahu 05 color




#MORST - 06




Price $ 59.00





#MMORST-06




Price $ 49.00





#MORBP - 06




Price $ 69.00





#MORC - 06




Price $ 79.00





#MORSQ - 06




Price $ 99.00






MOROCCO STRIPE 07 COLORS:
all greens: grayed khaki, sage,
Jacobean gray green, oatmeal



#MORST - 07




size: 21.5"wide x 8"high (55x20 cm)





#MMORST - 07




size: 18"wide x 8"high (46x20 cm

)



#MORBP - 07




size: 18" wide x 12"high (46x31 cm)




(photo at left)





#MORC - 07




size: 23.5" wide x 10" high(60x25 cm)




(drawing at left)





#MORSQ - 07




size: 18" wide x 18"high (46x46 cm)





COLOR COORDINATED WITH PISAC 07






#MORST - 07




Price $ 59.00





#MMORST-07




Price $ 49.00





#MORBP - 07




Price $ 69.00





#MORC - 07




Price $ 79.00





#MORSQ - 07




Price $ 99.00





MOROCCO STRIPE 08 COLORS:
brown greens, drab khaki, tree bark, blue gray, tan, milk chocolate, dark chocolate



#MORST - 08




size: 21.5"wide x 8"high (55x20 cm)





#MMORST - 08




size: 18"wide x 8"high (46x20 cm)





#MORBP - 08




size: 18" wide x 12"high (46x31 cm)




(photo at left

)



#MORC - 08




size: 23.5" wide x 10" high(60x25 cm)




(drawing at left)





#MORSQ - 08




size: 18" wide x 18"high (46x46 cm)



COLOR COORDINATED WITH
12th CENTURY 05,BASILICA 08



#MORST - 08




Price $ 59.00





#MMORST-08




Price $ 49.00





#MORBP - 08




Price $ 69.00





#MORC - 08




Price $ 79.00





#MORSQ - 08




Price $ 99.00











MOROCCO STRIPE 09 colors:
Mediterranean blues from light blue to navy blue on white background



#MORST - 09




size: 21.5"wide x 8"high (55x20 cm)




(top drawing at left)




#MMORST - 09




size: 18"wide x 8"high (46x20 cm)




(center drawing at left)




#MORBP - 09




size: 18" wide x 12"high (46x31 cm)




(bottom drawing at left

)



#MORC - 09




size: 23.5" wide x 10" high(60x25 cm)




(drawing at left center)





#MORSQ - 09




size: 18" wide x 18"high (46x46 cm)




(photo at left bottom)



Color Co-ordinated Companions:
Balouch Stripe #BAL-ST-04,BASILICA 05,
Bergama #BERG-04,Gameboard #GAM-02,
Greek Border #GRE-01,Tabriz #TAB-02,
Triangles #TRI-04,Tulip Stripe #TUST-02,
12th Century #12thC-01,Nilos #NIL-03

#MORST - 09




Price $ 59.00





#MMORST-09




Price $ 49.00





#MORBP - 09




Price $ 69.00





#MORC - 09




Price $ 79.00





#MORSQ - 09




Price $ 99.00












MOROCCO STRIPE RUGS
available on
CUSTOM ORDER
stock or custom
colors
25" wide x 40"long
$298.00

far left 05 colors
center 09 colors

please call us to order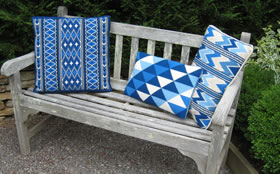 Morocco Stripe Square 09, Triangles Back Pillow 04, Balouch Stripe 04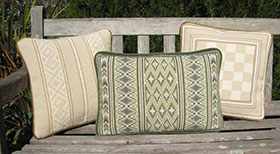 Morocco Stripe Back Pillow 07 with Greek Border 03 and Game Board 06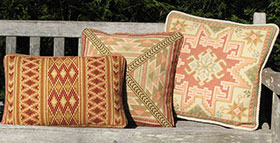 Morocco Stripe #MORBP-04 and Small Tabriz #TASM 04, Small Kilim #KISM-05
back to top