The cross-point™ Collection
Pattern: FLAME STITCH ("E")

our cross-point™ version of a classic embroidery technique
While the origin of Flame Stitch is somewhat mysterious, examples in museums date from before 1600. Whether Hungarian, Florentine or Elizabethan, in Flame Stitch embroidery stitches step sharply across the design forming peaks and valleys. Historically, Flame Stitch pieces in wool on linen were used for wall and bed hangings, valances, carpets, upholstery and pillows.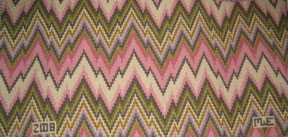 Fragment of Custom Piano Bench (16"w x 33"l) - Flame Stitch 04 colors


Available as pillows and Custom Upholstery
Small Square Pillow - #FLA-SM - 18" x 18" (46 x 46 cm)
Large Square Floor Pillow - #FLA - 23" x 23" (58 x 58 cm)
Custom Upholstery & Custom Colors


Each kit contains large charts in colors and symbols, fabric, luxurious French tapestry wool, needles, and detailed instructions. Also included are our cross-point™ Technique sheets. Patterns are classified ("X") for experienced stitchers, or ("E") for beginners, unclassified patterns can be stitched by anyone with a little practice. Kits do not include backing or trim.
The SET UP charge for Custom Colors (where available) is $25.00; the SET UP for Custom Upholstery is based on your size requirements. Please allow 2-4 weeks for Custom kits and 2-4 weeks for Rug kit delivery.
| cross-point™ Kit | Name/ Item Number/ size & color | Price |
| --- | --- | --- |
FLAME STITCH 01 COLORS:
Paprika red, gold, leaf green, olive, blue spruce, black teal, oatmeal



Available in 2 pillow sizes:




#FLA - 01

- 23" x 23" (58x58 cm)



#FLA-SM - 01

- 18"x18" (47x47cm)

FOR CUSTOM UPHOLSTERY & CUSTOM COLORS - CONTACT US
(pattern consists of 13 wool colors)

Companion Pillows:


Plaid 03,Morocco Stripe 02,Celtic Knot 04




Balouch Stripe 03,Triangles 05,Parma 03




FLOOR PILLOW


#FLA - 01




Price $179.00




SMALL PILLOW


#FLA-SM - 01




Price $119.00





FLAME STITCH 02 COLORS:
Cranberry red, topaz, sage,grayed greens, honey, blue spruce, black teal, oatmeal



Available in 2 pillow sizes:




#FLA - 02

- 23" x 23" (58x58 cm)



#FLA-SM - 02

- 18"x18" (47x47cm)

FOR CUSTOM UPHOLSTERY & CUSTOM COLORS - CONTACT US
(pattern consists of 13 wool colors)

Companion Pillows:


St. Moritz 01, Basilica 03,




Small Morocco 01, Celtic Knot 02




FLOOR PILLOW


#FLA - 02




Price $179.00




SMALL PILLOW


#FLA-SM - 02




Price $119.00





FLAME STITCH 03 COLORS:
Cranberry red, topaz, sage,leaf,olive, gold, China blue, black , pale chartreuse


Available in 2 pillow sizes:




#FLA - 03

- 23" x 23" (58x58 cm)



#FLA-SM - 03

- 18"x18" (47x47cm)

FOR CUSTOM UPHOLSTERY & CUSTOM COLORS - CONTACT US
(pattern consists of 13 wool colors)
FLOOR PILLOW


#FLA - 03




Price $179.00




SMALL PILLOW


#FLA-SM - 03




Price $119.00





FLAME STITCH 04 COLORS:
Pink rust, pink terracotta, wood rose, golden olive, elephant grey, light beige



Available in 2 pillow sizes:




#FLA - 04

- 23" x 23" (58x58 cm)



#FLA-SM - 04

- 18"x18" (47x47cm)

FOR CUSTOM UPHOLSTERY & CUSTOM COLORS - CONTACT US
(pattern consists of 13 wool colors)
FLOOR PILLOW


#FLA - 04




Price $179.00




SMALL PILLOW


#FLA-SM - 04




Price $119.00





FLAME STITCH 05 COLORS:
Old blues, camel, honey, sand, navy



Available in 2 pillow sizes:




#FLA - 05

- 23" x 23" (58x58 cm)



#FLA-SM - 05

- 18"x18" (47x47cm)

FOR CUSTOM UPHOLSTERY & CUSTOM COLORS - CONTACT US
(pattern consists of 13 wool colors)

Companion Pillows:


Siena 07,Celtic Knot 01,Balouch 01




Pisac 06, Plaid 01, Morocco 02




Small Morocco 03, Celtic Knot 05




FLOOR PILLOW


#FLA - 05




Price $179.00




SMALL PILLOW


#FLA-SM - 05




Price $119.00









Flame Stitch Custom Piano Bench





Flame Stitch Custom Valance



FLAME STITCH UPHOLSTERY



Price $0.30 sq. inch
Plus Set-Up Charge
back to top