The cross-point™ Collection
Pattern: TABRIZ
Loosely based on geometric motifs from saddle and storage bags of the many Nomadic tribes that travelled between Mongolia, Persia and Turkey. Similar designs originated in a number of different regions and merged or were adapted and altered to suit local weavers, stitchers and culture. Like other Kilim type patterns in our collection, Tabriz is a lot of fun to stitch!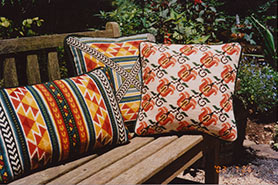 Tabriz Back Pillow and Small Tabriz 01 with Tulip Stripe 04
Available in three sizes:
Small Square: SMALL TABRIZ- #TASM - 16" x 16" (41x41 cm)
Rectangular TABRIZ BACK PILLOW: #TABP - 19"wide x 12" high (50 x 30 cm)
Large Square: TABRIZ - #TAB - 21" x 21" (55 x 55 cm)
Each kit contains large charts in colors and symbols, fabric, luxurious French tapestry wool, needles, and detailed instructions. Also included are our cross-point™ Technique sheets. Patterns are classified ("X") for experienced stitchers, or ("E") for beginners, unclassified patterns can be stitched by anyone with a little practice. Kits do not include backing or trim.
| cross-point™ Kit | Name/ Item Number/ size & color | Price |
| --- | --- | --- |
TABRIZ 01 COLORS:
Tomato red, dark red, teal, topaz, honey, eggshell, grass, dark blue green



#TASM - 01

(photo at left)


size: 16" x 16" (41x41 cm)





#TAB - 01

(drawing below)


size: 21" x 21" (55 x 55 cm)





#TABP - 01

(photo below left)


size: 19" x 12"high (50 x 30 cm)



COMPANION PILLOWS: NILOS 02,
SOUMAK 04 and 05


#TASM - 01




Price $ 89.00





#TAB - 01




Price $149.00





#TABP - 01




Price $ 79.00





PHOTO AT LEFT:
#TABP-01



DRAWING AT RIGHT
#TAB-01




TABRIZ 02 COLORS:
Mediterranian blues, navy, oatmeal



#TASM - 02

(photo at left)


size: 16" x 16" (41x41 cm)





#TAB - 02 (

drawing below)


size: 21" x 21" (55 x 55 cm)





#TABP - 02

(drwing below right)


size: 19" x 12"high (50 x 30 cm)



COMPANION PILLOWS: BASILICA 05



#TASM - 02




Price $ 89.00





#TAB - 02




Price $149.00





#TABP - 02




Price $ 79.00







At left:
#TAB-02 at top


#TABP-02 at lower right

COMPANION PILLOWS: BASILICA 05




TABRIZ 03 COLORS:
Cranberry, teal, grass, gray green, topaz, eggshell



#TASM - 03

(photo at left)


size: 16" x 16" (41x41 cm)





#TAB - 03

(drawing below)


size: 21" x 21" (55 x 55 cm)





#TABP - 03

(drawing below right)


size: 19" x 12"high (50 x 30 cm)





#TASM - 03




Price $ 89.00





#TAB - 03




Price $149.00





#TABP - 03




Price $ 79.00







At left:
#TAB-03 at top


#TABP-03 at lower right





TABRIZ 04 COLORS:
dull peach, pale copper, pale salmon, dark sand, brass, beige, pale sand



#TASM - 04

(photo at left)


size: 16" x 16" (41x41 cm)





#TAB - 04

(drawing below)


size: 21" x 21" (55 x 55 cm)





#TABP - 04

(photo below left)


size: 19" x 12"high (50 x 30 cm)



COMPANION PILLOWS: KILIM 05



#TASM - 04




Price $ 89.00





#TAB - 04




Price $149.00





#TABP - 04




Price $ 79.00





PHOTO AT LEFT:
#TABP-04



DRAWING AT RIGHT
#TAB-04




TABRIZ 05 COLORS:
Paprika red, dark red, navy, Indigo blue, teal, golden brown, grayed green, tree bark



#TASM - 05

(drawing below left)


size: 16" x 16" (41x41 cm)





#TAB - 05

(photo at left)


size: 21" x 21" (55 x 55 cm)





#TABP - 05

(drawing below right)


size: 19" x 12"high (50 x 30 cm)





#TASM - 05




Price $ 89.00





#TAB - 05




Price $149.00





#TABP - 05




Price $ 79.00





at left:
#TASM - 05 at top


#TABP-05 lower right







TABRIZ 06 COLORS:
Sage greens, pale blue spruce, silver, pale elephant grey



#TASM - 06

(photo at left)


size: 16" x 16" (41x41 cm)





#TAB - 06

(drawing below left)


size: 21" x 21" (55 x 55 cm)





#TABP - 06

(drawing below right)


size: 19" x 12"high (50 x 30 cm)



COMPANION PILLOWS: KILIM 06,
PISAC 03


#TASM - 06




Price $ 89.00





#TAB - 06




Price $149.00





#TABP - 06




Price $ 79.00







At left:


#TAB-06

at top




#TABP-06

at lower right

COMPANION PILLOWS: KILIM 06, PISAC 03





NEW COLOR

:
TABRIZ 07 COLORS:
paprika, maize, old blues, grayed olive,
brown green, eggshell



#TASM-07

(top left)
size: 16"x16" (41x41cm)



#TABP-07

(bottom right) Back Pillow
size: 19" x 12"high (50 x 30cm)

COMPANION PILLOWS:


Kilim 01, Morocco Stripe 01





#TASM - 07




Price $ 89.00



#TABP - 07


Price $ 79.00



Photos at left:
#TASM 02 blues
with #BASM 05


Photo at right:
#TASM 06 sages
with #PISA 03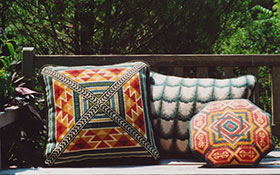 Above: Small Tabriz #TASM-01 with Nilos Octagon #NISM-02 and Parma #PAR-04

back to top