The cross-point™ Collection
PATTERN: CELTIC KNOT ("E")

A vertical stripe of interwoven bands
A combination of interwoven bands typical of patterns in the
Book Of Kells
Gospel book form a series of vertical stripes to create a quickly stitched pillow suitable for all levels of stitching experience.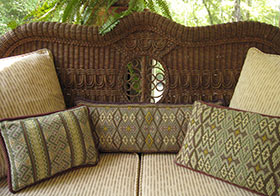 Celtic Knot Pillow 03 shown with coordinated
Morocco 03 and Small Morocco 04 Pillows

Available in one pillow size :
Small Rectangular Pillow #CEL - 15"wide x 11"high (39x28cm)
Custom Upholstery & Custom Colors available - Please contact us
Each kit contains large charts in colors and symbols, fabric, luxurious French tapestry wool, needles, and detailed instructions. Also included are our cross-point™ Technique sheets. Patterns are classified ("X") for experienced stitchers, or ("E") for beginners, unclassified patterns can be stitched by anyone with a little practice. Kits do not include backing or trim.
The SET UP charge for Custom Colors (where available) is $25.00; the SET UP for Custom Upholstery is based on your size requirements. Please allow 2-4 weeks for Custom kits and 2-4 weeks for Rug kit delivery.
| cross-point™ Kit | Name/ Item Number/ size & color | Price |
| --- | --- | --- |
CELTIC KNOT 01 COLORS:
Indigo blues, camel, dull terracotta, oatmeal



#CEL-01

- 15"w x 11"h (39 x 28cm)


(photo)




CUSTOM UPHOLSTERY AVAILABLE

Companion pillows:


Balouch 01,Morocco 02,Plaid 01,




Small Morocco 03,Pisac 06,Siena 07









#CEL-01

Price $ 59.00



CELTIC KNOT 02 COLORS:
garnet reds, straw, custard, dark red



#CEL-02

- 15"w x 11"h (39 x 28cm)


(photo)




CUSTOM UPHOLSTERY AVAILABLE

Companion pillows: Bergama #BERG-04





#CEL-02

Price $ 59.00



CELTIC KNOT 03 COLORS:
grayed greens, sage, tan, wood rose, pale amethyst



#CEL-03

- 15"w x 11"h (39 x 28cm)


(photo)




CUSTOM UPHOLSTERY AVAILABLE

Companion pillows:


Morocco 03,Kilim II 07, Oahu 02




Balouch Stripe 05,Small Morocco 04,









#CEL-03

Price $ 59.00



CELTIC KNOT 04 COLORS:
tomato red, grass green, topaz, bright blue, blue ink



#CEL-04

- 15"w x 11"h (39 x 28cm)


(photo)




CUSTOM UPHOLSTERY AVAILABLE

Companion Pillows:


Berber Stripe 02,Karakum 04




Pisac 01, Plaid 03,Lindisfarne 01,




Balouch Stripe 03, Triangles 05




Morocco Stripe 02, Tabriz 01









#CEL-04

Price $ 59.00



CELTIC KNOT 05 COLORS:
honey, cream, sand, beige, white



#CEL-05

- 15"w x 11"h (39 x 28cm)


(photo)




CUSTOM UPHOLSTERY AVAILABLE
Neutral companion to:


Balouch 01, Morocco 02,




Fleur de Lis 03,Pisac 06, Siena 07,




12th Century 01, Soumak 03,




Chevron 01








#CEL-05

Price $ 59.00



CELTIC KNOT 06 COLORS:
sage, dull peach, rust, honey, olive, beige



#CEL-06

- 15"w x 11"h (39 x 28cm)


(photo)




CUSTOM UPHOLSTERY AVAILABLE





#CEL-06

Price $ 59.00



NEW! CELTIC KNOT - 07 COLORS
drab greens, teal, fawn, blue black


#CEL-07

- 15"w x 11"h (39x28cm)

Companion pillows:
Oahu-01, Shalimar-01, also sea greens Triangles-03, Pisac-03, Lindisfarne-02








#CEL-06

Price $ 59.00



CELTIC KNOT CUSTOM UPHOLSTERY
available in stock and custom colors

for stools, benches, chair seats
Stripes can be applied vertically or horizontally
horizontal repeat: 11.5"
vertical repeat: 6-7"

Price: $0.30 per square inch, PLUS
SET-UP CHARGE based on your size
Please contact us with your requirements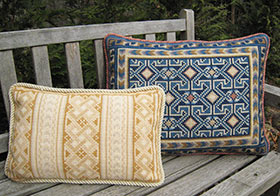 Celtic Knot #CEL-05 with Balouch #BAL-01 companion
back to top