The cross-point™ Collection
Pattern: MOROCCO ("X")
Our Morocco pattern was inspired by a North African knotted carpet and is available in two different versions: as a long narrow pillow for beds and sofas, and a companion "good for your back" pillow with a slightly different appearance.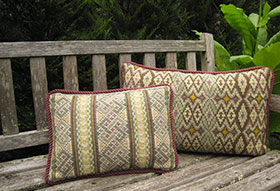 Small Morocco Back Pillow 04 shown with Celtic Knot 03
Available in two sizes:
Long narrow Pillow: MOROCCO #MOR - 30"long x 12"high (77x31 cm)
Rectangular Back Pillow: SMALL MOROCCO #MOSM - 21"wide x 13"high (55x34 cm)
CUSTOM UPHOLSTERY AVAILABLE (repeat: 12.5"horiz. x 4"vertical)
This pattern includes an additional "outline only" chart for easy counting

Each kit contains large charts in colors and symbols, fabric, luxurious French tapestry wool, needles, and detailed instructions. Also included are our cross-point™ Technique sheets. Patterns are classified ("X") for experienced stitchers, or ("E") for beginners, unclassified patterns can be stitched by anyone with a little practice. Kits do not include backing or trim.
The SET UP charge for Custom Colors (where available) is $25.00; the SET UP for Custom Upholstery is based on your size requirements. Please allow 2-4 weeks for Custom kits and 2-4 weeks for Rug kit delivery.
| cross-point™ Kit | Name/ Item Number/ size & color | Price |
| --- | --- | --- |
MOROCCO 01 COLORS:
topaz, ginger, dark brown, pale red,
paprika red



#MOR - 01


size: 30" long x 12" high (77x31 cm)




#MOR-01




Price $119.00



MOROCCO 02 COLORS:
Indigo blues, golden brown, oatmeal, tan



#MOR - 02




size: 30" long x 12" high (77x31 cm)





COLOR COORDINATED WITH:
CELTIC KNOT 01,SMALL MOROCCO 03,
BASILICA 05 (photo at bottom)



#MOR-02




Price $119.00



MOROCCO 03 COLORS:
golden olive, grayed greens, sage,
wood rose, tree bark



#MOR - 03


size: 30" long x 12" high (77x31 cm)


COLOR COORDINATED WITH
CELTIC KNOT 03, SMALL MOROCCO 04
(photo at bottom)



#MOR-03




Price $119.00



SMALL MOROCCO 01 COLORS:
All reds: paprika, Siena red, cranberry, blood
red, pale red



#MOSM - 01




size: 21" w x 13" h (55x34 cm)



COLOR COORDINATED WITH BASILICA 03,
BALOUCH 03, TURIN 02


#MOSM-01




Price $ 89.00



SMALL MOROCCO 02 COLORS:
garnet, fawn, brass, golden brown, beige,
sand



#MOSM - 02




size: 21" w x 13" h (55x34 cm)






COMPANION PILLOW: BASILICA 03

#MOSM-02




Price $ 89.00



SMALL MOROCCO 03 COLORS:
Indigo blues, navy, golden brown, oatmeal,
tan


#MOSM - 03




size: 21" w x 13" h (55x34 cm)




COORDINATED WITH MOROCCO 02
CELTIC KNOT 01


#MOSM-03




Price $ 89.00



SMALL MOROCCO 04 COLORS:
golden olive, grayed greens, sage,
wood rose, tree bark



#MOSM - 04




size: 21" w x 13" h (55x34 cm)



COLOR COORDINATED WITH:
CELTIC KNOT 03, MOROCCO 03 (photo below)



#MOSM-04




Price $ 89.00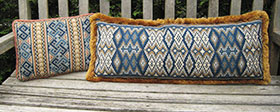 Morocco 02 shown with Celtic Knot 01 pillow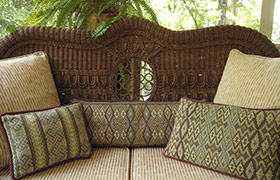 Morocco 03 (center), Celtic Knot 03 (left), Small Morocco 04 (right)
back to top