The cross-point™ Collection
Pattern: TOPKAPI ("X")
Persian and Florentine velvets and silks are among the most sumptuous textiles ever created. Our Topkapi pattern is loosely based on a richly embroidered Medieval church vestment of which many examples are in museums around the world. Edged by a repeating diaper pattern, the center panel consists of a Greek cross element surrounded by a quatrefoil of tulips.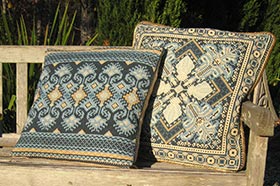 Above: Topkapi 08 with companion NEW Kilim II 06
Available in one pillow size:
Large Square TOPKAPI - #TOP - 21" x 21" (53 x 53 cm)

NEW COLOR 09
(added December 2012)
Each kit contains large charts in colors and symbols, fabric, luxurious French tapestry wool, needles, and detailed instructions. Also included are our cross-point™ Technique sheets. Patterns are classified ("X") for experienced stitchers, or ("E") for beginners, unclassified patterns can be stitched by anyone with a little practice. Kits do not include backing or trim.This pattern is for experienced stitchers because it involves intense counting, and, to make it easier, we include a Special Chart for the center elements outline. Custom colors not available.
| cross-point™ Kit | Name/ Item Number/ size & color | Price |
| --- | --- | --- |
TOPKAPI 02 COLORS:
dusty pinks, sages, antique rose, pale fawn, grayed Jacobean pale green, off white ground




#TOP - 02




size: 21" x 21" (53 x 53 cm)





COMPANION PILLOWS: BERGAMA 06, TULIP 07 (see photo below)

#TOP-02




Price $139.00



TOPKAPI 03 COLORS:
topaz, tomato red, dark red, green teal, chartreuse, blue ink




#TOP - 03




size: 21" x 21" (53 x 53 cm)



COMPANION PILLOWS:


Tulip & Tulip Border 01 (photo at left)




Morocco Stripe 01,Karakum 01




Soumak 04, Tulip Stripe 04,




Tabriz 01, Parma 03, Nilos 02






#TOP-03




Price $139.00



TOPKAPI 04 COLORS:
topaz, true red, grayed Jacobean green, gray blue, golden olive, black




#TOP - 04




size: 21" x 21" (53 x 53 cm)





COMPANION PILLOWS:




Shalimar #SHA-03 (see photo below)




Kilim II #KIL2-01






#TOP-04




Price $139.00



TOPKAPI 05 COLORS:
garnet red, red plum, purple plum, dark violet, navy, teal green, teal blue, Jacobean gray green




#TOP - 05




size: 21" x 21" (53 x 53 cm)



COMPANION PILLOWS:


Berber Stripe 03, Tulip Stripe 03




Pisac 02, Morocco Stripe 03





#TOP-05




Price $139.00



TOPKAPI 07 COLORS:
dark honey, copper, Siena red, cinnamon, green slate, pale gray, oatmeal, pale honey




#TOP - 07




size: 21" x 21" (53 x 53 cm)



COMPANION PILLOWS:


ANATOLIA 04, BERGAMA 05




Morocco Stripe 04, Balouch 06




"all" reds: Basilica 03, Turin 02,




Pisac 04






#TOP-07




Price $139.00



TOPKAPI 08 COLORS:
old grayed blues, gray blue spruce, dark sand, golden fawn, beige, blue spruce ink




#TOP - 08




size: 21" x 21" (53 x 53 cm)



COMPANION PILLOWS:


Kilim II 06, Pisac 06




neutral creams: Greek Border 03,




Small Chevron 01, Celtic Knot 05






#TOP-08




Price $139.00



TOPKAPI 09 COLORS:
Historic tapestry colors: greyed greens,
brownish greens, dark sand




#TOP - 09




size: 21" x 21" (53 x 53 cm)



COMPANION PILLOWS:


Basilica 08,Grape & Grape Border 07,




Morocco Stripe 08,




12th Century Geometric 05






#TOP-09




Price $139.00





Photo at left:
ANATOLIA #ANA-04 in foreground
shown with TOPKAPI #TOP-07 at right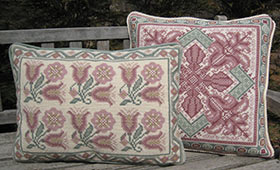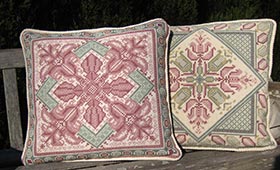 Above left: Topkapi 02 with companion Bergama 06
Above right:Topkapi 02 with companion Tulip 07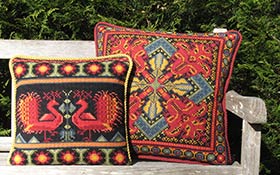 Topkapi #TOP-04 with companion Shalimar #SHA-03, also Kilim II #KIL2-01 not shown
back to top