The cross-point™ Collection
Pattern: HONEYCOMB ("E")
our Honeycomb pattern harkens back to stained glass
windows of Medieval cathedrals
Color coordinated with Tulip and Tulip Border cushions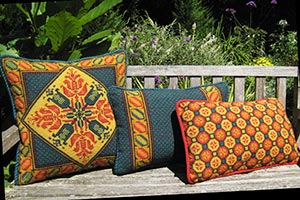 HONEYCOMB #HON-01 with Tulip companion pillows
TULIP #TUL-01 and TULIP BORDER #TULB-01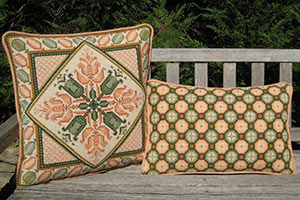 HONEYCOMB #HON-02 with Tulip companion pillow #TUL-05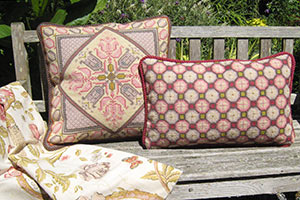 HONEYCOMB #HON-08 with Tulip companion pillow #TUL-08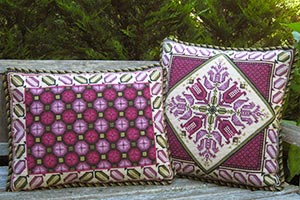 HONEYCOMB WITH BORDER #HONB-07 with Tulip companion pillow #TUL-06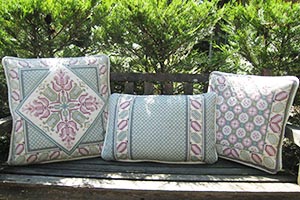 SMALL HONEYCOMB WITH BORDER #HONB-SM-06 with Tulip companion pillows
TULIP #TUL-07 and TULIP BORDER #TULB-07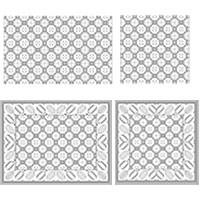 Available in four Pillow sizes and 1 Rug size:
Rectangular Pillow (no border-upper left in drawing)
HONEYCOMB #HON -20"x13"high (51x32 cm)
Small Square Pillow(no border-upper right in drawing )
SMALL HONEYCOMB #HONSM - 13"x13" (33x33cm)
Rectangular Pillow with Border (lower left in drawing )
HONEYCOMB w/ BORDER #HONB - 21"x16"high (55x41cm)
Small Square Pillow with Border (lower right in drawing )
SMALL HONEYCOMB w/ BORDER #HONB-SM - 16"x16" (41x41 cm)
Small Rug - #HONR - 28"wide x 44" long (72x112 cm)
Each kit contains large charts in colors and symbols, fabric, luxurious French tapestry wool, needles, and detailed instructions. Also included are our cross-point™ Technique sheets. Patterns are classified ("X") for experienced stitchers, or ("E") for beginners, unclassified patterns can be stitched by anyone with a little practice. Kits do not include backing or trim.Custom colors available.
CUSTOM UPHOLSTERY AVAILABLE
on Honeycomb pattern (without border).
The SET UP charge for Custom Colors (where available) is $25.00; the SET UP for Custom Upholstery is based on your size requirements. Please allow 2-4 weeks for Custom kits and 2-4 weeks for Rug kit delivery.
| cross-point™ Kit | Name/ Item Number/ size & color | Price |
| --- | --- | --- |
COMPANION PILLOWS:
TULIP & TULIP BORDER 01
HONEYCOMB 01 COLORS:
Tomato red, dark red, old gold, topaz, teal, chartreuse, blue ink



#HON - 01

- 20"w x 13"h (51x32 cm)


(photo)





#HONSM - 01

-13"x13" (32x32 cm)



#HONB - 01

- 21"w x 16"h (55x41 cm)



#HONB-SM- 01

- 16"x16" (41x41 cm)



#HONR - 01

- 28"w x 44"long (72x112 cm)
(see samples at bottom of page)

CUSTOM UPHOLSTERY REPEAT PATTERN:
VERTICAL REPEAT: 2 1/2"
HORIZONTAL REPEAT: 2 1/2"
AVAILABLE IN ALL STOCK COLORS AND CUSTOM COLORS
price $0.30 per square inch
Plus SET UP FEE


#HON-01




Price $ 79.00





#HONSM-01




Price $ 59.00





#HONB-01




Price $109.00






#HONB-SM-01




Price $ 89.00





#HONR-01




Price $369.00




COMPANION PILLOWS:
TULIP & TULIP BORDER 05
HONEYCOMB 02 COLORS:
Copper, peach, bronze, Jacobean greens



#HON - 02

- 20"w x 13"h (51x32 cm)


(photo)





#HONSM - 02

-13"x13" (32x32 cm)



#HONB - 02

- 21"w x 16"h (55x41 cm)



#HONB-SM- 02

- 16"x16" (41x41 cm)



#HONR - 02

- 28"w x 44"long (72x112 cm)
(see samples at bottom of page

CUSTOM UPHOLSTERY REPEAT PATTERN:
VERTICAL REPEAT: 2 1/2"
HORIZONTAL REPEAT: 2 1/2"
AVAILABLE IN ALL STOCK COLORS AND CUSTOM COLORS
price $0.30 per square inch
Plus SET UP FEE



#HON-02




Price $ 79.00





#HONSM-02




Price $ 59.00





#HONB-02




Price $109.00





#HONB-SM-02




Price $ 89.00






#HONR-02




Price $369.00




COMPANION PILLOWS:
TULIP & TULIP BORDER 02
HONEYCOMB 03 COLORS:
navy, old blues, lemon yellow,off white



#HON - 03

- 20"w x 13"h (51x32 cm)


(photo)





#HONSM - 03

-13"x13" (32x32 cm)



#HONB - 03

- 21"w x 16"h (55x41 cm)



#HONB-SM- 03

- 16"x16" (41x41 cm)



#HONR - 03

- 28"w x 44"long (72x112 cm)
(see samples at bottom of page)



CUSTOM UPHOLSTERY REPEAT PATTERN:


VERTICAL REPEAT: 2 1/2"
HORIZONTAL REPEAT: 2 1/2"
AVAILABLE IN ALL STOCK COLORS AND CUSTOM COLORS
price $0.30 per square inch
Plus SET UP FEE


#HON-03




Price $ 79.00





#HONSM-03




Price $ 59.00





#HONB-03




Price $109.00





#HONB-SM-03




Price $ 89.00





#HONR-03




Price $369.00




COMPANION PILLOWS:
TULIP & TULIP BORDER 03
HONEYCOMB 04 COLORS:
navy, old blues,off white



#HON - 04

- 20"w x 13"h (51x32 cm)



#HONSM - 04

-13"x13" (32x32 cm)



#HONB - 04

- 21"w x 16"h (55x41 cm)


(drawing)





#HONB-SM- 04

- 16"x16" (41x41 cm)



#HONR - 04

- 28"w x 44"long (72x112 cm)
(see samples at bottom of page)



CUSTOM UPHOLSTERY REPEAT PATTERN:


VERTICAL REPEAT: 2 1/2"
HORIZONTAL REPEAT: 2 1/2"
AVAILABLE IN ALL STOCK COLORS AND CUSTOM COLORS
price $0.30 per square inch
Plus SET UP FEE


#HON-04




Price $ 79.00





#HONSM-04




Price $ 59.00





#HONB-04




Price $109.00





#HONB-SM-04




Price $ 89.00





#HONR-04




Price $369.00




COMPANION PILLOWS:
TULIP & TULIP BORDER 04
HONEYCOMB 05 COLORS:
navy, old blues, light cranberry, off white



#HON - 05

- 20"w x 13"h (51x32 cm)



#HONSM - 05

-13"x13" (32x32 cm)



#HONB - 05

- 21"w x 16"h (55x41 cm)


(drawing)




#HONB-SM- 05

- 16"x16" (41x41 cm)



#HONR - 05

- 28"w x 44"long (72x112 cm)
(see samples at bottom of page)



CUSTOM UPHOLSTERY REPEAT PATTERN:


VERTICAL REPEAT: 2 1/2"
HORIZONTAL REPEAT: 2 1/2"
AVAILABLE IN ALL STOCK COLORS AND CUSTOM COLORS
price $0.30 per square inch
Plus SET UP FEE


#HON-05




Price $ 79.00






#HONSM-05




Price $ 59.00





#HONB-05




Price $109.00





#HONB-SM-05




Price $ 89.00





#HONR-05




Price $369.00




COMPANION PILLOWS:
TULIP & TULIP BORDER 07
HONEYCOMB 06 COLORS:
antique pale rose, sage, fawn, silver sage, eggshell



#HON - 06

- 20"w x 13"h (51x32 cm)




#HONSM - 06

-13"x13" (32x32 cm)


(photo at left)




#HONB - 06

- 21"w x 16"h (55x41 cm)



#HONB-SM- 06

- 16"x16" (41x41 cm)



#HONR - 06

- 28"w x 44"long (72x112 cm)
(see samples at bottom of page)




CUSTOM UPHOLSTERY REPEAT PATTERN:


VERTICAL REPEAT: 2 1/2"
HORIZONTAL REPEAT: 2 1/2"
AVAILABLE IN ALL STOCK COLORS AND CUSTOM COLORS
price $0.30 per square inch
Plus SET UP FEE


#HON-06




Price $ 79.00





#HONSM-06




Price $ 59.00





#HONB-06




Price $109.00





#HONB-SM-06




Price $ 89.00



#HONR-06


Price $369.00




COMPANION PILLOWS:
TULIP & TULIP BORDER 06
HONEYCOMB 07 COLORS:
rose pink, mahogany, plum, antique mauve, gray sage



#HON - 07

- 20"w x 13"h (51x32 cm)



#HONSM - 07

-13"x13" (32x32 cm)


(photo at left)





#HONB - 07

- 21"w x 16"h (55x41 cm)



#HONB-SM- 07

- 16"x16" (41x41 cm)



#HONR - 07

- 28"w x 44"long (72x112 cm)
(see samples at bottom of page)



CUSTOM UPHOLSTERY REPEAT PATTERN:


VERTICAL REPEAT: 2 1/2"
HORIZONTAL REPEAT: 2 1/2"
AVAILABLE IN ALL STOCK COLORS AND CUSTOM COLORS
price $0.30 per square inch
Plus SET UP FEE


#HON-07




Price $ 79.00





#HONSM-07




Price $ 59.00





#HONB-07




Price $109.00





#HONB-SM-07




Price $ 89.00





#HONR-07




Price $369.00




COMPANION PILLOWS:
TULIP & TULIP BORER 08
HONEYCOMB 08 COLORS:
rusty pink, light cranberry, wood rose, golden olive, elephant grey, oatmeal



#HON - 08

- 20"w x 13"h (51x32 cm)


(photo at left)





#HONSM - 08

-13"x13" (32x32 cm)



#HONB - 08

- 21"w x 16"h (55x41 cm)



#HONB-SM- 08

- 16"x16" (41x41 cm)



#HONR - 08

- 28"w x 44"long (72x112 cm)
(see samples below)



CUSTOM UPHOLSTERY REPEAT PATTERN:


VERTICAL REPEAT: 2 1/2"
HORIZONTAL REPEAT: 2 1/2"
AVAILABLE IN ALL STOCK COLORS AND CUSTOM COLORS
price $0.30 per square inch
Plus SET UP FEE


#HON-08




Price $ 79.00





#HONSM-08




Price $ 59.00





#HONB-08




Price $109.00





#HONB-SM-08




Price $ 89.00





#HONR-08




Price $369.00





Honeycomb 01 Rug

Honeycomb 06 Rug

#HONEYCOMB RUG AVAILABLE IN ALL PILLOW COLORS & CUSTOM COLORS




CUSTOM UPHOLSTERY AVAILABLE USING HONEYCOMB PATTERN WITHOUT BORDERS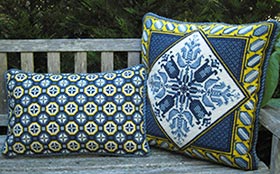 Honeycomb #HON-03 with Tulip #TUL-02
back to top