The cross-point™ Collection
PATTERN: BERBER STRIPE ("E")
Kilim border patterns assembled in a vertical stripe

Kilim and Kilim type patterns with their inherent imperfections and naive charm are typical of the creative traditions of nomadic tribes and are a joy to stitch. No matter whether beginner or expert, Kilim type patterns are fun, fast and addictive!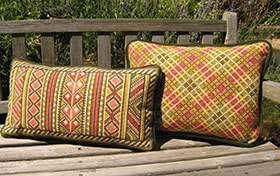 Berber Stripe Back Pillow 06 colors shown with coordinated Plaid 04


Available in four sizes:
Berber Stripe Back Pillow #BEBP - 21" x 11" (53x29cm)
Berber Stripe Long Back Pillow #BEBP-L - 28"long x 12"high (72x32cm)
Berber Stripe Square Pillow #BER - 20" x 20" (52x52cm)
Small Berber Stripe Rug - #BERR - 28"wide x 42"long (72x108 cm)
Long Berber Stripe Rug - #BERR-L (see bottom of page) - 21"wide x 47"long (52x119cm)
Custom Upholstery and Custom Colors available - please Contact us
Each kit contains large charts in colors and symbols, fabric, luxurious French tapestry wool, needles, and detailed instructions. Also included are our cross-point™ Technique sheets. Patterns are classified ("X") for experienced stitchers, or ("E") for beginners, unclassified patterns can be stitched by anyone with a little practice. Kits do not include backing or trim.The Set Up Fee for Custom Colors is $25.00; the Set Up Fee for Custom Upholstery is based on your size requirements. Please allow 2-3 weeks for Rug kits delivery.
| cross-point™ Kit | Name/ Item Number/ size & color | Price |
| --- | --- | --- |

Companion Pillows:
Tiger, Anatolia 02,
Basilica 01, Kilim 02
Tulip 05, Honeycomb 02, Kilim II 08
BERBER STRIPE 01 COLORS:
grayed greens, copper, bronze, tobacco, hunter green, dark brown



#BEBP-01

- 21"w x 11"h (53x29cm)


(photo

)



#BEBP-L-01

- 28"w x 12"h (72x32 cm)


(drawing at bottom)





#BER-01

- 20"x20" (52x52 cm)


(drawing upper left)





#BERR-01

- 28"w x 42"long (72x108cm)


(see rugs at bottom of page)






#BERR-L-01

- 21"w x 47"long (52x119 cm)


(see rugs at bottom of page)



#BEBP-01


Price $ 79.00




#BEBP-L-01


Price $ 119.00




#BER-01


Price $139.00




#BERR-01


Price $399.00




#BERR-L-01


Price $345.00







Companion Pillows:
Zagros 02, Small Karakum 04,
Celtic Knot 04, Basilica 09,
Pisac 01, Plaid 03, Lindisfarne 01
Balouch Stripe 03, Triangles 05
all solid reds: Basilica 03, Turin 02
Pisac 04, Small Morocco 01
Morocco 01, Plaid 02

BERBER STRIPE 02 COLORS

:
grass green, tomato, dark red, honey, blue, topaz, ink



#BEBP-02

- 21"w x 11"h (53x29cm)


(photo

)



#BEBP-L-02

- 28"w x 12"h (72x32 cm)


(drawing left at bottom)





#BER-02

- 20"x20" (52x52 cm)


(drawing upper left)





#BERR-02

- 28"w x 42"long (72x108cm)


(see rugs at bottom of page)





#BERR-L-02

- 21"w x 47"long (52x119 cm)


(see rugs at bottom of page)





#BEBP-02


Price $ 79.00




#BEBP-L-02


Price $ 119.00




#BER-02


Price $139.00




#BERR-02


Price $399.00




#BERR-L-02


Price $345.00







Companion Pillows:
Tulip Stripe 03, Honeycomb 07
Plaid 05, Topkapi 05, Nilos 01
Pisac 02, Morocco Stripe 03

BERBER STRIPE 03 COLORS

:
gray khaki, medium and dark plum,tobacco

#BEBP-03 - 21"w x 11"h (53x29cm)


(photo

)



#BEBP-L-03

- 28"w x 12"h (72x32 cm)


(at bottom)





#BER-03

- 20"x20" (52x52 cm)


(upper left)





#BERR-03

- 28"w x 42"long (72x108cm)


(see rugs at bottom of page)





#BERR-L-03

- 21"w x 47"long (52x119 cm)


(see rugs at bottom of page)



Correlated with Tulip Stripe #TUST -03 and
all Honeycomb 07 sizes
#BEBP-03


Price $ 79.00




#BEBP-L-03


Price $119.00




#BER-03


Price $139.00




#BERR-03


Price $399.00




#BERR-L-03


Price $345.00







Companion Pillows:
Tiger, Game Board 03, Karakum 03
12th Century 06, Small Morocco 02,
Kilim II 03, Peru 01, Tabriz 05,
Triangles 06, Turin 02, Zagros 01
all reds: Basilica 03, Turin 02,
Pisac 04, Small Morocco 01

BERBER STRIPE 04 COLORS

:
chocolate, rust red, beige, blue, paprika, rust red, beige, blue green, sky



#BEBP-04

- 21"w x 11"h (53x29cm)


(lower right)





#BEBP-L-04

- 28"w x 12"h (72x32 cm)




#BER-04

- 20"x20" (52x52 cm)


(photo

)



#BERR-04

- 28"w x 42"long (72x108cm)


(see rugs at bottom of page)





#BERR-L-04

- 21"w x 47"long (52x119 cm)


(see rugs at bottom of page)



#BEBP-04


Price $ 79.00




#BEBP-L-04


Price $ 119.00




#BER-04


Price $139.00




#BERR-04


Price $399.00




#BERR-L-04


Price $345.00







Companion Pillows:
Basilica 02, Oahu 03, Shalimar 01
Pisac 03 and 07, Lindisfarne 02,
Kilim II 05, Triangles 05

BERBER STRIPE 05 COLORS

:
teal, dusty pink, black teal, antique rose, apple green, old blue



#BEBP-05

- 21"w x 11"h (53x29cm)


(photo

)



#BEBP-L-05

- 28"w x 12"h (72x32 cm)


(at bottom)





#BER-05

- 20"x20" (52x52 cm)


(upper left)





#BERR-05

- 28"w x 42"long (72x108cm)


(see rugs at bottom of page)





#BERR-L-05

- 21"w x 47"long (52x119 cm)


(see rugs at bottom of page)





#BEBP-05


Price $ 79.00




#BEBP-L-05


Price $ 119.00




#BER-05


Price $139.00




#BERR-05


Price $399.00




#BERR-L-05


Price $345.00







Companion Pillows:
Plaid 04, Morocco Stripe 05
Soumak 05, Oahu 05, Karakum 01
Grape 04, Kilim II 04, Triangles 02


BERBER STRIPE 06 COLORS

:
grayed greens, pale red, pale paprika, olive green, loden, old gold



#BEBP-06

- 21"w x 11"h (53x29cm)


(photo

)



#BEBP-L-06

- 28"w x 12"h (72x32 cm)


(at bottom)





#BER-06

- 20"x20" (52x52 cm)


(upper left)





#BERR-06

- 28"w x 42"long (72x108cm)


(see rugs at bottom of page)





#BERR-L-06

- 21"w x 47"long (52x119 cm)


(see rugs at bottom of page)





#BEBP-06


Price $ 79.00




#BEBP-L-06


Price $ 119.00




#BER-06


Price $139.00




#BERR-06


Price $399.00




#BERR-L-06


Price $345.00






BERBER STRIPE CUSTOM UPHOLSTERY:
available in stock and custom colors

vertical or horizontal application for stools, benches, chair seats

sized to fit specific applications - please contact us
CUSTOM UPHOLSTERY
Price $0.30 per square inch
PLUS SET UP FEE based on size requirements



#BERR-02 (available in all stock colors)
28"wide x 42"long
Price $399.00

#BERR-05 (refer to pillow colors for other rug colors)

BERBER STRIPE RUGS ARE AVAILABLE IN ALL STANDARD PILLOW COLORS

LONG BERBER RUG

21"wide x 47"long (52x119cm)
Price $345.00
Berber Stripe Back Pillow 02 with companion pillows:
left to right - Celtic Knot 04, Small Karakum 04 and Small Basilica 03 at back
back to top