The cross-point™ Collection
Pattern: GAME BOARD ("E")
our cross-point™ version of a classic 18th Century Colonial Game Board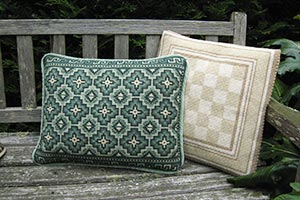 Small Game Board #GASM-06 with Pisac Back Pillow #PISA-BP-07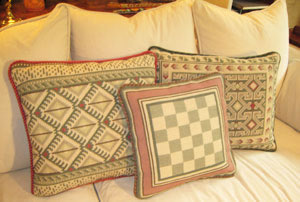 Small Game Board 01 shown with Balouch #BAL-01 and Anatolia #ANA-05 cushions
Our Colonial Game Board, stunning in its simplicity, is at home in both stark modern as well as traditional interiors and mixes well with a variety of more elaborate patterns.
Available in three sizes:
Large Square Pillow GAME BOARD - #GAM - 20"x20" (50x50cm)
Small Square Pillow SMALL GAME BOARD - #GASM - 15"x15" (38x38cm)
Small GAME BOARD RUG - #GAMR - 28.5" wide x 42" long (73x106cm)
Also available in Custom Colors - Please contact us

Each kit contains large charts in colors and symbols, fabric, luxurious French tapestry wool, needles, and detailed instructions. Also included are our cross-point™ Technique sheets. Patterns are classified ("X") for experienced stitchers, or ("E") for beginners, unclassified patterns can be stitched by anyone with a little practice. Kits do not include backing or trim.A great beginners pattern to practice basic stitching without much counting - fast and fun!
| cross-point™ Kit | Name/ Item Number/ size & color | Price |
| --- | --- | --- |
GAME BOARD 01 COLORS:
Wood rose, Jacobean and sage greens, oatmeal



#GAM- 01

- 20"x20" (50x50 cm)




#GASM- 01

- 15"x15" (38x38 cm)


(photo)




#GAM - 01




Price $119.00





#GASM - 01




Price $ 69.00




GAME BOARD RUG 01 COLORS:
Wood rose, Jacobean and sage greens,

oatmeal





#GAMR- 01

- 28.5"wide x 42" long


(73x106 cm

)







#GAMR - 01




Price $359.00




GAME BOARD 02 COLORS:
Navy and marine blues, ecru



#GAM- 02

- 20"x20" (50x50 cm)


(photo at right)





#GASM- 02

- 15"x15" (38x38 cm)


(photo lower left)




#GAM - 02




Price $119.00





#GASM - 02




Price $ 69.00




GAME BOARD RUG 02 COLORS:
Navy and marine blues, ecru



#GAMR- 02

- 28.5"wide x 42" long


(73x106 cm

)







#GAMR - 02




Price $359.00




GAME BOARD 03 COLORS:
Dark paprika, espresso, dark honey, pale

custard





#GAM- 03

- 20"x20" (50x50 cm)


(left in photo)





#GASM- 03

- 15"x15" (38x38 cm)


(right in photo)




#GAM - 03




Price $119.00





#GASM - 03




Price $ 69.00




GAME BOARD RUG 03 COLORS:
Dark paprika, espresso, dark honey, pale

custard





#GAMR - 03

- 28.5"wide x 42" long


(73x106 cm

)


(colors lightened for clarity - see above)





#GAMR - 03




Price $359.00




GAME BOARD 04 COLORS:
Paprika, heraldic gold, forest green, straw



#GAM- 04

- 20"x20" (50x50 cm)




#GASM- 04

- 15"x15" (38x38 cm)


(photo)




#GAM - 04




Price $119.00





#GASM - 04




Price $ 69.00




GAME BOARD 06 COLORS:
oatmeal, off white, sand



#GAM- 06

- 20"x20" (50x50 cm)




#GASM- 06

- 15"x15" (38x38 cm)


(photo)



Companion Pillows:


Greek Border #GRE-03 and




Small Chevron #CHSM-01





#GAM - 06




Price $119.00





#GASM - 06




Price $ 69.00





companion pillows:
photo far left:
Small Game Board
#GASM-04 with
Plaid #PLA-03


photo left:
Small Game Board
#GASM-03 with
Small Meadow
#MEASM-02


Companion pillows:
photo far left:
Small Game Board
#GASM-01 with
Balouch #BAL-02

photo left:
Small Game Board
#GASM-02 with
Greek Border
#GRE-01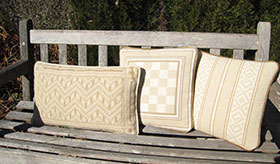 Small Gameboard #GASM-06 with Small Chevron #CHSM-01, Greek Border #GRE-03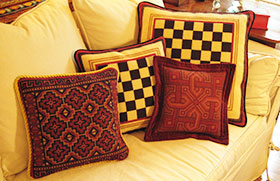 Game Board #GAM-03 and Small Game Board #GASM-03
with Pisac #PISA-05 (left) and Small Basilica #BASM-03 (right)
back to top