The cross-point™ Collection
Pattern: SHALIMAR ("X")
From King Solomon to royal courts in China, Egypt, Rome and medieval Europe, peacocks with their magnificent plumage have adorned gardens, embroideries and wall paintings. At Shalimar Gardens where peacocks strutted about, Shah Jahan is said to have exclaimed "if there be paradise on earth, this is it...this is it...this is it". Our Shalimar pattern is our way of translating "paradise remembered" into a stitched textile.
Above: Shalimar 01 colors
Available in one pillow size:
Square Pillow: SHALIMAR - #SHA - 16" x 16" (40 x 40 cm)
Each kit contains large charts in colors and symbols, fabric, luxurious French tapestry wool, needles, and detailed instructions. Also included are our cross-point™ Technique sheets. Patterns are classified ("X") for experienced stitchers, or ("E") for beginners, unclassified patterns can be stitched by anyone with a little practice. Kits do not include backing or trim.
| cross-point™ Kit | Name/ Item Number/ size & color | Price |
| --- | --- | --- |
SHALIMAR 01 COLORS:
light- medium-dark sage, pale teal, silvery ground, grayed soft Jacobean greens




#SHA - 01




size: 16" x 16" (41 x 41 cm)



Companion Pillows:


Oahu-03, Triangles 03 (photo below)




Pisac 03, Oahu 01 (group photo below)




#SHA - 01




Price $ 79.00



SHALIMAR 02 COLORS:
brick, pumpkin, paprika, copper, cayenne, black ground, olive




#SHA - 02




size: 16" x 16" (41 x 41 cm)

#SHA - 02




Price $ 79.00



SHALIMAR 03 COLORS:
topaz, true red, grayed green, gray blue, olive,
dark red, pale red, black ground



#SHA - 03




size: 16" x 16" (41 x 41 cm)



COMPANION PILLOW:


TOPKAPI #TOP-04 (photo below)




KILIM II #KIL2-01

#SHA - 03




Price $ 79.00



SHALIMAR 04 COLORS:
cranberry, salmon, sage, Jacobean gray green, eggshell ground, khaki green




#SHA - 04




size: 16" x 16" (41 x 41 cm)

#SHA - 04




Price $ 79.00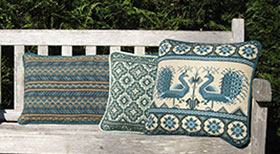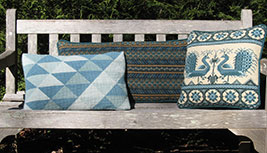 Above left: Shalimar 01 with companion pillows Pisac 07 and Oahu 01
Above right: Shalimar 01 with companions Triangles 03 and Oahu 01 (long pillow)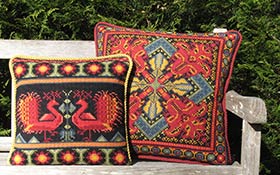 Above: Shalimar 03 with companion Topkapi 04 (also KILIM II #KIL2-01 not shown)
back to top